Who Is Princess Mako's Husband Kei Komuro and What Does This Mean for Japan's Royal Family?
Japan's Princess Mako married commoner Kei Komuro, whom she met at university, on Tuesday.
The controversial marriage, which faced much public scrutiny in the lead up to it, cost Mako her royal status.
The niece of Japan's Emperor Naruhito left the palace on Tuesday morning, bowing outside the residence to her parents, Crown Prince Akishino and Crown Princess Kiko, as well as her sister Kako. The sisters also embraced each other.
According to the Associated Press, Japan's Imperial Household Agency said the marriage was marked without traditional celebrations, such as a wedding banquet or other marriage rituals.
The couple's marriage document was submitted by a palace official on Tuesday morning, which made their union official.
The marriage was delayed following controversy over a financial dispute involving the groom's mother.
Who Is Princess Mako's Husband, Kei Komuro?
Born on October 5, 1991, Komuro is a former paralegal who began working at a New York law firm after graduating from Fordham University's School of Law with a Juris Doctor degree back in May. In July, he took the New York bar exam and is expected to know the result by mid-December, Japan's Kyodo News reported on Tuesday.
According to the New York State Bar Association (NYSBA), Komuro was named the top prize winner of the 2020 edition of an annual student writing competition held by the association.
The NYSBA website says Komuro "counsels entrepreneurs, emerging companies, and investors on venture capital financings, mergers and acquisitions, entity formation, and general corporate matters" at Lowenstein Sandler LLP, a New Jersey-based law firm with offices in New York and other parts of the country.
In Tokyo, he has experience working at a law firm and a foreign exchange bank where he was a certified securities broker representative.
According to Kyodo News, Komuro attended an international junior high school and senior high school. He also studied at Tokyo's International Christian University (ICU), where Komuro and Mako first met, before he headed to the U.S..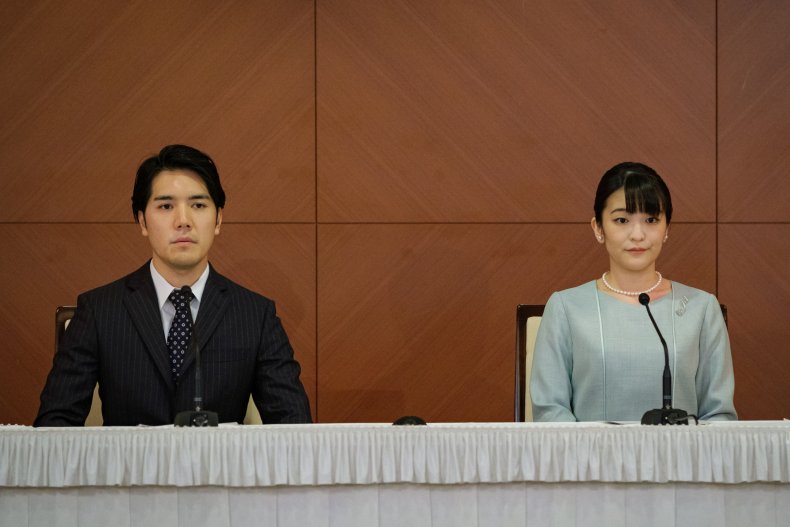 During his time at ICU, Komuro was reportedly appointed in 2010 as "Prince of the Sea" to lead a tourism campaign for the coastal town of Fujisawa in the Kanagawa Prefecture. He proposed to Mako while he was still a university student.
Komuro was raised by his mother Kayo following the death of his father when he was in elementary school. His mother was caught in a dispute with a man (to whom she became engaged) over $35,000 (¥4 million) in financial support that had not been returned, Kyodo News reported.
Following increased scrutiny over the dispute, Komuro released a statement defending himself after Mako's father asked him to clarify whether the money his mother received was a loan or gift. But it is unknown whether the issue has been fully resolved.
The controversy saw Komuro and Mako's marriage be delayed by three years, after it was first announced in September 2017.
The pair are reportedly planning a move to the U.S. According to Kyodo News, Mako will need to apply for a passport as an ordinary citizen, since Japanese royal family members do not have passports. She is expected to depart for the U.S. this November at the earliest.
What Does This Mean for Japan's Royal Family?
Mako lost her royal status because of Japan's Imperial House Law, which only allows male members of the royal family to succeed the throne. The children of female royals who marry commoners are not included.
This male-only succession rule leaves just Akishino and his son, Prince Hisahito, in line behind Emperor Naruhito to take the throne.
Mako's royal exit has left only 12 women and five men in the imperial family. With Japan's strict tradition banning women from ascending the throne firmly in place, the country could eventually see the end of its monarchy, with a decreasing number of family members eligible for succession.
The AP reported a panel of government-appointed experts are in discussion about the stable succession of the Japanese monarchy. But conservatives were reported to still be against allowing females to succeed the throne or permitting female members to head the royal family.
The latest marriage also saw Mako take her husband's surname, marking the first time she has had a family name. Most Japanese women are required to abandon their family name after getting married due to only one surname per married couple allowed by law.