How Meghan Markle's Royal Exit Echoes Princess Mako of Japan
Princess Mako of Japan will say goodbye to he royal status tomorrow in order to marry a commoner—in a story with echoes of Meghan Markle and Prince Harry.
The royal and fiance Kei Komuro will tie the knot after being vilified in the Japanese media to the point Mako was said by the royal household to have experienced PTSD.
Japanese rules around relationships with commoners are more strict than Britain's and the public are, according to The Guardian, more deferential to the Imperial Family.
However, there remain some striking similarities between their broken fairy tale and the experiences of the Duke and Duchess of Sussex.
A New Life in America
Mako is Emperor Naruhito's niece and fell for her fiance while they were at Tokyo's International Christian University together.
However, rules in Japan are a little more strict than in Britain and it is forbidden for a royal to marry a commoner.
When she ties the knot on Tuesday, October 26, she will cease to be royal and instead have a new life awaiting her in New York.
While Harry and Meghan were not required to quit royal duties like Princess Mako, they said they felt they had no choice because they were struggling emotionally with hostile media coverage.
They too chose America when they found their freedom but are on the west coast in Montecito, Santa Barbara.
Princess Mako's Different Royal Destiny
The princess' path may well have been influenced by the fact she was never destined for the throne.
In Japan, only men can rule meaning she was never preparing herself for the highest office royalty can offer.
Prince Harry technically was in the line of succession but, as the second born son, he would only be needed in the event of tragedy.
He was in a position commonly referred to in Britain as the "spare" to the first born heir.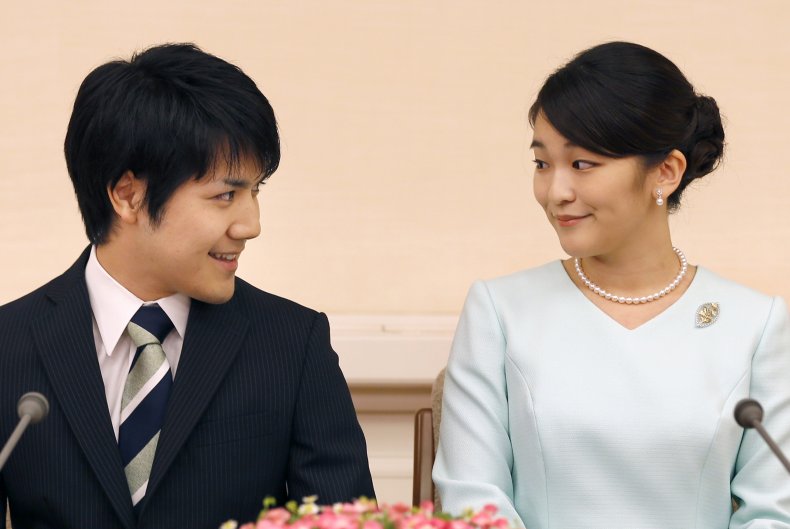 A Hostile Public and Media
Mako and Komuro got a positive initial reception which turned hostile in the tabloids and even some broadsheets after allegations over money that was given to his mother by her former fiance, The Guardian reported.
The newspaper described how the ¥4m ($35,200) was partly used to pay for her son's education but there has been a dispute over whether it was a gift or a loan.
The scandal caused the wedding to be delayed two years and a wave of hostile media coverage that has extended beyond the original issue and onto to such subjects as his ponytail haircut.
Kaori Hayashi, a media professor at Tokyo University, told The Guardian: "Weekly magazines and daytime TV shows are reporting frantically on this because it helps their sales and viewing figures.
"They are particularly critical of the Komuros because they are not fully protected by Imperial Household Agency [the Japanese government agency in charge or royal affairs]."
Meghan told Oprah Winfrey the tide turned in her relations with the media in November 2019 after a story suggesting she had made Kate Middleton cry, which she said was untrue.
Afterwards, there were a series of more trivial criticisms, including over her dark nail varnish and how often she touched her baby bump.
Both couples have also triggered debates about public money being spent on them, after Mako and Komuro turned down public funding normally given to royals.
Harry and Meghan came under pressure over public money spent on the refurbishment of their U.K. home, Frogmore Cottage, and had their taxpayer funded police protection detail removed.
Mental Health Concerns
Princess Mako has experienced Post Traumatic Stress Disorder (PTSD) following the couple's experiences of media negativity, the Imperial Household Agency announced earlier this month.
Meghan told Oprah she experienced suicidal thoughts in the wake of hostile media coverage while she was a working royal.
She said: "I just didn't want to be alive any more. And that was a very clear and real and frightening constant thought.
"And I remember how he [Harry] just cradled me. I went to the institution, and I said that I needed to go somewhere to get help. I said that I've never felt this way before, and I need to go somewhere.
"And I was told that I couldn't, that it wouldn't be good for the institution."