Like the majority of Americans, sport stars have been heavily involved in one of the most dramatic election races in recent memory.
While LeBron James, Stephen Curry, Magic Johnson and Steve Kerr actively campaigned for Democratic presidential candidate Joe Biden, former multiple World Series winners Curt Schilling and Aubrey Huff were among those backing President Donald Trump.
The divide translated into the approach both groups adopted during a tumultuous election night, during which pro-Trump athletes seemed to be far more vocal than sport stars in Biden's camp.
Schilling praised voters who headed to the polls on election day, implying the majority of in-person voters were Republicans rather than Democrats, and fired shots at pollsters, whose forecasts again appeared to be wide of the mark as vote counting began.
The former Boston Red Sox star, who four years ago said he was interested in running for president in 2024, suggested pollsters have been paid in the last two elections to deliberately paint a misleading picture of voters' intentions ahead of election day.
Huff, meanwhile, defended Trump's premature claim he had won the election before all the votes were counted and that a "major fraud" was being committed.
"Trump speech wasn't divisive," Huff, who has long been an outspoken Trump supporter, tweeted.
"He's been fighting fake news for four years and this was no different. He has this thing won handily, and they are stalling to figure out how to steal this election."
During a speech delivered at the White House in the early hours of November 4, Trump stated, without offering any evidence to corroborate his claim, that a fraud was being perpetrated at the expenses of the electorate.
Some of the most ardent Trump supporters and even Vice President Mike Pence immediately distanced themselves from the statement.
Former NFL player Jack Brewer, meanwhile, wheeled out one of the president's favorite refrains and slammed the mainstream media, which he described as the "enemy of the people."
The target of Brewer's ire, however, was somewhat surprising. He lambasted FOX News after the pro-Republican network called Arizona for Democratic presidential Joe Biden, suggesting America found itself in a "spiritual war."
Echoing the thoughts of Trump's lawyer Rudy Giuliani and of Florida senator Marco Rubio (R-FL), Brewer also attacked the networks' reluctance to call Florida in favor of Trump, which Rubio suggested had been deliberately orchestrated to deny the Republican incumbent a key swing state early on until voting in Arizona and Nevada closes.
The Associated Press declared Trump won Florida and its 29 electoral votes at 12:35 a.m. ET, while the news agency called Arizona in favor of Biden at 2:51 a.m. ET and at the time of writing Nevada remains still in the balance. The state's election division announced that no more results will be given until 12 p.m. ET on Thursday.
Seven-time Pro Bowl selection Nick Mangold also had issues with the process of declaring states as won.
The former New York Jets star tweeted a screenshot showing his ballot had yet to be received approximately 15 minutes after the AP called New Jersey at 8 p.m. ET.
Replying to a subsequent tweet, Mangold acknowledged that while New Jersey was an easy state to call he felt his ballot should have at least been received.
Meanwhile, long-time Trump friend and former Heisman Trophy winner Herschel Walker, criticized congresswoman Maxine Waters (D-CA) for saying she would "never forgive" Black Americans who voted for the president.
"She's been in office for a long, long time. Have you seen her pass any laws for social justice? Have you seen her pass anything to make anything equal? I don't want to hear them [the Democrats] putting the blame on anyone else," he said during an appearance on FOX Business' Varney & Co. on election day.
"Now she is upset that people are starting to educate themselves and see policies that fit them. [...] So don't come here to me with this rhetoric right now.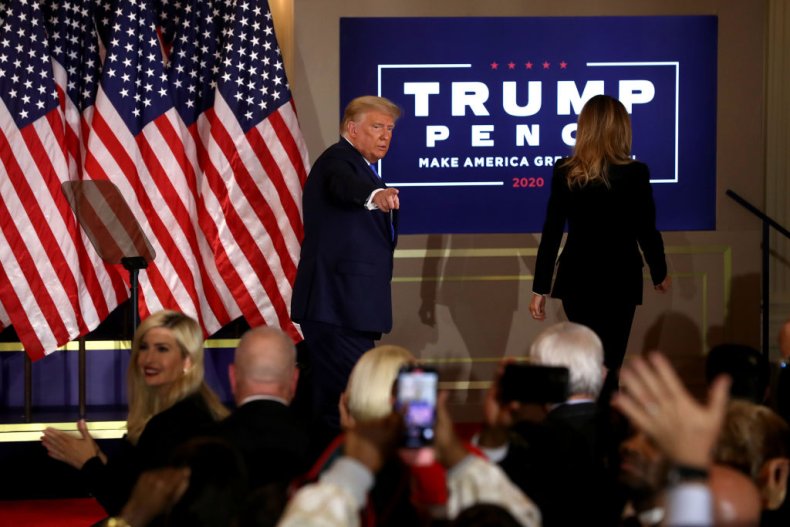 Uncommon Knowledge
Newsweek is committed to challenging conventional wisdom and finding connections in the search for common ground.
Newsweek is committed to challenging conventional wisdom and finding connections in the search for common ground.
About the writer
Dan Cancian is currently a reporter for Newsweek based in London, England. Prior to joining Newsweek in January 2018, he was a news and business reporter at International Business Times UK. Dan has also written for The Guardian and The Observer.