President Donald Trump's premature claim he had won the election before all the votes were counted and that a "major fraud" was being committed was the latest dramatic turn of a tumultuous presidential election, the outcome of which is yet to be fully tabulated.
Several high-profile Trump supporters and even Vice President Mike Pence pushed back on the Republican incumbent's comments, but former MLB star Aubrey Huff had a rather different verdict on the speech the president delivered at the White House in the early hours of November 4.
"Trump speech wasn't divisive," tweeted the two-time World Series winner, who has long been an outspoken Trump supporter.
"He's been fighting fake news for four years and this was no different. He has this thing won handily, and they are stalling to figure out how to steal this election."
At the time of writing, the results of the election remain incomplete with vote counting still ongoing. Trump, however, insisted a fraud was being perpetrated, although he did not offer any evidence to corroborate his claim.
"This is a fraud on the American public," he said. "This is an embarrassment to our county. We were getting ready to win this election. Frankly, we did win this election.
"We want the law to be used in a proper manner so we'll be going to the U.S. Supreme Court. We want all voting to stop. We don't want them to find any ballots at four o'clock in the morning and add them to the list. This is a very sad moment."
Pence acknowledged Trump could be on his way to win a second term but distanced himself from the president's comments.
"While the votes continue to be counted, we're gonna remain vigilant, as the president said," he told an election night crowd at the White House.
"The right to vote has been at the center of our democracy since the founding of this nation, we're gonna protect the integrity of the vote.
"But I really believe with all my heart, with the extraordinary margins Mr. President that you've inspired in the states that you just described. And the way that you've launched this movement across the country to make America great again.
"I truly do believe, as you do, that we are on the road to victory, and we will make America great again."
Joe Biden's team hit back at Trump, describing his statement as "outrageous, unprecedented, and incorrect," and insisting the vote counting will continue as normal.
"The counting will not stop. It will continue until every duly cast vote is counted," Biden's campaign chief Jen O'Malley Dillon said in a statement.
"Because that is what our laws—the laws that protect every American's constitutional right to vote—require."
Huff has already got two of his election forecasts wrong as Trump has failed to win California and even should he secure all the 98 electoral college votes that remain up for grabs at the time of writing, he would win a maximum of 311 electoral college votes.
Last week, the former San Francisco Giants star claimed Trump would win in California, which has gone to the Democrats in the last eight presidential elections. On Election Day Huff said he believed the president will carry all but three states and win 487 electoral votes, which would have been the fourth-highest tally in history of U.S. elections.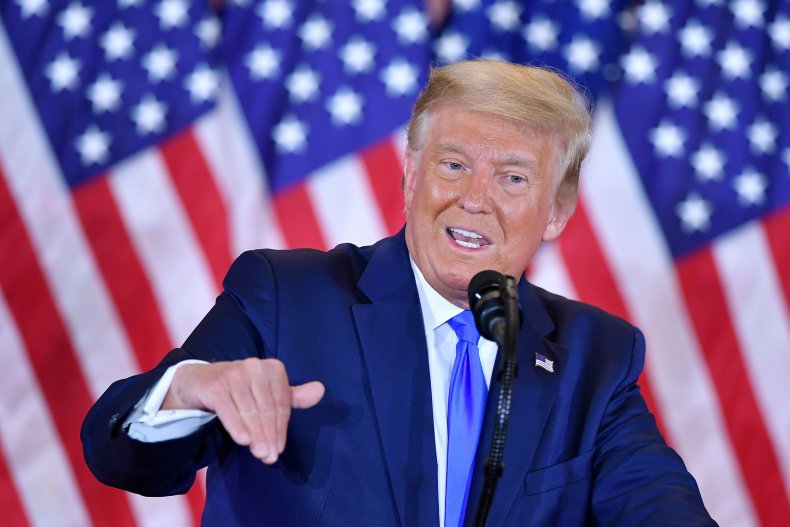 Uncommon Knowledge
Newsweek is committed to challenging conventional wisdom and finding connections in the search for common ground.
Newsweek is committed to challenging conventional wisdom and finding connections in the search for common ground.
About the writer
Dan Cancian is currently a reporter for Newsweek based in London, England. Prior to joining Newsweek in January 2018, he was a news and business reporter at International Business Times UK. Dan has also written for The Guardian and The Observer.