Pro-Life Advocates 'Going All In' to Defend Republican Senate Seats in Georgia
Anti-abortion activists announced on Thursday that they are "going all in" to defend Georgia's two Republican senators, at least one of whom is certain to head to a runoff election in January.
Georgia is the only state in which both of its senators were battling to keep their seats this election cycle. With election officials still counting votes in the state on Thursday, a pro-life nonprofit, Susan B. Anthony List (SBA List), and its partner, the Women Speak Out PAC, announced a campaign to re-elect the incumbents—both of whom are pro-life—and "hold our #ProLife Senate majority."
"We are going all in for pro-life champions Kelly Loeffler and David Perdue," SBA List Vice President of Communications Mallory Quigley said in a news release.
"The outcomes of these races will determine the fate of the U.S. Senate and our nation. Without a pro-life Republican majority in the Senate, there would be no check on the pro-abortion Biden-Harris administration, Chuck Schumer, Nancy Pelosi and the radical pro-abortion lobby bent on ditching the filibuster and packing the Court," Quigley said.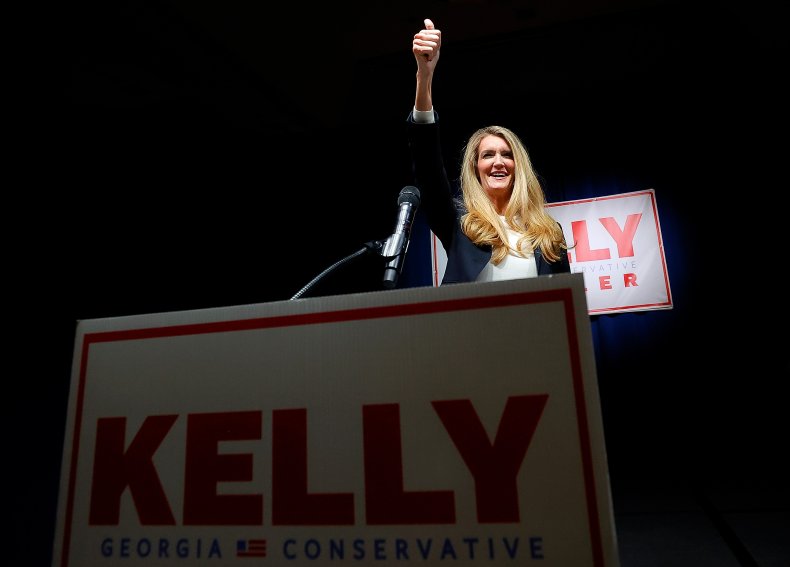 Georgia Governor Brian Kemp appointed Loeffler in 2020 to fill former Senator Johnny Isakson's seat after he retired. The Associated Press on Wednesday declared that Loeffler would advance to a runoff election in January against Democratic challenger Raphael Warnock, after neither candidate received at least 50 percent of the votes cast in the election. A simple majority of voter support is needed to declare a winner for a Georgia Senate seat.
It was unclear if Perdue, who was first elected to represent Georgia in the Senate in 2014, would similarly advance to a runoff election against his Democratic challenger, Jon Ossoff, though neither candidate held a clear majority by Thursday afternoon. In a statement posted Thursday on Perdue's campaign website, the senator's campaign manager, Ben Fry, expressed confidence in his chances of retaining his seat.
"There is one thing we know for sure: Senator David Perdue will be re-elected to the U.S. Senate and Republicans will defend the majority," Fry said.
Votes in the presidential race were still being counted across the country on Thursday with no definitive winner yet. Democratic nominee Joe Biden was leading in the popular vote and in the Electoral College on Thursday, causing concern among many of President Donald Trump's supporters. Though the Republicans still held a majority in the Senate as of Thursday, Georgia's two seats could put the parties on equal footing if both incumbents were to lose to their Democratic challengers during runoff elections.
Georgia is traditionally a red state—a Democratic presidential nominee hasn't won its 16 electoral votes since Bill Clinton in 1992—but the gap between Trump and Biden was narrowing as election officials continued counting ballots on Thursday.
SBA List identifies its mission as seeking to end abortion by supporting pro-life candidates and legislation. The organization keeps a list of congressional representatives on its website and rates politicians based on their legislative work. SBA List has awarded both Loeffler and Perdue "A" ratings.
Loeffler's campaign press secretary, Caitlin O'Dea, said in a statement shared with Newsweek that Loeffler is "honored" by SBA List's announcement.
"Unlike her opponent, Senator Loeffler believes that every life is a precious gift from God—and she will never stop fighting to cultivate a culture of life in this country," O'Dea said. "She is honored to have the endorsement and support of strong pro-life advocates like Susan B. Anthony List—and looks forward to fighting alongside them to defend the right to life against radical, abortion-on-demand Democrats like Chuck Schumer and Raphael Warnock."
Before announcing its effort to support Loeffler's and Perdue's re-election campaigns, SBA List said its advocates had invested more than $52 million this election cycle to support pro-life candidates in Senate races, as well as Trump's re-election campaign. According to SBA List, the latest $4 million investment in the Georgia Senate races will go toward print and digital ads and efforts to communicate with voters directly in person or by phone.
Newsweek reached out to Perdue's campaign for comment but did not receive a response in time for publication.