'Pro-Life Spiderman' Taken Into Custody After Climbing 60-Foot Tower: Video
A man climbed one of the largest buildings in the United States as part of a performative display to support the federal repealing of abortion rights.
On Tuesday morning, it is believed that Maison Des Champs climbed San Francisco's Salesforce Tower, the second-highest building west of the Mississippi River at 1,070 feet and just 13 feet shy of the height of the Eiffel Tower.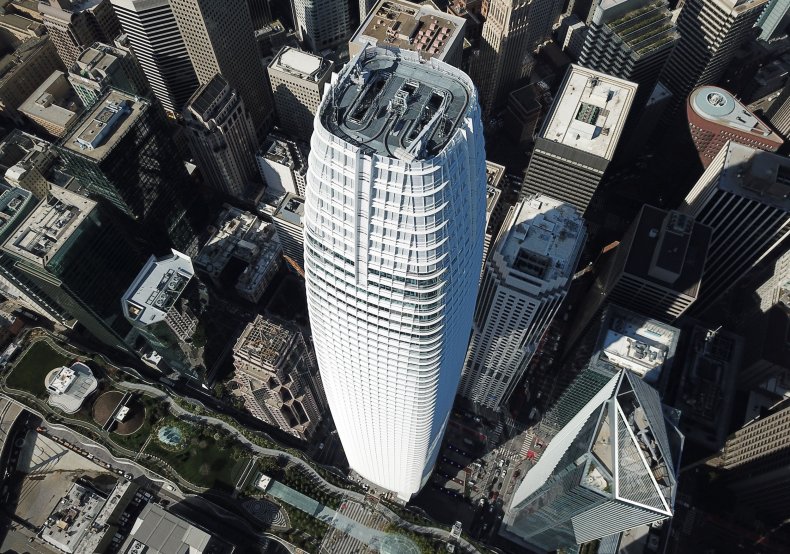 This comes one day after news spread about the Supreme Court drafting an opinion to overturn Roe v. Wade, causing protests and backlash in Washington D.C. and beyond.
Des Champs describes himself as a "Pro-Life Spiderman" and avid rock climber who "recently started climbing skyscrapers to end abortion." His website says he was born and raised in Hartland, Michigan, and "instantly fell in love" with climbing when he moved to California at age 16.
Robert Rueca, public information officer for the San Francisco Police Department, told Newsweek that at approximately 9:21 a.m. this morning, officers were flagged down by citizens at the Salesforce commercial building located at 415 Mission Street regarding a person climbing the building.
Officers saw a male on the side of the building "several floors up from the street ascending on his own power," he said.
Streets were closed in the immediate area. Police were joined on the scene by paramedics and rescue personnel from the San Francisco Fire Department who arrived to provide assistance. Simultaneously, officers attempted to make contact with the climber to safely remove him from the building.
"This person is placing firefighters' lives and the public's safety at risk," the SFFD tweeted. "AVOID THE AREA and join us in condemning this action."
When inquired by Newsweek about their efforts during the climb, the SFFD declined to comment and referred questions to the police.
At approximately 10:50 a.m. Des Champs reached the top of the building, which is when he was arrested and taken into custody.
"Officers have developed probable cause to arrest the subject but charges are still pending," Rueca said. "At minimum he will be arrested for trespassing. Vehicular and pedestrian traffic in the area is being restored."
Des Champs posted a video on his Instagram account, saying he was protesting against abortion–specifically against a doctor named Cesare Santangelo, who he alleged "murdered" five babies as part of late-term abortions. He claimed an investigation never occurred and that the bodies were discarded before examination.
His website also includes a section on the doctor:
"Dr. Cesare Santangelo needs to be held accountable," Des Champs wrote alongside his Instagram video, which has been viewed over 17,000 times. "The goal of this peaceful mission is to spread the word and get Dr. Santangelo put in jail. The mission is simple: destroy what is evil and protect what is innocent. The aim of this project is not to blame women but instead to support them. Women have become victims of cultural and societal pressures."
Currently a Las Vegas resident and a finance major at UNLV according to his website, Des Champs claims he previously climbed the 600-foot Aria Hotel to protest Nevada's COVID-19 mandates.
Anyone with information is asked to contact the SFPD at (415) 575-4444 or text a tip to TIP411 and begin the message with "SFPD."