French presidential candidate Marine Le Pen, who has faced scrutiny for her support of Russian President Vladimir Putin, has condemned Russia's assault on Donbas.
The far-right candidate, who will face off against incumbent French President Emanuel Macron this Sunday in a runoff election that could shape the way France responds to the war, condemned the latest assault by Russia in a tweet Monday afternoon as she aims to distance herself from Putin.
"I condemn Russia's offensive against the Ukrainian people in Donbas," Le Pen wrote in the translated Tweet. "We must support all possible diplomatic efforts to reach a ceasefire and impose peace on Russia so that Ukraine regains its full sovereignty."
Her tweet came as Russia launched an all-out assault on the Donbas region in eastern Ukraine on Tuesday. The Donbas includes two provinces — Luhansk and Donetsk — which have been controlled by rebel separatists for years. Russia has also claimed it sought to liberate the two areas from Ukraine ahead of the invasion in March and formally recognized the two areas as independent nations before the military crossed into the country.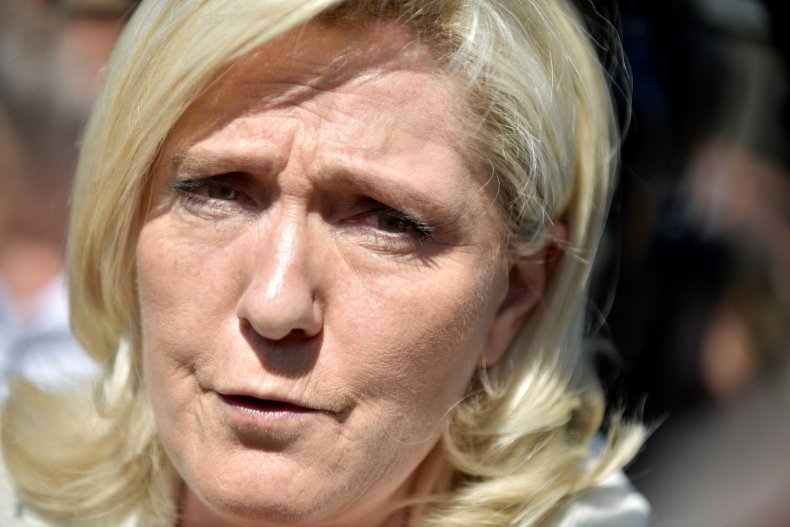 A Le Pen victory could change how France, the third-largest army in the North Atlantic Treaty Organization (NATO), responds to the Russian invasion.
She previously expressed interest in removing France from NATO's integrated campaign and has called for closer ties between NATO and Russia—a departure from Macron, who has emerged as a key world leader opposing Russia. She has also suggested fostering a closer relationship with Russia could prevent the country from becoming closer allies with China.
"As soon as the Russian-Ukrainian war is over and has been settled by a peace treaty, I will call for the implementation of a strategic rapprochement between NATO and Russia," Le Pen said in a press conference earlier in March.
Experts have said if Le Pen, who said last year that "Ukraine belongs to Russia's sphere of influence," could serve as a boost to Putin, who has been condemned by Western leaders.
After losing the 2017 presidential race handily, Le Pen has sought to distance herself from Putin in an effort to increase her credibility, as experts warned her ties to Putin could lower her chances of winning. She has condemned the invasion and suggested that France could take in Ukrainian refugees.
"I have expressed my solidarity for the Ukrainian people several times, and have said we should give Ukrainian refugees a decent welcome," she said in an interview in March.
Macron remains the favorite for re-election later this week, though experts expect the election to be tight. Le Pen secured 23.1 percent of the vote in the first round, compared to Macron's 27.8 percent. He continues to lead in polls by an average of eight points, according to Politico EU.
The fight for Donbas, which leaders have stressed as key to the future of the war, has already started. Russian Defense Minister Sergei Shoigu said the aim of the latest campaign is to "liberate" the Donetsk and Luhansk provinces of Ukraine.
Ukrainian leaders, meanwhile, have pledged to fight back against Russia.
"It is very important for us...to stand our ground, because this battle...It can influence the course of the whole war," Ukrainian President Volodymyr Zelensky told CNN in an interview that aired on April 17.
In that same interview, Zelensky appealed to other countries for more military equipment ahead of the battle for Donbas, including equipment his forces may not be trained to use. He said the Ukrainian military is "prepared to use any type of equipment, but it needs to be delivered very quickly."
Meanwhile, Russia has already seized the town of Kreminna, a town of about 18,000 people in Ukraine's Luhansk province, Reuters reported. Russian forces were reportedly attacking from all sides as authorities worked to evacuate civilians.
Newsweek reached out to the Russian foreign ministry and Le Pen's office for comment.