Pro Sports Leagues Mandate COVID Vaccines for Employees, Fans as Some Players Resist Shots
The COVID-19 vaccine is a hot-button issue across the United States, and the controversy has crossed into the sports world as well.
With cases across the country skyrocketing, leagues and teams, hoping to dodge coronavirus-related pauses that would further affect their bottom lines, have increasingly mandated that employees and fans get jabbed even as some resist.
Major League Baseball, whose office on Sixth Avenue in New York fully reopened to employees July 6, has mandated unvaccinated employees remain working remotely for now while fully jabbed workers are expected to work in-person. The NFL and NBA will require all employees who work in their offices to show proof of vaccination in order to work at league headquarters, according to Sports Business Journal.
The NHL has followed suit, stating that "employees who are not fully vaccinated or have not submitted proof of vaccination status and do not have an approved accommodation in connection with the vaccine will be placed on unpaid leave as of September 13," when their U.S. headquarters in New York reopens according to an internal memo obtained by Newsweek.
Teams, particularly those in cities susceptible to the highly contagious Delta variant, are also turning up the heat on those who have not received their shots.
After New Orleans mayor LaToya Cantrell announced that fans would need to prove vaccine status or a negative COVID test in order to attend events at the city's Caesars Superdome, the Saints said they would not refund tickets for fans who refused to do so.
The Las Vegas Raiders, who did not have any fans for their inaugural season at Allegiant Stadium in 2020, became the first NFL team to require vaccines for all fans who want to attend games Monday.
The Brooklyn Nets announced last week they were requiring fans to have at least one shot to attend games at Barclays Center this fall. Toronto FC, the Toronto Raptors and NHL's Maple Leafs will require either vaccines or negative COVID tests in order to attend games starting in September.
The NHL's Winnipeg Jets announced they will require all fans, including those ages 12-17, to show proof of full vaccination to attend games and wear masks while doing so.
Teams can enact protocols that will keep unvaccinated people out of their buildings, yet they can't enforce vaccine mandates on their players, due to players unions. That hasn't stopped the NFL from getting aggressive against unvaccinated players, threatening fines for unjabbed players who violate protocols and forfeits for games that are canceled due to a COVID outbreak among unvaccinated players.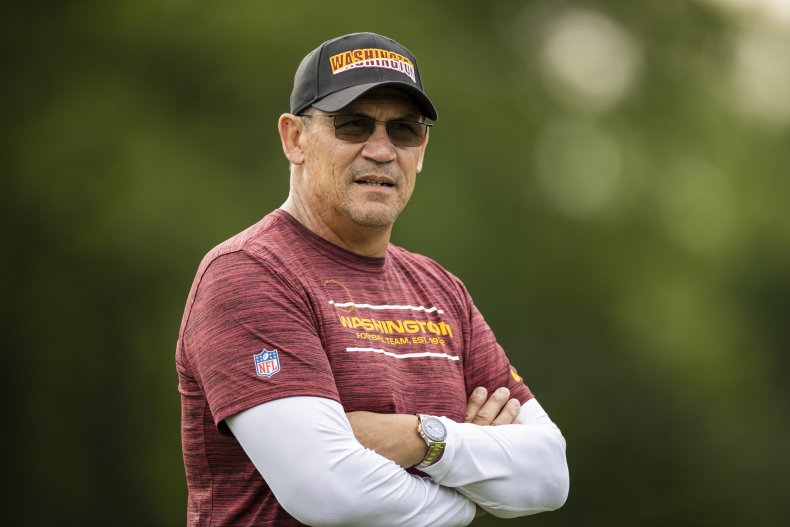 Still, NFL players have been the most vocal against getting jabbed. Some, like Baltimore Ravens quarterback Lamar Jackson, Arizona Cardinals wide receiver DeAndre Hopkins, Minnesota Vikings quarterback Kirk Cousins, Tampa Bay Buccaneers running back Leonard Fournette and Buffalo Bills wide receiver Cole Beasley, have been particularly outspoken against getting vaccinated.
Despite the outspoken minority, unions have been advocating for their players to get shots, and many athletes are taking the opportunity to get jabbed. More than 90 percent of NFL players, per USA Today, and NBA players, according to Yahoo! Sports, are vaccinated. More than 85 percent of NHL players are fully vaccinated, according to The Athletic, and MLB players reached the 85 percent vaccinated threshold in June.
"We've encouraged players to get vaccinated from Day One," NFLPA executive director DeMaurice Smith told reporters during a media call June 10. "We've urged them to get the vaccine. We've urged them make sure that they just make a decision that's informed."