Pro-Trump Author Eric Metaxas Calls Deniers of 2020 Election Fraud 'Enemies of This Country'
Eric Metaxas, a New York Times bestselling Christian author and staunch supporter of former President Donald Trump, said deniers of baseless conspiracy theories that the results of the 2020 election were fraudulent are "enemies of this country."
Although Trump and his allies continue to claim that the 2020 election was "rigged" or "stolen" by Democrats and President Joe Biden, no evidence has been provided to back this extraordinary allegation. But Metaxas, along with many other staunch supporters of the former president, have repeatedly pushed the groundless claim.
"We should never rest. Never rest and never shut up until we have clarity that every single legal vote is counted. That we will never have anything to like this again and that people who do this will be prosecuted because this is despicable," Metaxas said during a Saturday evening interview with Real America's Voice.
"This is like putting a bullet in the head of Lady Liberty," he added.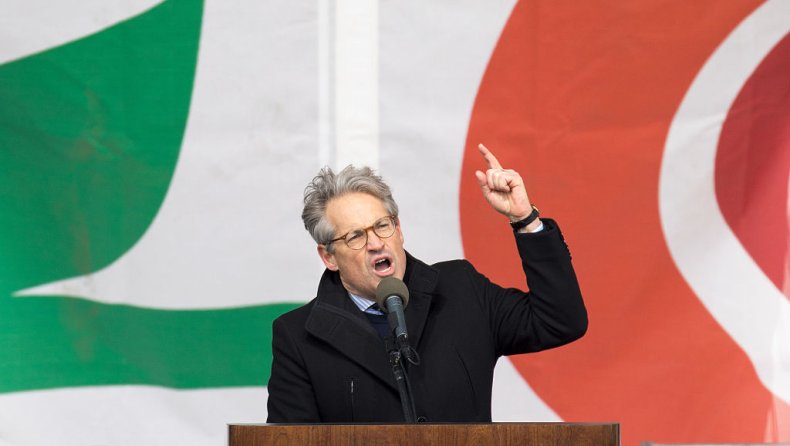 Metaxas described the alleged election fraud as a "foul attack" on the U.S. "People who attack our elections are fundamentally hostile to this nation. They're enemies of this country," he said.
The Christian author said he doesn't care "if it's Republicans or Democrat—anyone who is corrupt, anyone who is involved or looks away from the corruption of our voting, or is participating in that, I just have to say ... that is the darkest thing."
"In my lifetime I've never seen anything like this," Metaxas added. "And the idea that people are telling us, 'Shut up and we're gonna move on'—I will never move on." He said he wants to "lead the way in saying to people, don't shut up, keep speaking."
Dozens of election challenges filed by Trump and his allies have failed in state and federal courts, as even judges appointed by the former president and other Republicans dismissed or rejected the often bizarre claims. The Cybersecurity and Infrastructure Security Agency at the Department of Homeland Security, which was led by a Trump appointee, said in mid-November that the 2020 election was the "most secure in American history." The agency asserted that "there is no evidence that any voting system deleted or lost votes, changed votes, or was in any way compromised."
Former U.S. Attorney General William Barr, who was widely viewed as one of Trump's most loyal Cabinet members, said in early December that there was "no evidence" of widespread fraud that would change the election's outcome. Numerous ballot recounts and audits in key battleground states—including in Arizona and Georgia where the state's elections were overseen by Republican secretaries of state—reaffirmed Biden's victory as well.
But many Trump loyalists continue to believe or claim that the election was stolen. In late November, Metaxas tweeted: "Trump will be inaugurated. For the high crimes of trying to throw a U.S. presidential election, many will go to jail. The swamp will be drained. And Lincoln's prophetic words of 'a new birth of freedom' will be fulfilled. Pray."
Newsweek reached out to Metaxas for further comment.