Pro-Trump Rioter Who Smoked Joint In Capitol Charged After Co-Workers Turn Him in to Feds
James Bonet, an insurrectionist from New York state who allegedly posted a Facebook video of himself smoking a joint in the Capitol during the January 6 riots, has been arrested and charged after his co-workers reported his video to legal authorities.
Bonet allegedly drove from his home in Glens Falls to Washington D.C. to be present in the nation's Capitol on January 6, the day that Congress was set to certify the victory of now-President Joe Biden. That same morning, former President Donald Trump held a "Stop the Steal" rally in which he encouraged his followers to "fight" and prevent Biden from being certified as the next president.
While it's unclear whether Bonet attended Trump's rally, he later posted three now-deleted Facebook videos showing him amid fellow insurrectionists. One video showed him smoking a joint in the building and proclaiming, "Capitol building smoking with all my people!", according to The Daily Beast.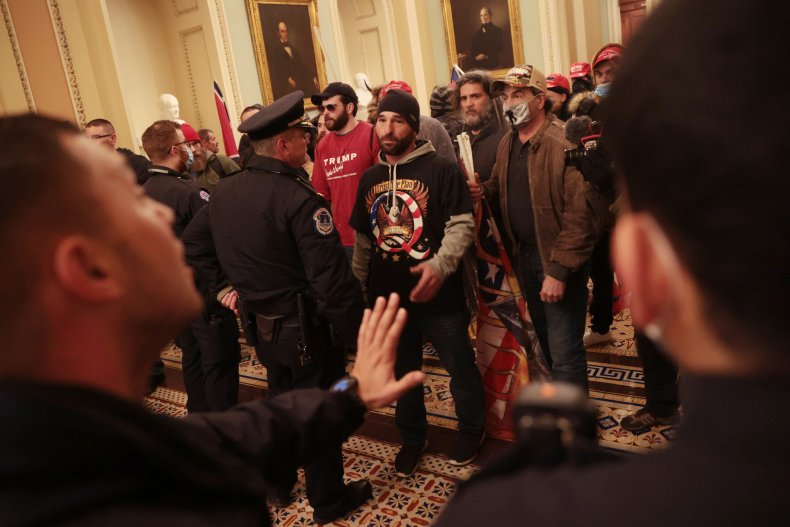 A second video recorded in the Crypt of the Capitol—a room below the building's rotunda dome which was originally intended to lead to George Washington's tomb—allegedly showed Bonet and fellow insurrectionists chanting, "Whose house? Our house!"
In a third video, Bonet allegedly said, "We made it in the building bitches! We're taking it back! We are taking it back! We made it in the building!" The video then allegedly showed him walking up some stairs to the Capitol door alongside other insurrectionists.
One of Bonet's co-workers posted Bonet's video of him smoking in the Capitol within a group chat. After seeing Bonet's other videos on his Facebook wall, they decided to report him to legal authorities. Bonet later deleted the videos before January 11 when the FBI learned of his involvement in the insurrection.
The criminal complaint filed against Bonet said that his co-workers weren't surprised that he took part in the insurrection. They said he had regularly tried to convince them of "government conspiracy theories" including Trump's baseless claim that the 2020 presidential election was stolen, a claim that has been dismissed for lack of evidence in nearly 86 court cases filed by Republicans and the Trump campaign.
Bonet has since been charged with knowingly entering or remaining in any restricted building or grounds without lawful authority, and disorderly conduct on Capitol grounds.
He is just the most recent insurrectionist to get arrested because of their own social media posts.
Earlier this month, William McCall Calhoun Jr. was arrested after bragging online about kicking in the congressional office door of Democratic House Speaker Nancy Pelosi of California. Gracyn Dawn Courtright was arrested after posting images of herself in the Capitol during the insurrection. Brandon Straka was arrested after his Twitter posts boasting about taking part in the riot.
Newsweek contacted the FBI for comment.