Brandon Straka, Pro-Trump WalkAway Founder, Arrested Over Capitol Riot
A leader of a pro-Trump group has been arrested and charged over the Capitol riot.
Brandon Straka, 44, from New York, was arrested in Nebraska on Monday and charged with impeding law enforcement, entering restricted grounds and disorderly conduct with intent to disturb a hearing before Congress.
The right-wing activist behind the "WalkAway" campaign, allegedly posted a video in which he can be heard shouting "Go! Go!" as rioters stormed into the Capitol building on January 6. Shortly after, he added, "I wanna try," court documents claim.
A YouTube video allegedly shows Straka on the Capitol steps encouraging others to "Take the shield!" from an officer. The officer escaped after being pulled into the crowd, before later returning to regain the shield, an affidavit filed last week said.
The clip does not show Straka entering the Capitol building.
The suspect appeared to be wearing the same clothes as Straka wore at a pro-Trump "Stop the Steal" rally at Freedom Plaza in Washington, D.C., the day before.
A separate video, which investigators said was deleted from Straka's Twitter but later uploaded to YouTube, allegedly shows the activist speaking at the January 5 rally.
In it, Straka referred to "patriots" and a "revolution," while also telling attendees to "fight back," the court affidavit said. It ended with the message: "We are sending a message to the Democrats, we are not going away, you've got a problem!"
Screenshots of other now-deleted or hidden social media posts were also sent to FBI agents. In Twitter posts on January 6, he allegedly wrote "Patriots storm the Capitol – now everybody is virtual signaling their embarrassment that this happened."
In another, he allegedly said: "I was there. It was not Antifa at the Capitol," adding that those involved were "freedom loving Patriots who were DESPERATE to fight."
An initial federal court hearing for Straka is scheduled on Tuesday.
Straka, who has described himself as a "former liberal," is a New York City-based hairstylist who shot to prominence in 2018 following a video in which he outlined why he quit the Democratic Party. His "WalkAway" group seeks others to make that same move.
Last June he was reportedly banned from American Airlines after refusing to wear a mask on a flight. In November, his group helped stage a rally outside CNN's Atlanta headquarters in protest of its coverage of the presidential election.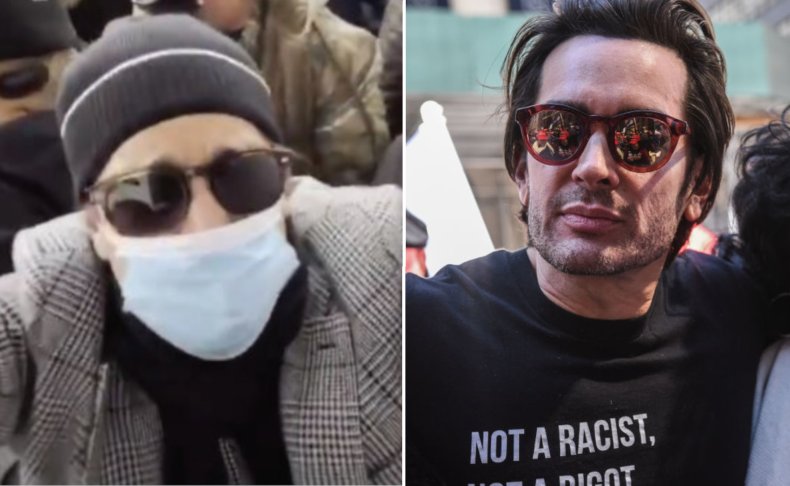 More than 100 people have so far been arrested in connection with the January 6 riot.
The disorder led to five deaths, including that of a police officer. At least 134 officers were assaulted during the riot, Justice Department court filings revealed on Monday.
Rioting also delayed Congress approval of the Electoral College votes that gave Joe Biden victory in the presidential race with Donald Trump.
Trump has been impeached over allegations he incited the mob and faces a Senate trial that could potentially ban him from running from public office.