134 Police Officers Assaulted in Capitol Riots, Justice Department Says
A Justice Department court filing has revealed that at least 134 police officers were assaulted during the Capitol riots on January 6.
The document says that 81 officers from the Capitol Police force and 58 from the Washington D.C. Metropolitan Police Department sustained injuries when crowds of Donald Trump supporters breached the building while lawmakers were preparing to count electoral college votes, cementing Joe Biden's election victory.
Five people died, including a police officer, during the violence. Disturbing footage and photos have shown officers being beaten, crushed by crowds and dragged down steps as the mob overwhelmed law enforcement.
According to a tweet posted by NBC 4's Scott MacFarlane, the court filing says: "In the course of the insurrection, approximately 81 Capitol Police and 58 MPD officers were assaulted, including one Capitol Police officer who died."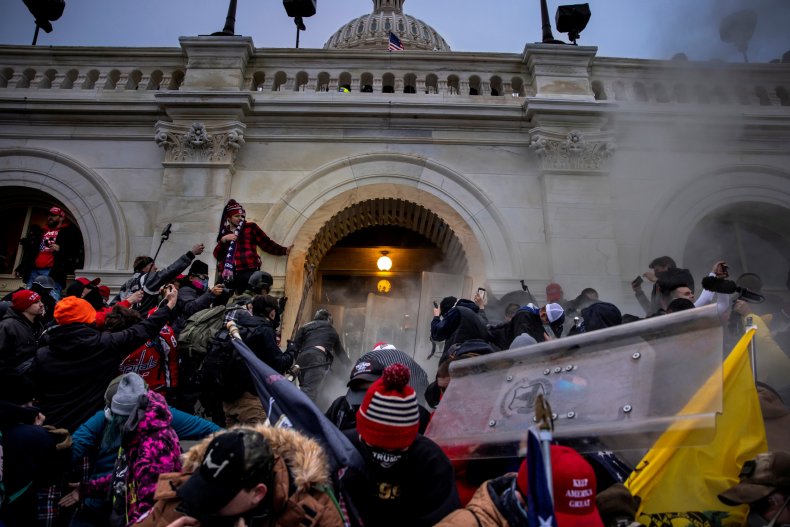 It comes as details about the riots continue to be flushed out with more and more people being arrested and charged over the violence.
As a result of a lack of law enforcement preparation, police officers were overwhelmed and outnumbered as thousands of rioters swarmed the Capitol building.
Speaking to Newsweek, former Department of Homeland Security Assistant Secretary for Infrastructure Protection Brian Harrell said federal law enforcement was well aware that a sizable and volatile crowd was set to descend on the capital Wednesday, yet did not take the necessary precautions.
"We all knew that tens of thousands of extremists would converge on DC Wednesday, so there's no excuse for the resourcing failure," Harrell said. "Law enforcement was ill-prepared for an event the entire country knew was coming, and one that POTUS has been signaling for weeks."
Congressional lawmakers convened in Washington, D.C. on January 6 to certify the results of the 2020 presidential election. Objections to the Electoral College results were expected following former President Donald Trump's vocal support for baseless claims of widespread voter fraud, which have been widely debunked.
Following a "Save America" rally at which Trump spoke nearby, protesters marched to the Capitol and broke into the building, forcing congressional legislators into lockdown and resulting in the deaths of four civilians and one police officer. Congress certified Joe Biden as the 46th president hours later, once law enforcement officials regained control of the building.
Earlier this month, the House impeached Trump for his role in allegedly inciting the insurrection.
An ethics watchdog organization is now alleging that two Republican members of Congress gave "explicit support" to at least one organizer behind the rally that later led to a riot at the U.S. Capitol Building on January 6.
The Campaign for Accountability requested a probe to determine whether the alleged actions of Reps. Andy Biggs and Paul Gosar of Arizona were in violation of federal law. The complaint also mentioned Rep. Madison Cawthorn of North Carolina, who was similarly accused of actions that the organization wrote "may have violated laws prohibiting sedition and insurrection."