Progressive Caucus Chair Jayapal Calls for Cutting Pentagon Budget After Biden Proposes Increase
Representative Pramila Jayapal, a Washington Democrat and chair of the Congressional Progressive Caucus, has called for cutting the Defense Department budget after President Joe Biden proposed an increase.
The Biden administration released its fiscal year 2022 budget request on Friday, calling for $715 billion to go to the Pentagon. While it's not guaranteed that the amount requested will be approved by Congress, it would be an $11 billion increase compared to the 2021 fiscal year budget, which set funding to the Defense Department at $704 billion.
Progressives have long called for cutting military spending, citing concerns about government waste and a need to end forever wars.
Jayapal on Sunday shared a tweet from Public Citizen, a non-profit consumer rights advocacy group and think tank, which said: "We give the Pentagon $2,000,000,000 a day. We should not do that." Retweeting the post, the Washington congresswoman wrote: "I agree. We need to cut the bloated Pentagon budget."
The CPC chair called for reducing the Pentagon budget in a Saturday Twitter post as well.
"We're in the midst of a crisis that has left millions of families unable to afford food, rent, and bills. But at the same time, we're dumping billions of dollars into a bloated Pentagon budget. Don't increase defense spending. CUT it — and invest that money into our communities," Jayapal wrote.
Other prominent progressives expressed dissatisfaction with Biden's Pentagon budget. Representative Ro Khanna, a California Democrat, said the proposal was "disappointing" and allowed for the possibility of "wasteful spending" on weapons, Reuters reported. Khanna has been one of the loudest critics of Americans forever wars and support for allies engaged in conflicts, particularly the Saudi-led war in Yemen.
In mid-March, a group of 50 Democratic lawmakers led by top progressive lawmakers sent a letter to Biden, urging him to support cutting military spending in future budgets. Democratic Representatives Barbara Lee of California, Mark Pocan of Wisconsin, and Representative Jake Auchincloss of Massachusetts led that effort.
"As we face a global pandemic and unprecedented economic crisis, the needs of American families far outweigh the need to continue feeding our bloated military defense budget," Lee said in a press release at the time. "Analysis from experts across the political spectrum show that we can make significant cuts to our defense budget without compromising our national security or reducing the support, pay or benefits provided to our men and women in uniform and their families. This issue has broad based support from faith groups, conservatives and progressives alike."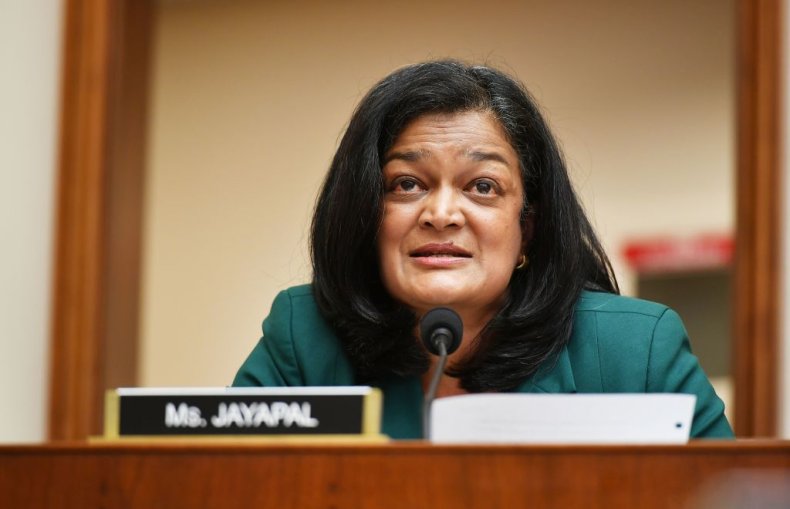 The U.S. leads the world by a wide margin when it comes to annual military spending. The second-biggest spender, China, budgeted less than $200 billion for defense spending last year—less than a third of the U.S. India was a distant third, budgeting just under $74 billion.
Newsweek reached out to the White House for comment, but did not immediately receive a response.