Progressives' Push for $15 Minimum Wage Not Enough for Senate Passage, Experts Say
Progressive Democrats have continued to push for an increase in the federal minimum wage to $15 an hour in the next coronavirus relief package, but some experts suggest it won't be enough for Senate passage.
On Monday, the House Budget Committee voted to approve President Joe Biden's $1.9 trillion American Rescue Plan, which includes $1,400 stimulus checks to eligible Americans and increasing the minimum wage to $15, which Biden promised to do while running for the White House.
The bill will now move to the House floor for a vote, and if approved, it will move to the Senate.
Support for the wage increase has mainly come from progressive Democrats, such as Representatives Pramila Jayapal, Ro Khanna, Ilhan Omar, Mondaire Jones and Veronica Escobar. Vermont Senator Bernie Sanders, the Senate Budget Committee's chair, has also expressed strong support for raising the wage.
"A $15 minimum wage must stay in the COVID-19 relief bill. I'm going to fight to ensure that it does," Jayapal wrote in a tweet on Monday.
During a recent interview on CNN's Inside Politics, Khanna said that raising the minimum wage to $15 was "very reasonable."
Omar previously told Newsweek that "a $15 minimum wage would raise the pay of 27 million people across our country and lift nearly a million people out of poverty. Twenty-seven states and localities have raised the wage to $15 an hour—including my hometown of Minneapolis—and job growth and consumer spending has only grown."
She added that raising the minimum wage is supported by an "overwhelming majority of Americans, including in swing states."
Despite the push by progressives, they have been met with opposition from moderate Democrats, such as Joe Manchin and Kyrsten Sinema. Both have said they are against using budget reconciliation, a process that would allow the relief bill to be passed without Republican support.
Sinema told Politico, "The minimum wage provision is not appropriate for the reconciliation process. It is not a budget item. And it shouldn't be in there."
Manchin made similar comments earlier this month but said he would be open to a lower raise to $11 per hour. "The minimum wage hike, I do not believe, will fit in there at all. We need a good discussion on this," Manchin told MSNBC earlier this month.
A number of progressives have criticized Manchin's stance on a lower raise, such as Jones, who called it "unacceptable," and Escobar, who tweeted, "The **gradual** increase to $15 WAS the COMPROMISE!"
Despite the progressive Democrats' efforts, experts told Newsweek they don't think it will be enough to pass the minimum wage increase in the Senate.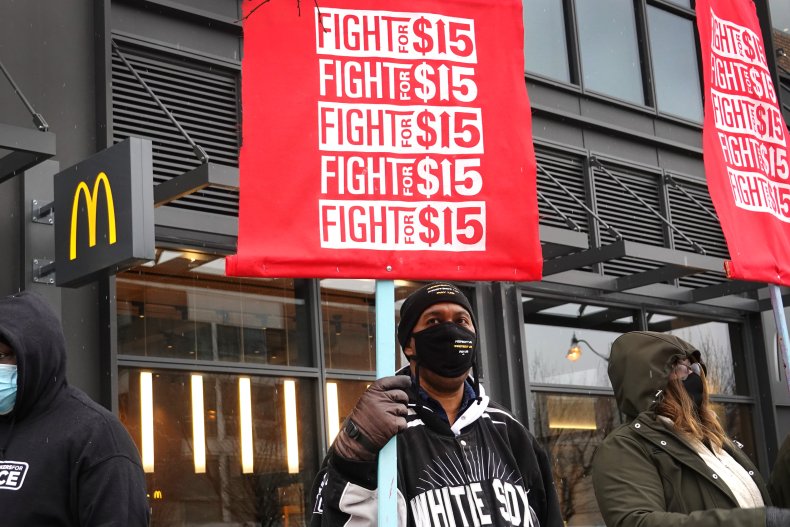 James Thurber, a professor in the Government Department at American University, told Newsweek that progressives have "substantial influence in the House" on a minimum wage increase, but he added, "I think it's dead in the Senate, unless there's some miracle."
Thurber said he also believes that progressives in the House and the Senate will continue to push a wage increase in the public's mind "and try to educate people about it."
Similarly, Thomas Gift, director of the Center on U.S. Politics at University College London, told Newsweek that he's "skeptical" about progressives being able to get the raise approved. "Most of the cards are held by moderate members of the Senate, including Joe Manchin," he said.
"I don't think kind of progressives alone, or the strength or the momentum that they have, is sufficient to get something like this passed. You always need some degree of compromise within the Democratic Party and I think the same will be true here," Gift said. "This will most likely be killed in the Senate."
Both Gift and Thurber suggested that progressives could instead compromise on either a smaller wage increase or increasing the wage over time.
"Given that [Manchin] has signaled openness to an increase that is more modest, like $11 an hour, I think what you might see is Democrats try to meet in the middle," Gift said
House Democrats want an increase to $15 by 2025, but Thurber said one way to compromise "is to phase it in over a longer period of time and start in a couple of years from now."