Progressives Push for Monthly Stimulus Checks as Joe Manchin Aims to Limit $1,400 Payments
As Senator Joe Manchin, a West Virginia Democrat, and moderate Republicans continue to push for limiting the income threshold for who can receive $1,400 stimulus checks, progressive Democrats are urging President Joe Biden to push for recurring monthly payments.
Manchin and moderate Republicans have argued that the direct stimulus payments to be included in a $1.9 trillion COVID-19 relief bill—dubbed the American Rescue Plan—should be more targeted by reducing the income threshold, and White House Press Secretary Jen Psaki indicated in an interview with Fox News Sunday that Biden is open to the proposal.
But Senator Ron Wyden, an Oregon Democrat, has spearheaded an open letter signed by nine other senators calling on the president to put forward recurring payments in his upcoming Build Back Better initiative. Biden was initially expected to unveil the Build Back Better recovery plan—which is expected to be heavily focused on infrastructure funding—in February. But the president has since said it will be released after the current COVID-19 relief package passes.
"We urge you to include recurring direct payments and automatic unemployment insurance extensions tied to economic conditions in your Build Back Better long-term economic plan. This crisis is far from over, and families deserve certainty that they can put food on the table and keep a roof over their heads. Families should not be at the mercy of constantly-shifting legislative timelines and ad hoc solutions," the senators wrote.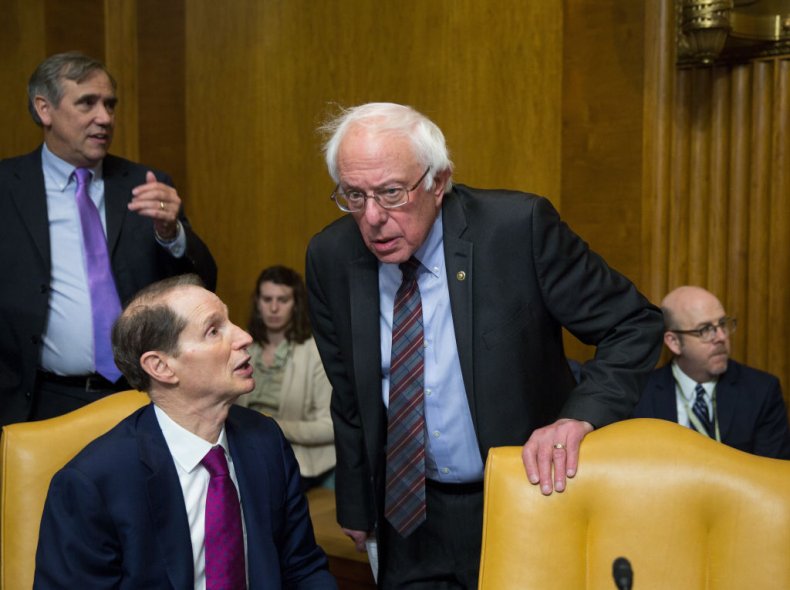 In addition to Wyden, Democratic Senators Sherrod Brown of Ohio, Elizabeth Warren of Massachusetts, Alex Padilla of California, Cory Booker of New Jersey, Michael Bennet of Colorado, Ed Markey of Massachusetts, Kirsten Gilibrand of New York and Tammy Baldwin of Wisconsin, as well as independent Senator Bernie Sanders of Vermont, signed onto the letter.
"Data shows that direct payments and enhanced unemployment insurance are among the most effective forms of relief available. Not only do these payments help keep families out of poverty, but they act as economic stimulus by increasing spending and supporting jobs. When the CARES Act relief checks ran out, poverty rose, and many families saw spiraling debt. Automatic stabilizers will give families certainty that more relief is coming, allowing them to make the best decisions about how to spend their relief payments as they receive them," the senators wrote.
Newsweek reached out to the White House for comment but did not immediately receive a response.
Progressives have called for recurring payments since the outset of the pandemic, with some lawmakers pushing for $2,000 checks per month to be included in the first $2.2 trillion COVID-19 stimulus package passed last March. Instead, Congress included one-time payments of $1,200. In December, Congress passed another one-time direct payment of $600, despite calls from Democrats and some Republicans at the time to raise the amount to $2,000.
A poll conducted by Data for Progress and published in early January showed significant bipartisan support for monthly $2,000 payments. Overall, 65 percent of Americans said they would support the stimulus checks being doled out monthly for the duration of the pandemic. That included 78 percent of Democrats, 60 percent of independents and 54 percent of Republicans. The polls margin of error was plus or minus 2.9 percent.
Adam Green, co-founder of the Progressive Change Institute, which supports the open letter by Wyden, told Newsweek in an emailed statement that Biden would benefit from backing the proposal.
"President Biden could expect broad support throughout the Democratic Caucus if he includes recurring benefits in his Build Back Better long-term economic recovery plan—and every senator would be smart to join Senator Wyden and others in signaling their support now," Green said. "Senator Wyden and these senators deserve great credit for their leadership, which will help millions of people."