Rochester Protesters Spell 'Murderers' In Red Paint Outside Police HQ
Protests over the death of Daniel Prude have continued in Rochester, New York hours after the city's police chief said he was stepping down.
Police Chief La'Ron Singletary and his entire command staff announced their retirement on Tuesday amid criticism over the handling of the 41-year-old Black man's death.
Deputy Chief Joseph Morabito and two commanders retired, while two more deputy chiefs and a commander gave up top leadership positions and returned to lower ranks, the Associated Press reported.
Hours after Singletary's sudden announcement on Tuesday, protesters again gathered outside the Rochester Police headquarters.
Videos posted on social media showed protesters spelled out the word "murderers" in red paint on the street outside the building.
USA Today reporter Sarah Taddeo tweeted that protesters then marched to City Hall and wrote words including "resign" on the doors of the building. they also painted the word "resign" on the street in front of City Hall.
In another tweet, Taddeo said the protest had stayed peaceful and there was "no police interaction that I know of."
Rochester Police on Twitter said protesters had thrown rocks at officers on Tuesday night, but provided no other details. The department has been contacted for additional comment.
Free the People ROC, a local group which has held protests in the city since details of Prude's death surfaced, said on Facebook that it welcomed the resignations of police leaders, but urged people to "keep the pressure up."
"Our movement for justice is winning, and it's because of this incredible community, showing up night after night," the post said.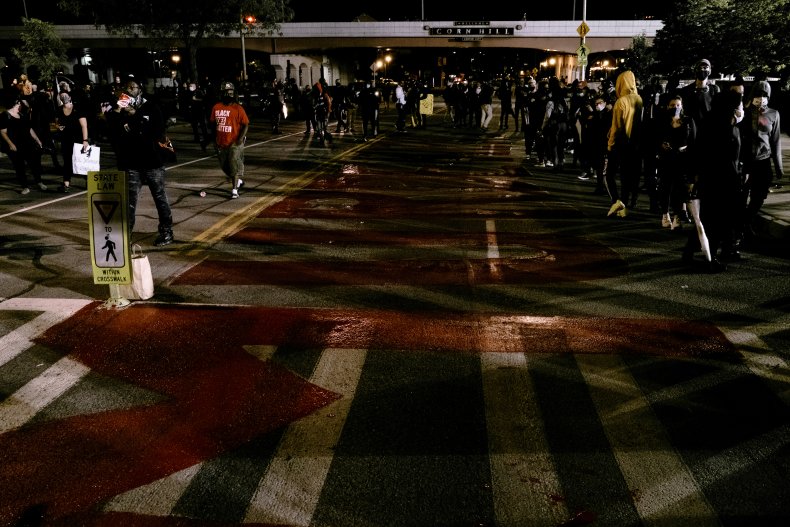 "Let's keep the pressure up until all those responsible for Daniel Prude's murder and cover up—including Mayor Lovely Warren—have resigned, taken responsibility, and donated their pensions to the families they allowed to be harmed. Together we have the ability to hold those in power accountable and bring an end to systemic police violence in our community."
The news of Singletary's retirement came more than five months after 41-year-old Prude's death. His family have accused officials of covering up the details to protect the police officers involved.
In a federal lawsuit filed on Tuesday, Prude's family alleged it took more than 90 seconds for officers to notice he had stopped breathing because they were talking and making jokes at his expense, according to the AP.
The city of Rochester, Singletary and the officers involved in the arrest were named as defendants in the lawsuit.
It alleges the police department sought to cover up the truth, starting with Singletary reporting to Rochester Mayor Lovely Warren early on that Prude had an apparent drug overdose.
The Monroe County Medical Examiner's Office later ruled Prude's death a homicide caused by "complications of asphyxia in the setting of physical restraint."
Last week, the mayor said she was disappointed she didn't see video of Prude's arrest until August 4.
"I have addressed with the police chief how deeply and personally and professionally disappointed I am for him failing to fully and accurately inform me about what occurred with Mr. Prude. He knows he needs to do better to truly protect and serve our community and I believe that he will," Warren said during a briefing.
Singletary has denied wrongdoing. In a statement on Tuesday, he said he spent two decades serving the community with "honor, pride and the highest integrity" and that the police department and greater community know his "reputation and what I stand for."
"The mischaracterization and the politicization of the actions that I took after being informed of Mr. Prude's death is not based on facts, and is not what I stand for," he added.
Rochester Police officers had found Prude running naked down a street on March 23 shortly after he was released from a hospital following a mental health evaluation.
The officer handcuffed him and placed a "spit hood" over his head before pressing his face into the ground for around two minutes until he stopped breathing. Prude died a week later after being taken off life support.
But officials did not publicly disclose the details of Prude's death. His family released body camera footage they obtained through a public records request last week, prompting protests that have taken place every night since.
A day after the video's release, Warren suspended the seven police officers involved in Prude's death.
On Saturday, Attorney General Letitia James announced she would form a grand jury as part of an "exhaustive investigation" into Prude's death.
In a news conference on Sunday, Warren had vowed to reform the city's police department and said she believed Singletary was the right person to lead it. Singletary said he had no plans to resign at the time.