Protesters Seize 'Black House Autonomous Zone' as D.C. Police Retreat
Protesters in Washington, D.C. have reportedly seized an area near the White House they dubbed the "Black House Autonomous Zone" after police retreated.
In the early hours of Wednesday, journalist Wyatt Reed posted a video showing police officers apparently retreating and leaving the area to the protesters.
"DC Police just retreated after holding Black Lives Matter Plaza all day--crowd just seized back the Black House Autonomous Zone and people are going NUTS," Reed tweeted alongside the clip.
Police spent much of Tuesday facing off against protesters, removing tents and barricades they had set up in a bid to create an autonomous zone, The Washington Post reported.
But according to the Post, protesters appeared in the early hours of Wednesday to again cordon off the area using electric scooters, plywood taken from boarded up windows and other materials.
It came after President Donald Trump vowed in a tweet on Tuesday that he would stamp out any attempts to establish an autonomous zone in the nation's capital a day after protesters pitched tents and erected barricades tagged with the words "Black House Autonomous Zone" and "BHAZ" near Lafayette Square.
"There will never be an 'Autonomous Zone' in Washington, D.C., as long as I'm your President. If they try they will be met with serious force!" Trump wrote in a tweet that Twitter flagged for violating its rules on abusive behavior.
A two-block section of 16th Street, north of Lafayette Square, was renamed Black Lives Matter Plaza by D.C. Mayor Muriel Bowser amid ongoing protests against racism and police brutality earlier this month.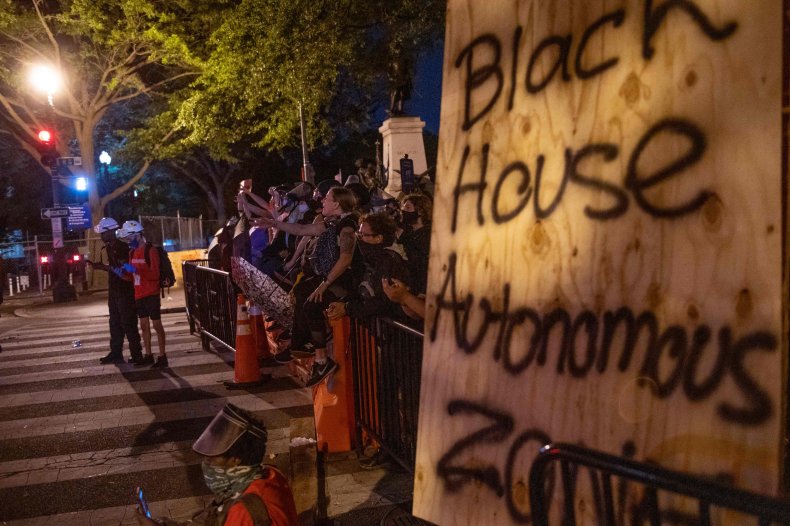 The area, where Bowser also commissioned "Black Lives Matter" to be painted in giant yellow letters on the street, has been the center of demonstrations in the city sparked by the death of George Floyd and other police killings.
But authorities quickly cracked down on attempts to turn the area into an encampment similar to Seattle's Capitol Hill Occupied Protest (CHOP). Seattle Mayor Jenny Durkan said the city's police-free zone would be dismantled after back-to-back shootings over the weekend.
Durkan's announcement on Monday came as protesters in Washington, D.C. spray-painted "BHAZ" on the pillars of St. John's Episcopal Church, three weeks after the president held a Bible aloft for a photo op shortly after police violently cleared the area of peaceful protesters.
U.S. Park Police said police thwarted the attempts of protesters to topple the statue of former President Andrew Jackson near the White House that evening, adding that two officers were injured after protesters "attacked police."
Police Chief Peter Newsham acknowledged that officers had used pepper spray to disperse crowds on Monday night, the Post reported.
The Metropolitan Police Department and U.S. Park Police have been contacted for comment.