Protesters Tear Down Statue of Anti-Slavery Union Civil War Soldier
Protesters in Madison, Wisconsin tore down the statue of a Civil War soldier who fought for the Union after the arrest of a Black protester earlier in the day fueled another night of demonstrations in the city.
The statue of Colonel Hans Christian Heg, a Norwegian American who was the commander of the 15th Wisconsin Infantry, stood atop a pedestal in front of the State Capitol before protesters took it down. Another statue named "Forward" was also forcibly removed by protesters.
"This is not a peaceful protest, so if you came out here for a peaceful protest, you missed it," a protester told the Wisconsin State Journal. "We're done being peaceful."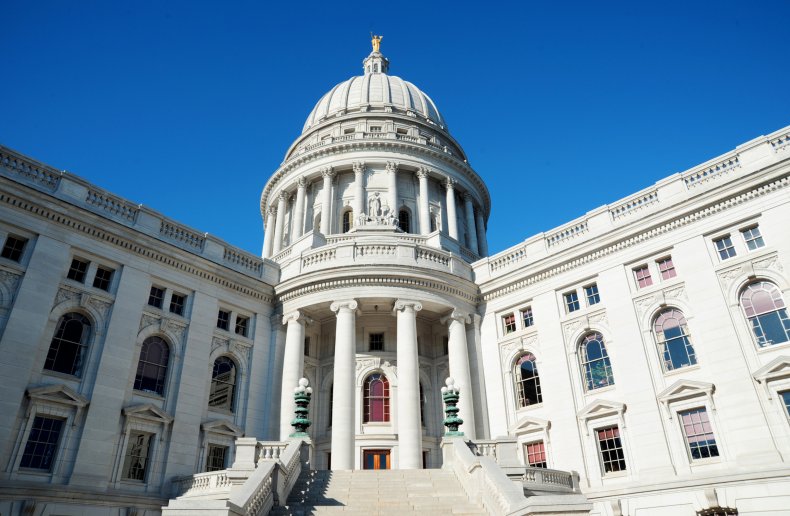 Between 200 and 300 people began the protest by marching through downtown Madison, blocking and surrounding vehicles before moving to the State Capitol building, according to the City of Madison Police Department's incident report. In addition to trying to force their way inside the State Capitol building, police said protesters also broke windows at the nearby City County Building, in which Mayor Satya Rhodes-Conway's office resides, and threw a Molotov cocktail inside.
The mayor's office did not respond to Newsweek's request for comment in time for publication.
A Wisconsin state senator was also attacked by protesters as he stopped to take a picture while on his way inside the State Capitol building. The state senator later said on Twitter he was concerned he might have a concussion and was staying holed up inside the building until it was safe for him to leave.
Governor Tony Evers admonished the violent and destructive tone of the protests in a statement released Wednesday morning and said he was ready to call the Wisconsin National Guard into action if needed.
"What happened in Madison last night presented a stark contrast from the peaceful protests we have seen across our state in recent weeks, including significant damage to state property," Evers said in a statement.
Evers said that as authorities were assessing the property damage, they were able to recover both statues. Protesters had thrown the Heg statue into the nearby Lake Monona, according to the Wisconsin State Journal.
"I want to be clear: violence against any person—whether in the middle of the street in broad daylight, at home trying to sleep, going for a run, or happening upon a protest as was the case last night—is wrong," the governor said. "It should never be tolerated."
Heg's statue is one of many that have been taken down by protesters in recent weeks as they demanded an end to systemic racism—and public displays of the country's racist past—throughout the U.S. While protesters initially focused on statues of Confederate soldiers and controversial figures like Christopher Columbus, their focus has expanded over the last week to include other historical figures like George Washington, Francis Scott Key and Ulysses S. Grant, who was a general for the Union during the Civil War before becoming the 18th U.S. president.