Pete Buttigieg Told by Protesters to "Open Your Heart to Palestine" After Pro-Israel Statements
Pete Buttigieg officially launched his 2020 presidential campaign on Sunday, with more than 5,000 people gathering to support the mayor of South Bend, Indiana, in his bid to become the country's youngest and first openly gay president.
But despite the fanfare and Buttigieg's growing national stardom, a group of protesters also attended the rally, urging the Democratic presidential candidate to clarify and step back from his previous statements toward the Israeli government. "Open your heart 2 Palestine & Golan" was the message on their banners and T-shirts.
"This is not only about Pete," Jude Ash, a graduate student at the University of Notre Dame and one of the protest organizers told Newsweek. "We want to show that there are people in his intended base who are concerned about U.S. policy in the Middle East region being dogmatically pro-Israel, regardless of what Israel is doing to Palestinians," he explained. "But it is also directed toward all of Democrats."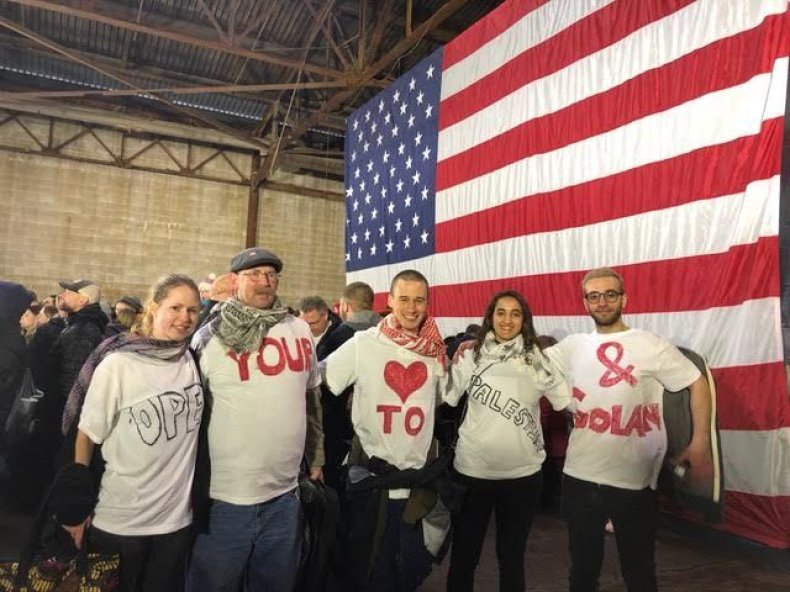 Demonstrators said they were not opposed to Buttigieg as a candidate, with some actually voicing general approval of his candidacy. But they hoped to nudge him on his foreign policy, particularly as it relates to Israel and its neighbors in the Middle East. While progressive Democrats in Congress have grown more vocally critical of Israel, with two members supporting the Boycott, Divestment, Sanctions (BDS) movement against the nation, Buttigieg has a record of speaking positively about Israel. He has also criticized the lack of unity among Palestinians.
"Seeing the way that a country can be on the one hand very intentional, very serious and very effective when it comes to security and on the other hand not allowing concerns about security to dominate your consciousness," he said last May after a visit to Israel. "I think that's a very important lesson that hopefully Americans can look to when we think about how to navigate a world that unfortunately has become smaller and more dangerous for all of us."
Buttigieg also suggested that the group Hamas, which the U.S. government officially designates as a terrorist organization although it administers Gaza, was to blame for much of the Palestinians' problems.
"There really is not a unified or single voice for the Palestinian people," he said. "Most people aren't aware of the difference between what's happening in Gaza—run by Hamas in a way that is contributing to a lot of misery there—but also totally different than an environment where you'd have a negotiating partner across the table."
At the same time, Buttigieg has criticized Israeli Prime Minister Benjamin Netanyahu's right-wing policies. When Netanyahu announced ahead of his close re-election this month that he would begin annexing the West Bank if he won a fifth term—which he did—Buttigieg slammed the position.
"This provocation is harmful to Israeli, Palestinian and American interests. Supporting Israel does not have to mean agreeing with Netanyahu's politics. I don't," he wrote on Twitter at the time. "This calls for a president willing to counsel our ally against abandoning a two-state solution."
When asked for comment for this article by Newsweek, Buttigieg's National Press Secretary Chris Meagher pointed to the mayor's tweet regarding Netanyahu.
Despite the criticism of Netanyahu, some critics see Buttigieg as still too overtly supportive of Israel. Buttigieg "seems to uncritically regurgitate the Israeli propaganda without any sensitivity to the Palestinian and Syrian grievances, and even suggests the Israeli approach may hold lessons for the U.S.," Ash said.
"We believe it is crucial for any successful peace initiative in the Middle East to condemn violence and empower nonviolent expressions of conflict on both sides," he said. "To be more objective and neutral, and in tandem with condemning Hamas' transgressions, the U.S. needs to explicitly condemn Israel's murder of nonviolent protestors, imprisoning children and people without charge and Israeli violations of international law."
The issue of Israel and the Palestinians has increasingly divided Democrats, as progressive voices on the issue have become more prominent. For the annual American Israel Public Affairs Committee conference held last month, many of the party's leading 2020 candidates declined to attend although some met separately with leaders of the organization. Buttigieg, who has only shot from relative obscurity onto the national stage in the past two months, was not invited. But with Senators Bernie Sanders, Elizabeth Warren, Kamala Harris and other front-runners absent from the high-profile event, the 2020 contenders have already appeared to distance themselves from the staunch support shown to Israel by the Democratic Party's 2016 candidate, Hillary Clinton. The former secretary of state and senator attended the AIPAC conference in 2016 and pledged to "take our alliance to the next level," while also attacking the BDS movement.
Meanwhile, Representative Ilhan Omar of Minnesota, who backs the BDS movement, has been attacked by leading Democrats and Republicans for comments she made about Israel, with critics accusing her of anti-Semitism. President Donald Trump and right-wing supporters have repeatedly blasted the progressive congresswoman, and many prominent Democrats have rebuked some of her comments.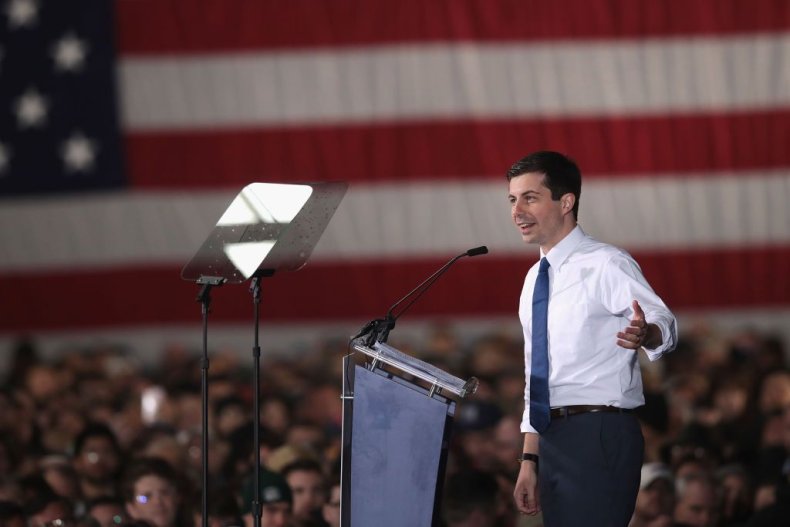 But as the controversy around Omar has ballooned, it has also revealed a growing divide among staunchly pro-Israel Democrats and those who criticize the Israeli government. Many have defended Omar, arguing her comments have been mischaracterized while suggesting she is being attacked partly because she is a black Muslim woman in the national spotlight.
Prominent American Jewish groups that have criticized the Israeli government have also voiced their support for the congresswoman. "More than ever, Jewish Voice for Peace stands with Representative Ilhan Omar—under nearly constant attack by far right politicians and not defended nearly enough by fellow Democrats," the Jewish-American group Jewish Voice for Peace wrote in a Facebook post last week. "She needs all of us to show support now."
When asked about Buttigieg and other 2020 contenders, the group's executive director, Rebecca Vilkomerson, told Newsweek that "as the opinion polls keep demonstrating, it's increasingly clear that any candidate—for any position—who claims to be progressive needs to support Palestinian human rights."
Despite demonstrators' criticism of Buttigieg's position toward Israel on Sunday, they also expressed their overall approval of the candidate. "We are all big supporters of Pete, and we believe that he has shown over and over that he is willing to listen, learn, and evolve on the issues," Ash said.
"We intended our action Sunday to be invitational rather than disruptive," he pointed out, explaining that the demonstrators got a positive response from members of Buttigieg's team.
Editor's note: This article has been updated with comment from Buttigieg's campaign.