Proud Boys Founder Gavin McInnes Interrupted Mid-Show, Sparks Theories
Proud Boys founder Gavin McInnes is the subject of online speculation after his show was interrupted live on air Thursday night, with some people close to him claiming he was arrested.
McInnes, who left the far-right group in 2018, was seen talking to unidentified people off camera during Thursday's live broadcast on his Censored.TV show before getting up and leaving, apparently to go with whoever was speaking to him off-screen.
"We're shooting a show, can we do this another time?" McIness asked. "Alright I'm happy to do that, I'll go get a lawyer and we will sit down and have a conversation, we'll schedule a meeting."
McInnes then walked off-screen. The broadcast kept going with an empty set for at least 30 minutes after McIness left.
It has not been confirmed what the interruption was about, or if it was genuine.
Will Carless, who covers extremism for USA Today, tweeted that the local New York police force say they did not detain McInnes on Thursday so "IF he was arrested tonight, more likely Federal."
An FBI spokesperson told Newsweek that they could not comment.
Carless also noted that McInnes previously told his audience during one of his previous shows that he had spotted an unmarked police car outside of his home.
"Possible set up for a prank? Or premonition of something else?" Carless tweeted.
Will Sommer, who covers politics and extremism for The Daily Beast, later tweeted: "Roughly 12 hours since Proud Boys founder Gavin McInnes disappeared during a live broadcast of his show, and it's still not clear whether it's a prank, he was arrested, or something else happened. No confirmation from any law enforcement agencies so far."
Comedian Josh Denny, who also works at Censored.TV, claimed that McIness had been arrested and was currently in custody at an unnamed location.
"Just got off the phone with our people. It's not a bit," Denny tweeted.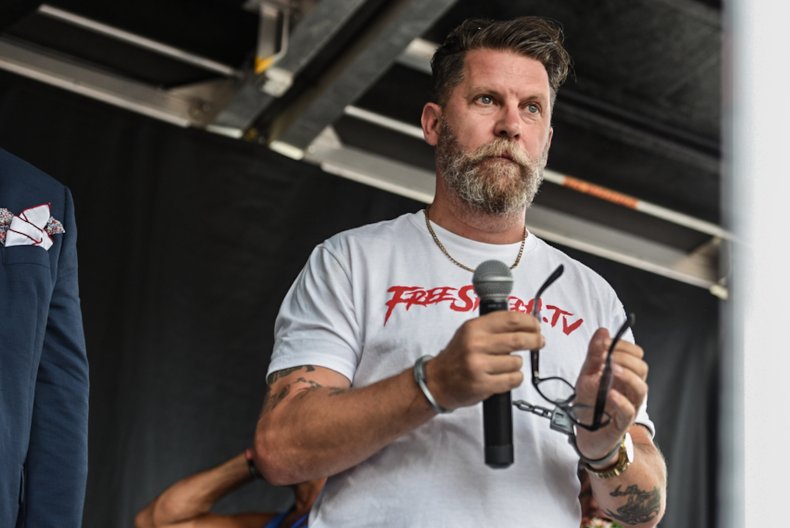 Denny also claimed the arrest occured after McInnes spoke out against the Proud Boys attending the January 6 protests in Washington D.C. and the white supremacist "unite the right" rally in Charlottesville, Virginia in 2017.
"But he's rotting away in jail because he dared to question authority," Denny added.
In a follow-up tweet, Denny denied that McInnes had planned to leave his show mid-broadcast as a stunt after one Twitter shared a clip of McInnes appearing to admit that he would not "be around" next week.
In a post in Telegram on Thursday evening before his show was broadcast, McIness wrote: "Just took a DNA test, turns out I'm 100 percent white—even when I'm crying crazy. Yeah, I got law problems, that's the human in me."
McInnes set up Censored.TV in 2019 after departing from Glenn Beck's BlazeTV the previous year.
McInnes was a co-founder of Vice Media but left in 2008. The media company has since cut all ties with McInnes due to his far-right beliefs and ties.
McInnes left the Proud Boys in November 2018 after several of its members were charged after clashing with Antifa activists following a speech he made at the Metropolitan Republican Club in New York.
Newsweek has reached out to Censored.TV for comment.