Proud Boys Standing By as Trump Disputes Election Defeat, Raising Fears of Far-right Violence
Following an election which needed several days of vote counting to provide a result, Joe Biden was declared the winner of the 2020 election over Donald Trump on Saturday, November 7.
The result has still not been accepted by the President, with Trump instead continuing to push unproven claims that the Democrats "stole" the election.
Hours after the vote was declared, Enrique Tarrio, one of the leaders of the far-right Proud Boys group who Trump infamously told to "stand back and stand by" during the televised debates, issued a statement on social media site Parler.
"We're rolling out. Standby order has been rescinded."
By Saturday evening, members of the Proud Boys, some of whom were armed, were seen in attendance at rallies across the country as Trump supporters questioned the legitimacy of the election.
Their members were spotted in Arizona and Nevada, as well yet again taking to the streets in Portland, Oregon, and engaging in physical altercations in California.
Tarrio later dismissed the Parler post as a so-called call to arms for the far-right group's supporters, but many feared it was proof that the Proud Boys are ready to act after being buoyed by Trump's "stand by" remarks, which the group embraced as a direct order and new slogan.
The Proud Boys, who are listed as a hate group by the Southern Poverty Law Center, deny that they are a white supremacist group and instead describe themselves as an all-male "western chauvinist" organization.
While talk of armed far-right and militia groups actively engaging in voter intimidation and suppression on Election Day did not play out as feared, experts said there is no reason to suggest that groups such as the Proud Boys will "stand back" and retreat after Biden enters the White House and may further use Trump's rigged election claims to justify their cause.
"This division and vigilantism that we're seeing it's unlikely to go away, especially under a Biden administration," Vegas Tenold, Investigative Researcher at the Anti-Defamation League's Center on Extremism, told Newsweek. "The right in this country will be even more vitriolic as a result of that.
"It's been a very violent year so far, and Trump has been president, but a lot of the issues that had precipitated this violence had nothing to do directly with Trump."
The Proud Boys, along with a number of far-right groups such as Patriot Prayer, the Oath Keepers and the Three Percenters, have taken advantage of societal tensions throughout the year by organizing and attending anti-coronavirus lockdown rallies or mobilizing en masse at Black Lives Matter protests, resulting in violence and even death.
Tenold said that an acceptance of a Biden victory for far-right groups such as the Proud Boys was always going to be hard fought even if Trump did not constantly spread misinformation about widespread voter fraud.
"It's stuck deep in there, even from the president—that's going to be a tough concession to make," he said.
Adele Stan, director of the Right Wing Watch group, also told Newsweek that the violence from far-right groups will continue even after Trump has left the White House.
"If you think of the Trump presidency as a major backlash against the election of the first Black president of the United States, you're going to have more of the same only with more violence because Trump has unleashed those dogs," Stan said.
"America is in for a prolonged period of violence that is likely uncoordinated, but nonetheless springing from the same fountain."
There have been warnings that far-right groups will use the election results to spark a civil war in the country—which self-confessed Proud Boys supporters said would happen if Trump lost and is already a major ideology in the Boogaloo movement.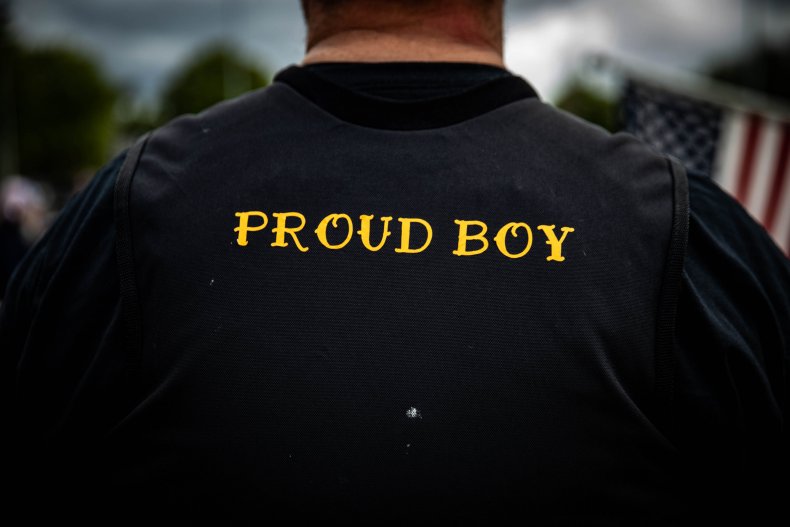 There is also concern about what the final two months of a Trump presidency will look like as the far-right continue to embrace his rhetoric that Biden's victory is not legitimate and they must be the ones to do something about it.
"When he said stand back and stand by, they took that seriously," Tenold said. "So they are kind of waiting for what they believe is a future order to do something."
In an online discussion days prior to November 3, Lindsay Schubiner, Momentum Program Director at Western States Center, said that the threat of violence from the far-right is real, particularly if they "perceive a green light from the highest office in the land."
"Trump took a fraught moment, poured gasoline on it, and now he's playing with matches," Schubiner said. "We believe that the days after the election could be among the most fraught."
Both Schubiner and Stan referenced the "Brooks Brothers Riot" in the aftermath of the 2000 election as what can happen when people are unhappy with results.
The Brooks Brothers Riot saw paid GOP operatives, mostly middle aged white men, descending upon a meeting of election canvassers in Miami-Dade County, Florida, in order to demand the vital recount in the state which would ultimately declare who won the election between George W Bush and Al Gore be stopped.
One of those who claimed they helped organize the Brooks Brothers Riot was longtime Trump associate Roger Stone.
The disgraced political adviser has expressed support for the Proud Boys, including frequently posing for photos with them and and describing himself as a "Western chauvinist" in a now deleted YouTube video.
"That's what Trump was talking about when he said, stand back and stand by," Stan told Newsweek in reference to the riot. "I do believe that there will be a ruckus raised."
Tenold added that while the far-right mobilizing on the streets in the aftermath of the results being declared is a concern, the main threat to the integrity of this election will be "disinformation" that will be widely shared online and elsewhere.
Throughout his presidency, Trump has been accused of emboldening the far-right and failing to denounce them because they are part of his base.
This criticism stretched as far back as his "good people" comments in the wake of the 2017 neo-Nazi Unite the Right rally in Charlottesville, Virginia, to failure to disavow the QAnon conspiracy theory, which has been linked to far-right violence and listed as a domestic terrorism threat by the FBI.
Launched by Gavin McInnes, formerly of Vice Media, the Proud Boys were originally known for engaging in a number of violent rallies against left-wing protesters and antifa, especially in Portland. The group made further national news after fighting on the streets of New York with antifa following a speech McInnes made at the Metropolitan Republican Club where he allegedly incited violence.
In April, the Armed Conflict Location & Event Data Project (ACLED), named several states who are "high risk" of militia and far-right groups actions amid the election, including the Proud Boys.
"The Proud Boys are evolving into a more militant organization," the report states.