Following unexpected stock drops earlier this week, the PlayStation 5 is again sold out across major retailers in the U.S.
Gamers received surprisingly good news on Tuesday when Amazon and Target released a limited amount of PS5 Digital Edition consoles. Predictably, however, the restocks swiftly sold out, as they have done with each restock ever since they first launched in November.
Both the PS5 and the PS5 Digital Edition are likely to remain frustratingly elusive for gamers at least until the summer, after Sony admitted earlier this month that production was unlikely to increase in the immediate future because of a shortage of components.
Here's a breakdown of the latest PS5 restock information from Walmart, GameStop, Target, Amazon and more.
Amazon PS5 Restock
The PlayStation 5 is now sold out on Amazon after being available in limited numbers from selected sellers earlier this week.
The retailer unexpectedly released a small amount of PS5 Digital Edition consoles which were quickly snapped up and the product is now listed as "currently unavailable" on the Amazon website. The same applies to the standard version of the PS5, which was not part of the restock.
Unlike other retailers, Amazon does not announce its restocks ahead of time but gamers can keep track of any updates by following Twitter accounts such as @Wario64 and @GYXdeals, which often have updates on restocks.
Check PS5 restock at Amazon.
Antonline PS5 Restock
As with other retailers, the PS5 is also unavailable at Antonline. However, the retailer has previously committed to making a limited number of next-gen consoles available every week and it's worth monitoring its social media channels to remain update on future stock drops.
Check PS5 restock at Antonline.
Best Buy PS5 Restock
Both versions of the PS5 remain unavailable at Best Buy since the last restock swiftly sold out earlier this month.
The retailer has yet to announce when more units will arrive, but it's worth checking its website regularly for updates.
Check PS5 restock at Best Buy.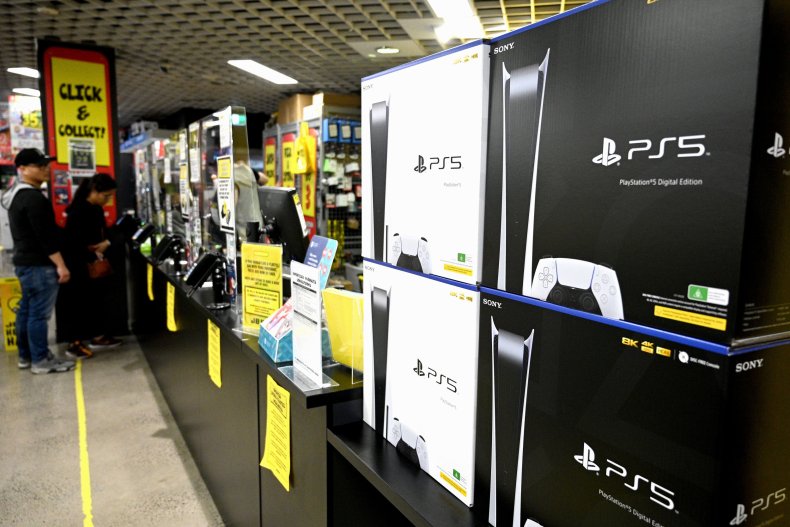 GameStop PS5 Restock
GameStop made a limited amount of PS5 available last week as part of several different bundles including controllers and games, but all stocks have since sold out.
The retailer alerted customers to the restock via its Twitter account and gamers should follow GameStop's social media channels for updates on further stock drops.
Check PS5 restock at GameStop.
Newegg PS5 Restock
The PS5 remains unavailable at Newegg and the retailer is yet to indicate when the next stock will drop.
Newegg members, however, can sign up to be notified when the retailer releases more stock.
Check PS5 restock at Newegg.
Target PS5 Restock
Target's latest restock of PS5 Digital Edition swiftly sold out on Tuesday and the console is no longer available.
The same applies to the standard version of the PS5, which has been sold out at Target since last month.
Each time the retailer has made the consoles available, PS5s were only available online, with drive-up or pick-up collection once the order had been placed. There was also a limit of one console per customer.
Check PS5 restock at Target.
Walmart PS5 Restock
Both the PS5 and the PS5 Digital Edition have been unavailable since Walmart's latest restock quickly sold out earlier in February, when the retailer made more consoles available.
Walmart has not yet announced when it will release more consoles.
Check PS5 Restock at Walmart.
Newsweek has affiliate partnerships. If you make a purchase using our links, we may earn a share of the sale.