PS5 Restock Updates for GameStop, Walmart, Newegg, Amazon, Target and More
There appears to be relief in sight for gamers whose efforts to buy a PlayStation 5 have been left frustrated over the last four months.
Sony's next-gen console sold out almost immediately following its launch in November and every restock has met the same fate. On Tuesday, GameStop made a limited amount of bundles available, but they were quickly snapped up as the retailer's website crashed due to exceptional demand.
The console's scarce availability looks set to continue for the foreseeable future, after Sony acknowledged last week that production was unlikely to increase in the immediate future because of a shortage of components.
"It is difficult for us to increase production of the PS5 amid the shortage of semiconductors and other components," the company's chief financial officer Hiroki Totoki said in a briefing.
"We have not been able to fully meet the high level of demand from customers [but] we continue to do everything in our power to ship as many units as possible to customers who are waiting for a PS5."
Meanwhile, here's a breakdown of the latest PS5 restock information from Walmart, GameStop, Target, PlayStation Direct, Amazon and more.
Amazon PS5 Restock
After being available in limited numbers from selected sellers last week, the PlayStation 5 is now sold out on Amazon
Both versions of the console are listed as "currently unavailable" on the Amazon website, along with a message stating the seller does net yet know when or if the PS5 will be back in stock.
Check PS5 restock at Amazon.
Antonline PS5 Restock
The PS5 is sold out at Antonline. However, the retailer has previously said on its Twitter account that it will make a limited number of next-gen consoles available every week.
Gamers wanting to keep track of restocks should follow Twitter accounts such as @Wario64 and @GYXdeals, which often have updates on availability.
Check PS5 restock at Antonline.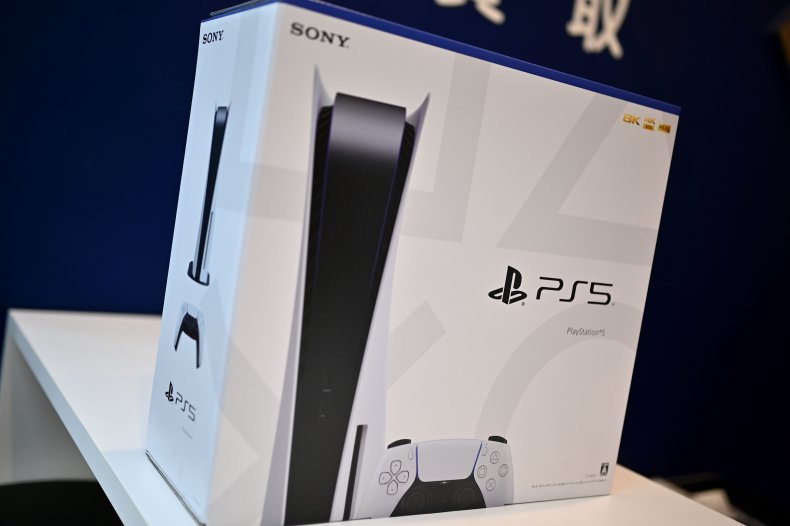 Best Buy PS5 Restock
Best Buy had very limited PS5 availability last week, but both versions of the console are now sold out. The same applies to the bundles including the console and Call of Duty: Black Ops Cold War, the PS5 and NBA 2K21 and the console and Spider-Man: Miles Morales.
The retailer has yet to announce when more units will arrive, but it's worth checking its website regularly for updates.
Check PS5 restock at Best Buy.
GameStop PS5 Restock
GameStop made a limited amount of PS5 available on Tuesday. The consoles were part of several different bundles which included an extra controller, Spider Man Miles Morales, NBA 2K21 and a $20 GameStop gift card or a combination of them.
The restock, however, swiftly sold out and GameStop faced criticism from gamers who were left frustrated as the website struggled to keep up with demand.
Check PS5 restock at GameStop.
Newegg PS5 Restock
Like other major retailers, Newegg is out of PS5 and PS5 bundles, but registered Newegg members can sign up to be notified when the retailer makes more consoles available.
Check PS5 restock at Newegg.
PS Direct PS5 Restock
Consoles have been sold out at PlayStation Direct since the last restock two weeks ago, but the online store remains one of the best places for gamers to land a PS5 thanks to its relatively regular restocks.
Gaming Twitter accounts such as @Wario64, @GYXdeals and @PS5Updates often share links to the PS Direct queue.
Target PS5 Restock
Following a limited restock last week, Target is again sold out of PS5s after a limited restock last week.
Before the consoles ran out, they were only available online, with drive-up or pick-up collection once the order had been placed. There was also a limit of one console per customer. Both conditions are likely to remain in place for future restocks.
Check PS5 restock at Target.
Walmart PS5 Restock
Both the PS5 and the PS5 Digital Edition have been unavailable since Walmart's latest restock quickly sold out last week, when the retailer made more consoles available.
Walmart has yet to confirm when it will have more consoles.
Check PS5 Restock at Walmart.
PopFindr PS5 and BrickSeek PS5 Inventory Checkers
Inventory checkers such as PopFindr and BrickSeek allow shoppers to see which Walmart, Target, Best Buy and GameStop stores have PS5s in stock.
Some stores, however, have begun blocking these websites.
Newsweek has affiliate partnerships. If you make a purchase using our links, we may earn a share of the sale.