David Hogg Calls for 'Die-In' Protest at Publix Supermarket in Florida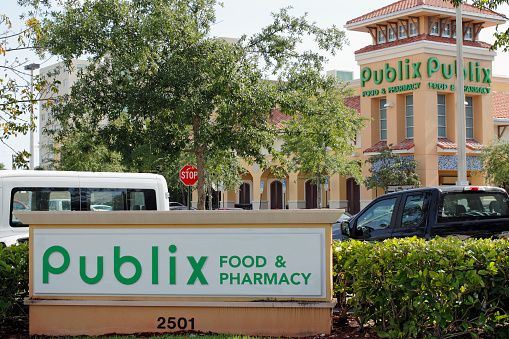 David Hogg and other Parkland, Florida, activists are calling for a "die-in" at a local supermarket chain across Florida after in light of donations made to a state Republican gubernatorial candidate who supports the National Rifle Association.
Hogg one of the organizers of the March for Our Lives movement and a vocal opponent of the NRA, took to Twitter on Wednesday to announce the protest. The "die-in" will occur at Publix Supermarket in Parkland on Friday to protest the market's donations to gubernatorial candidate Adam Putnam.
Putnam, who called himself a "proud NRA sellout" has one of the highest rankings from the NRA, the Sun-Sentinel reported.
"@Publix is a #NRASellOut. In Parkland we will have a die in the Friday (the 25th) before memorial day weekend. Starting at 4pm for 12 min inside our 2 Publix stores. Just go [and] lie down starting at 4. Feel free to die in with us at as many other @Publix as possible," Hogg tweeted.
Hogg and other Parkland activists have called for Publix to rescind its endorsement of Putnam and announced a boycott of the chain. The Florida-based supermarket reportedly gave Putnam $67,000 over the past three years, the Tampa Bay Tribune reported.
"Anyone who supports an NRA sellout is an NRA sellout. That is why I am calling on everyone to stop shopping at Publix until they pull their endorsement of Putnam publicly. Publix is supporting the inaction after pulse, strozier, Douglas, liberty city. Don't support an NRA sellout," Hogg tweeted on Tuesday.
Since the announcement of the protest, Publix has responded on social media to customers who are disappointed over the supermarket's endorsement.
"As one of the largest employers in the state of Florida, and with the majority of our stores and our corporate headquarters located here as well, we have a significant interest in our home state. As the hometown candidate, Publix has supported Commissioner Putnam...since he ran for the state House of Representatives," Publix tweeted to one customer.
In a statement to the Sun-Sentinel, Publix spokeswoman Nicole Kraus said the company has supported Florida candidates who they believe will benefit the state.
"We regret that some of our political contributions have led to an unintentional customer divide instead of our desire to support a growing economy in Florida. As a result of this situation, we are evaluating our processes to ensure that our giving better reflects our intended desire to support a strong economy and a healthy community," Kraus told the publication.
Hogg is one of the survivors of the Parkland shooting at Marjory Stoneman Douglas High School in February where 17 people were shot to death by an armed gunman. After the most recent shooting at Santa Fe High School in Texas, which left 10 people dead, Hogg took to social media to call out politicians on their inaction of gun violence.