#WandaRenuncia Trends as Puerto Ricans Call for Ricardo Rosello's Likely Successor as Governor to Resign as Well
Only hours after the disgraced governor of Puerto Rico announced he would step down, opposition has been gathering pace against the woman in line to succeed Ricardo Rosselló.
The island has been embroiled in nearly two weeks of action following the leak of offensive WhatsApp messages Rosselló had sent, which included homophobic and sexist sentiments as well as jokes about Hurricane Maria that had devastated the U.S. territory and killed thousands in 2017.
In the biggest protest in the capital San Juan, more than half a million people took to the streets, while the hashtag #RicardoRenuncia, Spanish for "Ricardo resigns," trended on Twitter.
People danced in the streets when Rosello finally announced via a video message on Wednesday that he would quit on August 2.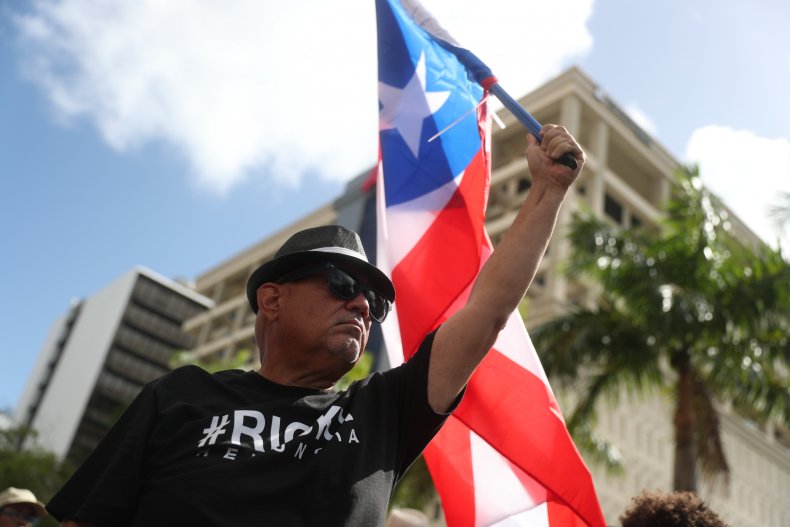 "I feel that to continue in this position would make it difficult for the success that I have achieved to endure," Rosselló said in the address, Reuters reported.
The next person to take over would have been the Secretary of State, Luis Rivera Martin, but he has also stepped down in the wake of the scandal, leaving Justice Secretary, Wanda Vazquez Garced, next in line.
However Vazquez, appointed by Rosselló in 2017, is seen as being too closely linked to the outgoing governor and another hashtag quickly followed, #WandaRenuncia, clamoring for her not to take over.
Twitter user Fico wrote: "Wanda Vázquez has been protecting @ricardorossello's corruption her whole term. You're going down. #WandaRenuncia
"Important: the war against wanda vázquez is on, but let's not allow it to be a misogynistic one. attack her corruption and incompetence, not her looks," he added.
Joshua Potash tweeted: "Wanda Vazquez is next in line, and the people of Puerto Rico don't want her either. She is part of Ricky's regime and the people want to be fully rid of corruption."
Jose Carrion tweeted: "The corruption is so far entrenched in our government that it has caused uncertainty and distrust in our judicial system."
A second round of protests are planned to try to keep the 59-year-old from power. The New Progressive Party member has been criticized for her support of the administration for the past two years.
In addition, the advocacy group the Feminist Collective, accused her of failing to tackle gender violence, according to The New York Times.
She was also accused of dragging her feet on investigating controversies involving members of her own party, the paper added.