Woman Reveals What a Pug and German Shepherd Cross Looks Like: 'Gremlin'
Dogs come in all shapes and sizes, and new mixes can pop up owing to canines' ability to copulate with one another.
One very unusual blend reduced a dog groomer to laughter after they came across a pug and German Shepherd mix.
Vanessa De Prophetis, who runs Perfect Pooches from her home, in Niagara Falls, Canada, regularly shares clips of her four-legged clients to her TikTok page, @girlwithedogs.
De Prophetis posted a clip to her page last month, claiming people have "never seen" a dog like this before, as she groomed an adorable mutt, aptly named Goblin.
Speaking to Newsweek, De Prophetis said: "I have never seen this particular mix before. His face and personality was all pug, I didn't notice any German Shepherd traits other than his coloring and size.
"Goblin is a super sweet dog, with lots of energy. He loves dogs, people, and pretty much everything else. He is very food-motivated as well, and will drool at the sight of food. He makes little honking noises when he runs (the pug part of him), especially when chasing new friends at the dog park.
"I like to call him overly affectionate, as he really loves to meet new people and dogs. He loves to chase the skunks in his backyard too. He also loves snuggles, and will usually sleep in and go to bed at night when he is tired all on his own."
De Prophetis, who grooms around 15 dogs a day, claimed Goblin's owners revealed he was a year old, and the litter was "an accident."
"I started the business when I was 20 and I've met some pretty interesting characters along the way," De Prophetis added.
His owners are Chelsea and Patrick Lapienis, with the former telling Newsweek: "He's a lovable goofball who is super sweet and very excitable. He loves playing fetch, hide and seek, and even has some puzzles that he likes to solve. He loves meeting people and dogs alike, and is friends with his vet."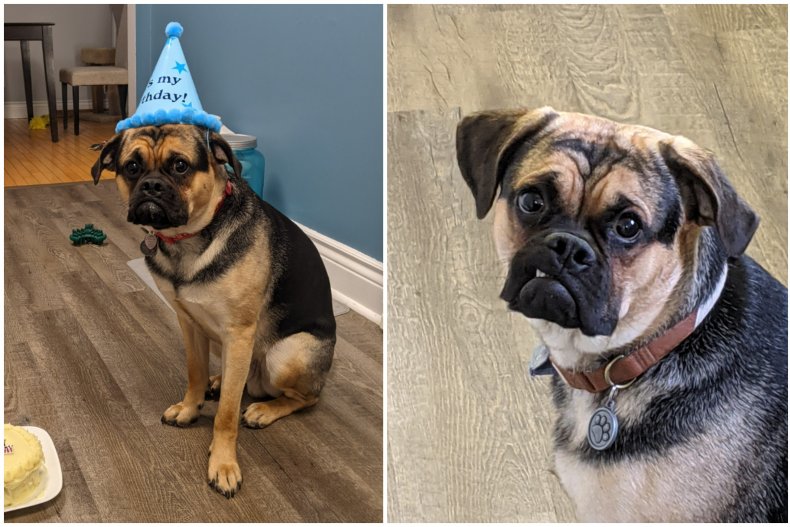 She revealed his unusual parentage, adding: "We were told that the mother was a pug, and the father was actually a 6-month-old German Shepard who wasn't fixed yet. They don't usually breed this mix, so he was definitely a surprise.
"In terms of number of siblings, we just know that he was the last one and that he was the runt of the litter. He was 7 lbs when we got him at 2 months, so he was a decent size.
"It was 100 percent love at first sight! When we met him, it was an instant attachment, and we are so happy that we added him to our family. He is also a huge cuddler who loves to snuggle when possible. He has very high energy levels and very low energy levels at times."
In the clip, De Prophetis said: "I assure you that you have never seen a dog like this before. At first glance his body resembles a German Shepherd, but where does that curly tail come from? Place your bets on his unique mix, but you will never guess it. This is Goblin, and he's a pug and German shepherd mix.
"Now you can use your imagination on how in fact this happened, but I personally would like to have a conversation with the individual who is responsible for this. While I assume this was an oopsie, somewhere out there there's a very determined pug daddy who must be held accountable for making every owner from this litter laugh for the next 15 years."
She raved about Goblin, saying: "I must admit he is exceptionally cute, in his own little gremlin way, and his personality is outstanding."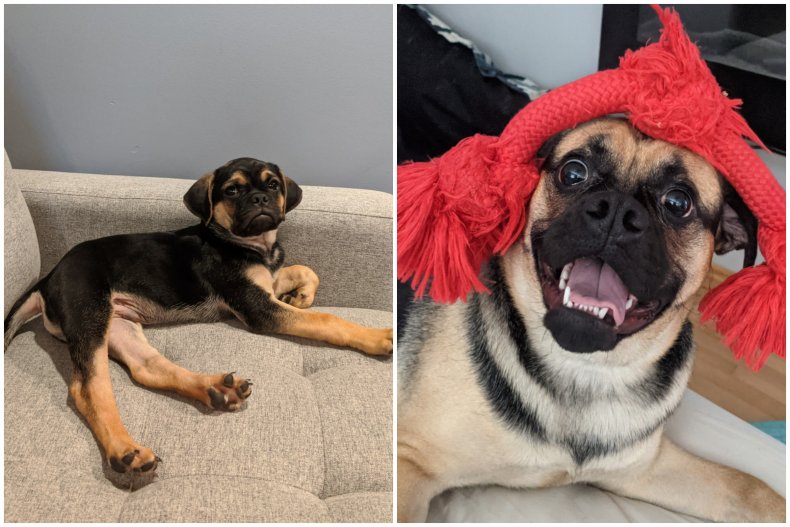 De Prophetis, who's been a professional pet groomer for more than 10 years, talked viewers through the grooming process, including sharing some excellent slow-motion footage of Goblin being blow-dried.
She continued: "After his bath, I towel him dry, and I spray him down in our quick dry spray and he is very excited to show you how adorable he looks, in the not so happy hoody. During his blow dry I noticed that my favorite thing about him is his flapping nostrils. While the pug part of him tried to stay positive, the German shepherd part was not enthused.
"And that makes for a frowning leprechaun. After he is dry, I de-shed this majestic mongrel, with the EquiGroomer, and then I clip his nails. Pugs are usually difficult for nail clipping, and naturally he had to give me some sass. So I gave him the finger.
"I spray this jolly man in our jellybean cologne and Goblin is all finished. He made me laugh for an hour straight. And that only continued as he bucked around my yard. Thank you so much for watching, I hope you enjoyed the goofy Goblin."
De Prophetis' video, which can be seen here, was jokingly captioned: "Ok, who photoshopped this?" It's been seen more than 24 million times, as people fell in love with Goblin's unique look.
Sweetums reckoned: "I refuse to believe this isn't just two pugs in a trench coat."
Sydney commented: "I feel so weird about this, he's adorable but confusing."
"I love this mostly because I know that pugs were genetically modified to be short and stubby and this is actually how they're supposed to look," Scarlett Tuck pointed out.
While Plague raved: "He's beautiful. I've never seen such a great mix."
Website 101dogbreeds explained this particular cross is known as a "shug," saying: "The Shug dog is a medium-sized breed developed by crossing the German Shepherd and pug.
"Taking to both its parents as far as its physical trait is concerned, the Shug has a stocky, chubby look along with a deep, broad, chest, and a short-muzzled snout just as the pug. Its ears may be erect like the German Shepherd or floppy as that of the pug. Its tail also bears a striking resemblance to that of a pug, curling comfortably on its back."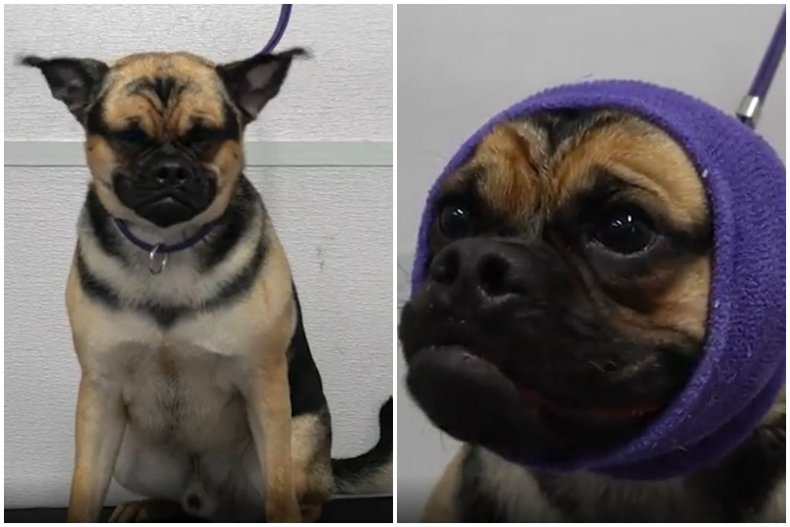 Update 10/25/21, 9:43 a.m. ET: This article was updated with comment, video and photos from De Prophetis.
Update 10/28/21, 10:47 a.m. ET: This article was updated with comment and photos from Lapienis.