Puppy Dressed Like a 'Distinguished Gentleman' at Restaurant Melts Hearts
A puppy called Mogli has melted hearts after a clip of him dressed like a "distinguished gentleman" at a restaurant went viral on social media, with over 1.6 million views.
In the video, shared on TikTok on Sunday under the username Mogli_the_frenchie, the French bulldog from Vienna can be seen having dinner in a restaurant with his owner. The pet is wearing a black bowtie and a white collar.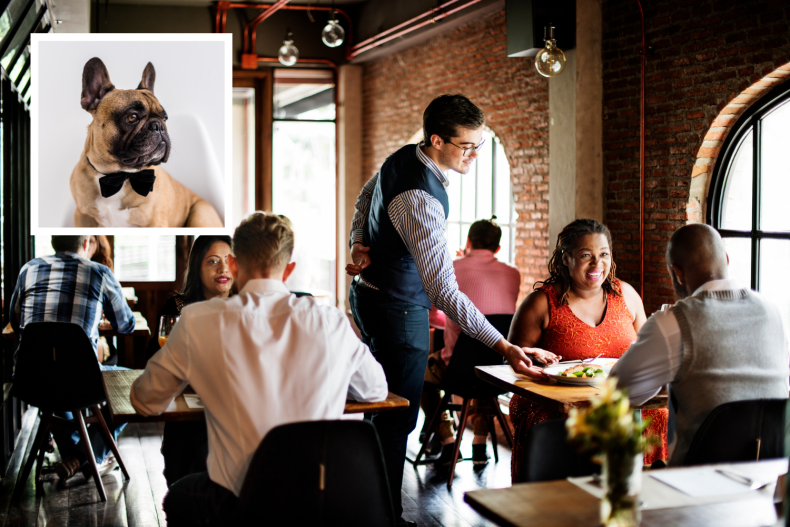 According to the Michigan State University Animal Legal & Historical Center, as of 2023, 20 states have laws or administrative regulations in place that allow dogs into outdoor dining spaces in restaurants. However, some require that the local unit of government first enact an ordinance allowing the activity.
These states include Alabama, California, Colorado, Florida, Georgia, Illinois, Kentucky, Maryland, Minnesota, New Hampshire, New Mexico, New York, North Carolina, Oklahoma, Ohio, Rhode Island, South Carolina, Tennessee, Texas, and Virginia.
This does not apply to service animals. These are "defined by federal law as dogs who do work or perform tasks for individuals with disabilities." Service animals are allowed in places of public accommodation, including restaurants.
According to Healthline experts, the major problems with bringing dogs into restaurants boil down to health, safety, and aesthetics; "people want to know that the dogs won't make them sick, won't bite them, and won't generally disrupt their dining experience."
The Healthline website states that, while dogs can carry infections that may be spread to people, most canines who are healthy and vaccinated shouldn't pose much of a problem.
The video quickly gained popularity on social media, attracting animal lovers from all over the platform, and it has so far earned 170,400 likes.
One user Williefredfro, commented: "Jay, Gloria, and Stella out on the town." And debbieswithdirk posted: "His evening attire." CrazyGardenLady added: "his little bow tie." Patrick Sauer wrote: "Wingman."
ClasssySassyFoxxy pointed out: "At the dinner table though??" And bradhelberg wrote: "What a sophisticated dogo." Another user, Kai Perez89, commented: "Beat dressed guy in there."
Scary_nightmare2691 posted: "what a distinguished gentleman." Rosalba Chavez added: "How can he be denied entry dress like that!!!!!!" And LUPITA wrote: "I'd let the guy and dog eat for free."
Newsweek reached out to Mogli_the_frenchie for comment. We could not verify the details of the case.
Do you have funny and adorable videos or pictures of your pet you want to share? Send them to life@newsweek.com with some details about your best friend, and they could appear in our Pet of the Week lineup.