Watch as Woman Discovers How Her 9-Week-Old Puppy Is Escaping His Playpen
A video of a puppy managing to escape from its crate has gone viral on TikTok, where it has received 2.8 million views.
A message overlaid on the footage, posted by TikToker Rhiannan Bhee (@_rhibee_ ), reads: "My 9-week old pup escapes from his playpen. I had to record so I could figure out how he was doing it."
The clip showed a person gently placing an Australian cattle dog puppy (also known as a blue or red heeler) inside a crate, which seemed to be scattered with a play mat and toys.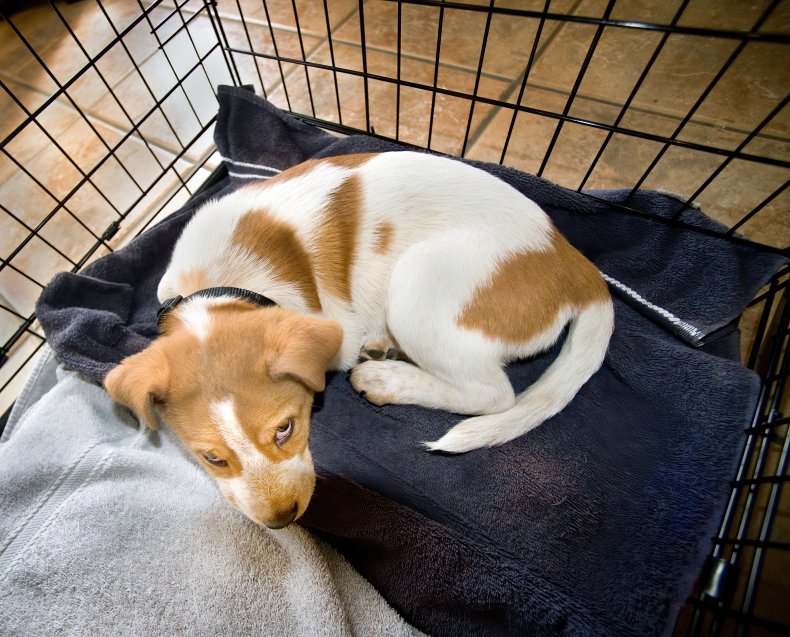 After looking around the crate for a bit, the puppy was seen climbing up one of the walls. The pet eventually made it onto what appeared to be a raised-bed area before managing to thrust itself over the top of the crate wall to make a full escape.
The "famously smart, tenacious, ever alert" Australian cattle dog "easily becomes bored and may get into mischief," according to the American Kennel Club, the world's largest purebred dog registry.
Crate training is a key part of the puppy-training process. "Contentment during confinement is an important life skill for puppies and dogs," wrote Monique Feyrecilde in an article for VCA, one of North America's largest animal-hospital chains. She is a licensed veterinary technician (LVT) and veterinary technician specialist (VTS) in behavior.
A crate for a pet is similar to a crib or a playpen for a small child. It's meant to be a safe area, typically associated with resting and sleeping. The crate should be placed in a quiet part of your home near people. You could have one crate in the main living room and another in the bedroom for sleeping at night, Feyrecilde added.
She said: "Crating and confinement training are not cruel and, when done properly, most pets derive comfort and security from their crate. Often, the crate and bed can be brought along during travel, allowing the pet to have a 'home away from home.'"
Before any training sessions, be sure that your dog has had enough exercise and a chance to empty itself, Feyrecilde added.
"Make sure your dog is receiving plenty of healthy exercise and interaction. Extended periods of confinement are not healthy for animals. Confinement is not intended to be continuous or represent the majority of any pet's time budget," Feyrecilde said.
The LVT added that positive reinforcement is the best way to help your pup learn about confinement. But Feyrecilde advised consulting with your veterinarian before continuing the training if your dog shows any signs of distress, including an attempt to escape. Look out for prolonged vocalization, eliminating inside the crate, salivation or rapid continuous movement.
Several users on TikTok were delighted and impressed by the "super smart" puppy in the latest viral video.
User misslandcruiser wrote, "Welcome to the Heeler life," to which the original poster replied, "Haha wooooo."
Maida Nezirovic posted, "blue heeler super smart I got one," while Davica15 wrote: "so smart and adorable."
NotSoSpookyBish commented: "First mistake is trying to cage a heeler but that is one clever pup."
User @mamarider_ecfr posted, "Too clever," and the original poster replied: "Anarchist."
Newsweek has contacted the original poster for comment. This video has not been independently verified.
Do you have funny and adorable videos or pictures of your pet you want to share? Send them to life@newsweek.com with some details about your best friend, and they could appear in our Pet of the Week lineup.