Purple Reign: Prince Record Sales Soar After His Death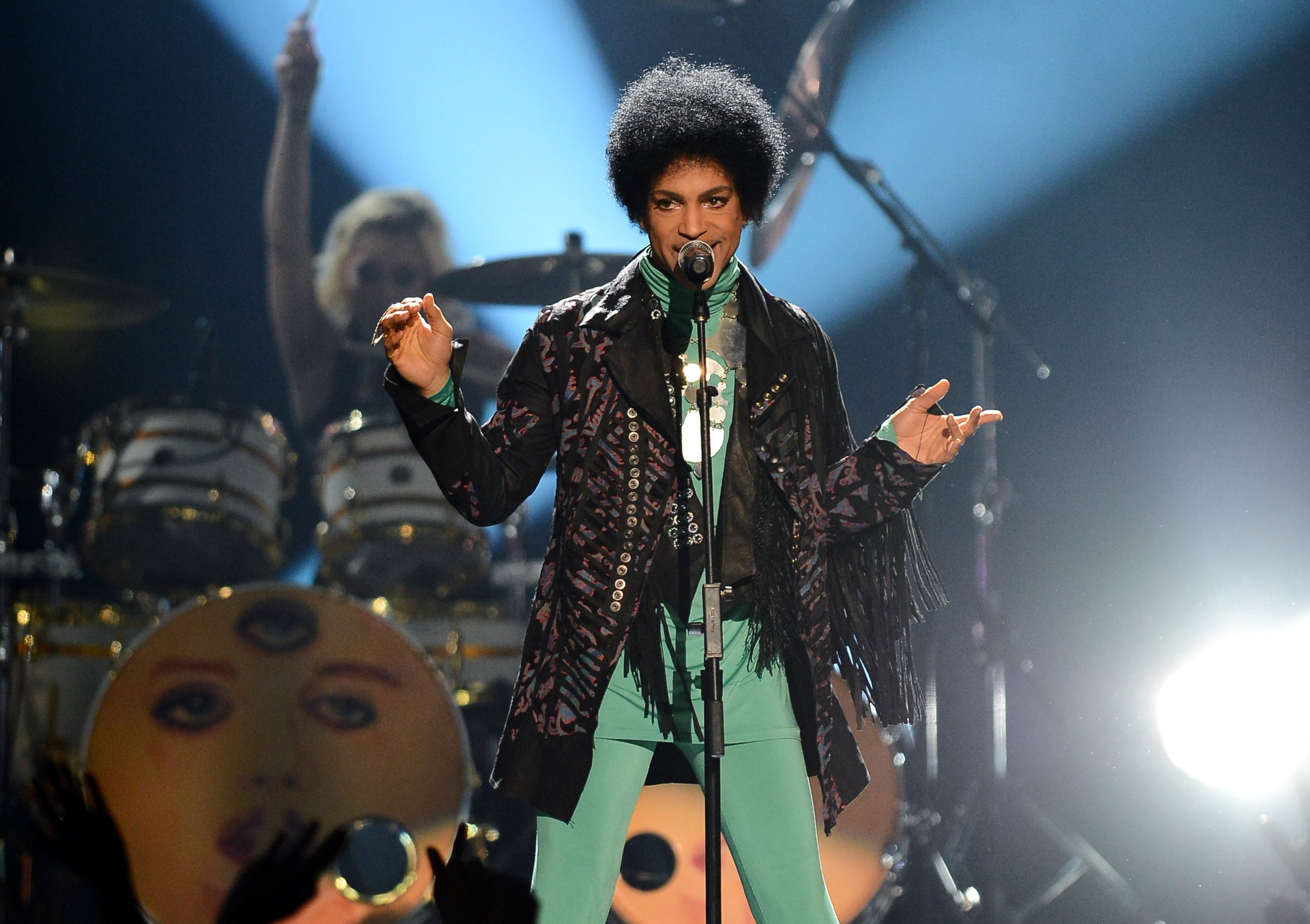 Less than a week after his death, Prince is sitting atop the chart throne in both the U.S. and U.K. as fans clamor to pay tribute to the music icon.
The latest Billboard 200 album chart, dated May 7, sees the superstar's greatest hits collection The Very Best of Prince—originally released in 2001—chart at No.1 with 179,000 copies downloaded, streamed and/or purchased on CD. About 100,000 of those copies is for the physical release, reports Billboard.
Prince also holds the No.2 spot on the chart with 1984's Purple Rain, arguably his best-known album. It generated an equivalent of 69,000 sales.
The Very Best of Prince marks the late singer's fifth time atop the Billboard 200. His last No.1 was just over a decade ago with 3121 in April 2006.
The star's posthumous chart triumph is all the more impressive as tracking for the Billboard 200 closed late last Thursday, April 21, just hours after Prince was found dead at his Paisley Park estate in Minnesota.
Altogether, Prince has sold around three million albums and singles in the U.S. since his death, according to Billboard. Individual songs from the "Kiss" singer's extensive back catalog have sold 2.8 million downloads, while his various albums have shifted 654,000 copies.
An all-Prince top five?
In the U.K., the immediate aftermath of Prince's death had a small but significant dent on the singles and album charts dated April 22—just 24 hours after his death. "Purple Rain" re-entered the singles chart at No.65, while his 2006 greatest hits album Ultimate reached No.10 on the albums chart.
But greater effect will be felt this week as the British record-buying public have more time to digest his shock death. Midweek figures released on Monday suggest the purple one is on course to dominate the U.K. albums chart, holding all of the top five positions on the forthcoming rankings dated April 29.
The Very Best of Prince is currently No.1, followed by Ultimate, Purple Rain and The Hits/The B-Sides—released in 1993—at No.4. Rounding out the top five is 1987's Sign o' the Times.
A No.1 for Prince, which seems likely, would mark his sixth time in pole position on the British charts and extend his lead over his U.S. chart record, where he has had five No.1 LPs.
"The huge demand for Prince songs and albums over the past few days serves to underline just what this legendary music icon meant to British music fans," Official Charts Company chief executive Martin Talbot tells Newsweek. "Despite a late challenge from Beyoncé with the release of her latest album Lemonade, Prince is certain to make a massive impact on the official singles and albums charts this weekend, particularly impressive given that his music is only available on one streaming service and the albums are in limited supply as CDs and vinyl."
Exclusivity
The sales surge, it seems, is due partly to the tight control Prince held over his music in his lifetime. Very few of his music videos are available to view on YouTube, nor are his hits like "Little Red Corvette" and "When Doves Cry" available on Spotify or Apple Music. To listen to Prince's discography fans are faced with the options of buying music on physical CD or iTunes, or signing up for a Tidal subscription.
In 2013, the singer said he had a "team of female black lawyers" tasked with removing his music videos and performances from YouTube.
And in 2015, Prince spoke of his decision to partner with Jay Z-owned Tidal—the only streaming service to carry his back catalog as part of its monthly subscription—explaining the brand's philosophy of giving participating artists a stake in the company was enticing. He told Ebony magazine that "situations where we finally get into a position to run things—we all should help."