Putin Allies Turn Ukraine War Into Fight Against U.S. LGBTQ+ Values
Various Russian figures and allies of President Vladimir Putin have recently used the Ukraine war as an excuse to target the LGBTQ+ community.
Among them is Ramzan Kadyrov, the leader of the Chechen Republic and a longtime supporter of Putin. In a message on his Telegram channel, he took aim at transgender people, saying that he does not want his "children and the children of their children to grow up in an atmosphere of satanic ideas of gender disgrace and for the sake of the economies of other states."
Well-known Russia-1 host Olga Skabeyeva has also used hateful rhetoric toward LGBTQ+ people on at least two recent occasions, according to tweets from BBC reporter Francis Scarr. On Tuesday, Scarr shared a video of Skabeyeva saying Russia will also have to "denazify" the "trans-fascists" in addition to Ukraine. Scarr posted another clip on Thursday of Skabeyeva saying Russia can ultimately win out over Western powers by waiting for the West to run out of people due to a lack of human reproduction in connection to LBGTQ+ people.
Last month, the Center for European Policy Analysis (CEPA) wrote that while LGBTQ+ rights were bad in Russia before the war in Ukraine, the situation has only gotten worse since Putin ordered his troops to invade the country in late February. The think tank wrote that after the war began, "homophobic propaganda has been expanded from one of the supporting pillars of Russian quasi-ideology to include justification for its war of aggression."
CEPA also noted that the head of the Russian Orthodox Church, Patriarch Kirill, a strong ally of Putin, stated during a March sermon that fighting against LGBTQ+ ideals was part of the justification for the war in Ukraine.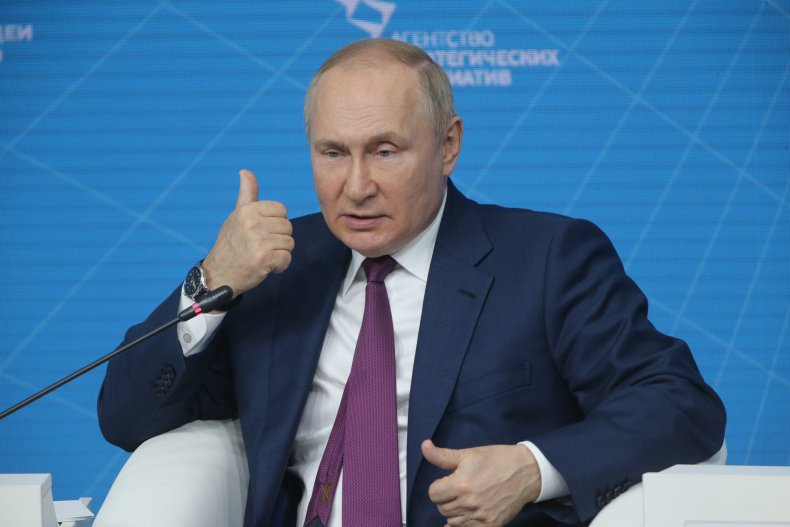 Apti Alaudinov, a commander in the Chechen Republic's military, has also made comments with sentiments similar to those in Kadyrov's statements. During an appearance on Russia-1, a Kremlin-run station, Alaudinov said that Putin's forces in Ukraine are fighting a "holy war" against LGBTQ+ ideology and the Antichrist, according to a translated clip posted Sunday on Twitter by Russian propaganda expert Julia Davis.
Meanwhile, Russian lawmakers are also seeking to further restrict LGBTQ+ rights. Currently, a Russian federal law passed in 2013 bans the promotion of "nontraditional sexual relations" to minors. Russia's State Duma seeks to expand that, though. On Tuesday, Duma members introduced legislation that likens LGBTQ+ messaging to war propaganda, according to the state-controlled RT network.
RT wrote that a note accompanied the State Duma bill that offered an explanation for its intent.
"In Russia, at the legislative level, it is not allowed to promote suicide, drugs, extremism, criminal behavior, as they are considered negative and socially dangerous phenomena. At the same time, formally, until now, there is no ban on propaganda of the denial of family values and non-traditional sexual relations, including with the use of film distribution," the note reportedly said.
Newsweek reached out to the Russian Foreign Ministry for comment.