Russia Aims to Grow LGBT 'Propaganda' Ban as Daria Kasatkina Says She's Gay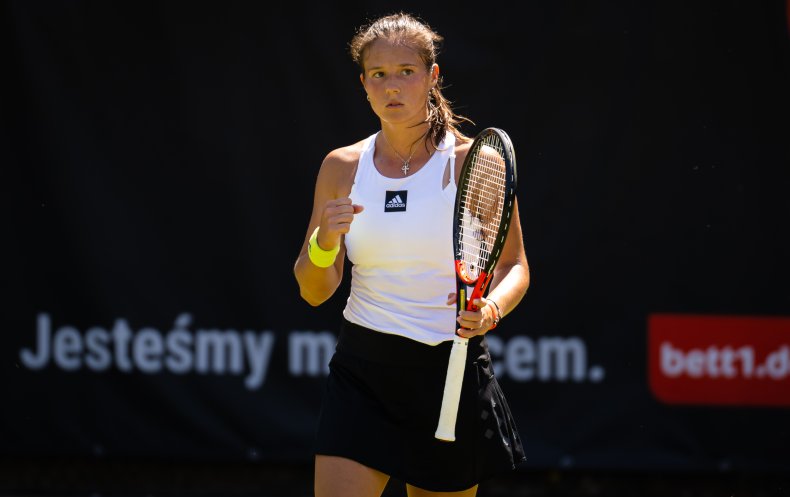 Russian lawmakers proposed an expansion of the country's LGBT "propaganda" ban on the same day that Russian tennis star Daria Kasatkina came out as gay.
Kasatkina, the top-ranked Russian and the 12th-ranked women's tennis player in the world, revealed that she was in a romantic relationship with Russian Olympic figure skater Natalia Zabiiako in an interview with Russian blogger Vitya Kravchenko and in a photo shared to her own Instagram account on Monday.
Russian State Duma lawmakers proposed an expanded prohibition on "promoting non-traditional sexual relations" on the same day, according to The Moscow Times. The current law covers so-called "LGBT propaganda" aimed at children only, with the proposed amendment banning materials directed at any age group.
Kasatkina, 25, praised Russian soccer player Nadya Karpova for recently coming out as gay during the Russian-language interview, according to Sportskeeda. Kasatkina offered her "respect" for the soccer star, who she said had "helped others" by sharing her status.
"My respects to Nadya Karpova [for coming out], attagirl," Kasatkina reportedly said. "I was happy for her, but also other people, especially girls who needed to know that. It has empowered them for sure, supported them. Not only did Nadya help herself by coming out and get this burden off her chest, she has also helped others."
Kasatkina then responded to rumors that she was also gay by telling Kravchenko that she had a girlfriend when asked directly, confirming her orientation in the process. She also slammed Russian homophobia and the idea that a person's LGBT status is a choice.
"Yes, [I currently have a girlfriend],"Kasatkina said. "So many subjects are taboo in Russia, some of them more important than ours, it's no surprise. This notion of someone wanting to be gay or becoming one is ridiculous."
"I think there is nothing easier in this world than being straight," she added. "Seriously, if there is a choice, no one would choose being gay. Why make your life harder, especially in Russia? What's the point?"
Kasatkina previously came out as bisexual during an April 2021 interview, although she seemed far more guarded in discussing her personal life and noted that publicly disclosing one's sexual orientation can come with harsh backlash in Russia.
During the interview shared on Monday, she said that it was "important" for the Russian LGBT community to be open about their status.
"It is important to talk about these things," Kasatkina said. "It is important for young people who have a hard time with society and need support. I believe it is important that influential people from sports, or any other sphere really, talk about it. It helps."
"Living in the closet is impossible," she continued. "Living in peace with yourself is the only thing that matters, and f*** everyone else."
Russia's law targeting the sharing of information in support of the LGBT community with young people was passed in 2013. Those who violate the law may be fined 1 million Russian rubles, around $17,300, or given a jail sentence of up to 15 days.
The proposed amendment argues that "public approval and recognition" of same-sex and other "nontraditional sexual relations" is "dangerous not only for children and young people ... but for the whole society."
Newsweek has reached out the Kasatkina's representative and the Russian government for comment.