Putin Allies' Wealth Will Keep Him From Reviving USSR
Russian President Vladimir Putin's reliance on oligarchs could prevent him from reviving the Soviet Union, experts said.
Following Russia's invasion of Ukraine, some raised concerns that Putin could be seeking to revive the Soviet Union. But a return to Soviet-style economics could threaten the wealth of his allies in Russia's oligarchical class, so it's unlikely he would seize their assets, Bryon Moraski, a professor of Russian politics at the University of Florida explained to Newsweek.
Putin relies on both popular and elite support for legitimacy, Moraski explained. This means that any efforts to seize the assets of Russian oligarchs could cause him to lose the support of his closest allies, potentially leaving him in a difficult position as the president.
"There wouldn't be an ideological reason for Putin to go through some kind of process for the redistribution of property," Moraski said.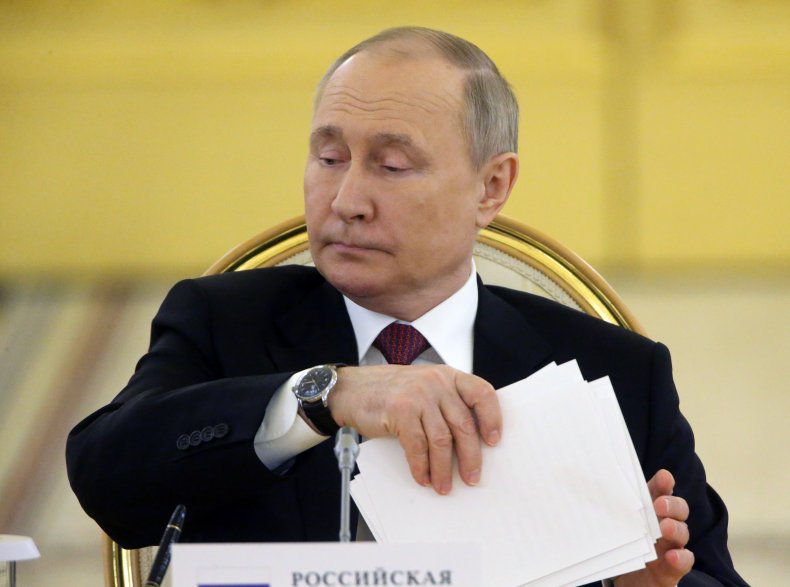 Brian Taylor, a professor of Russian politics at Syracuse University, offered a slightly different view, saying that Russian oligarchs would have little recourse if Putin were to seize their assets—though he agreed it remains unlikely he would reconstruct the Soviet Union.
"If Putin decides that it has to be nationalized, the legal system is not going to stop him from doing that," he told Newsweek.
Moraski, however, said that even if Putin tried to seize oligarchs' wealth, much of it rests offshore, so he would have a difficult time obtaining it.
Taylor explained how Putin trying to bring back the USSR in geographic terms would harm the wealth of Russian oligarchs.
Putin attempting to retake some of the former Soviet Republics would cause these oligarchs to take on additional sanctions—in addition to those already imposed amid the Ukraine invasion.
The oligarchs would also likely have to take companies seized by Russia during the war, but this would not be a "welcome gift," as they would need to invest money into these businesses that would have been ravaged by war, Taylor said.
"Who are they going to ship the product to? Because it's not from a legally recognized part of Russia so it would be immediately sanctioned by everyone," he said.
Both Moraski and Taylor agreed there are other reasons Putin remains unlikely to revive the Soviet Union—including that the president has no ideological desire to do so, as the current political system in Russia is more pragmatic or "personalist," rather than having the same communist or Marxist ideology as the former Soviet Union.
The Russian military's mounting setbacks in Ukraine mean it would be difficult to invade other former Soviet republics, some of which (Estonia, Latvia and Lithuania) are "off the table" because they are now members of the European Union and the North Atlantic Treaty Organization (NATO), Taylor said. Any attack on these countries would spark a strong Western response.
"I don't actually think he has any particular interest in some of the other republics of the former Soviet Union, as opposed to keeping them in the Russian sphere of influence," he added. "I don't think he wants to annex Tajikistan or Armenia or something like that."