Putin Arming Troops With Newest Weapons as Russia Struggles in Ukraine
Russia delivered new anti-aircraft missile systems and tanks to its troops in Ukraine this week as Russian President Vladimir Putin's military continues struggling in its war efforts.
The Russian state news agency TASS reported that Russian Deputy Prime Minister Yury Borisov announced during an educational forum on Wednesday that long-range S-500 anti-aircraft and anti-ballistic missile systems had started arriving to Russian forces within Ukraine. The air defense systems join new T-90M battle tanks that a defense manufacturer announced on Tuesday had recently been sent to Ukraine.
Along with not securing a quick, decisive victory like many experts had predicted, Russia has also lost ground in recent weeks that it had initially seized after beginning its invasion in late February. Russian troops are currently mostly confined to the eastern part of the country, which includes the Donbas region.
On Sunday, the British Ministry of Defense released a report that stated "Russia's Donbas offensive has lost momentum and fallen significantly behind schedule." Meanwhile, the Institute for the Study of War reported on Monday that Russian troops in the Kharkiv region of Ukraine were "largely unsuccessful" with recent ground offensives.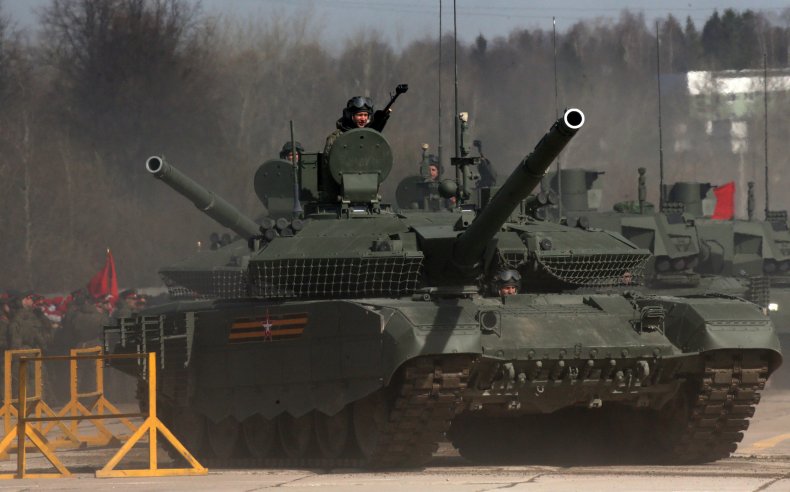 "Today the troops have already begun receiving the systems that actually combine the functions of air and anti-missile defenses and these are S-500 weapons," Borisov said during the "New Horizons" forum, according to TASS.
In describing the popularity of the S-500 system—which is dubbed "Prometheus"—on the global arms market, the deputy prime minister said, "As the saying goes, they sell like hotcakes."
According to the Russian state-owned news agency RIA Novosti, Borisov also spoke at the forum of the Russian military using new "Zadira" combat laser systems in Ukraine. The outlet reported the Kremlin official said the laser systems were being used to destroy drones.
The defense manufacturer Uralvagonzavod held a ceremony to announce it had sent T-90M battle tanks to Russian troops, according to TASS. The news outlet called the new vehicle, dubbed the "Proryv," the "most advanced armored vehicle in the family of T-90 tanks." The "Proryv" reportedly has several upgrades over other tanks in the line, including a more powerful engine, "enhanced survivability technology" and the ability to exchange data with other vehicles in real-time.
TASS noted that in addition to the new "Proryv" tanks, Uralvagonzavod has provided Russian troops with other "upgraded" armored vehicles.
Newsweek reached out to the Russian Foreign Ministry for comment.