In recent weeks, Russia has lost substantial ground that it initially captured after the start of its invasion in Ukraine.
When Russian President Vladimir Putin ordered the invasion in February, the Kremlin anticipated a quick takeover of Ukraine. However, Russia was met with surprisingly strong resistance from the Ukrainian people, who have put up an intense fight to protect their country.
As the invasion has continued, Russian military forces have largely been confined to the eastern part of Ukraine, including the Donbas region, with a report released Sunday by the British Ministry of Defence stating, "Russia's Donbas offensive has lost momentum and fallen significantly behind schedule."
Maps released by the Ministry of Defence in recent weeks show exactly where Russia has lost ground to Ukrainian forces.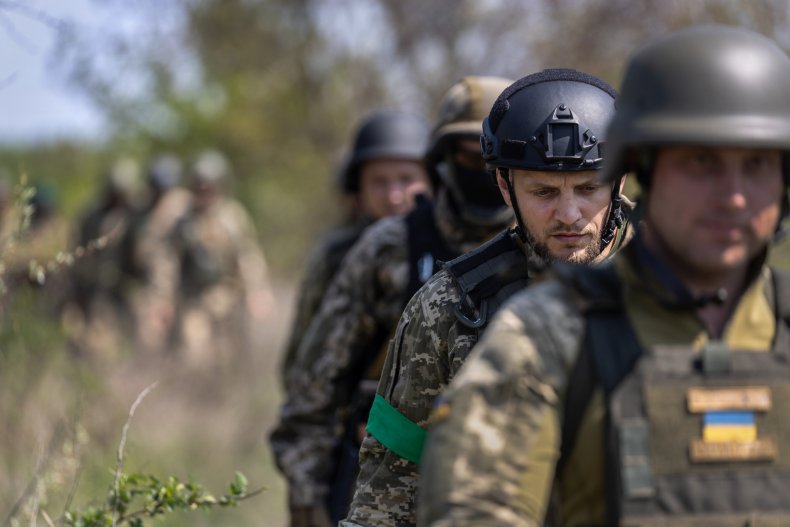 March 29
At the end of March, Russia controlled most Ukrainian territory along its border, with its control going as far west as areas northwest of Kyiv, Ukraine's capital city, and its suburbs, where Russian soldiers allegedly carried out horrific war crimes in Bucha, photos of which emerged just days after this map was posted.
Large swaths of Ukraine were also contested at the time, including parts of northern Ukraine, where Russian troops appeared to be headed toward Kyiv, and areas in the south near Mykolaiv.
April 4
One week later, on April 4, Russian troops had largely retreated from areas near Kyiv, representing a massive win for Ukraine. Ukrainians had also taken back the city of Chernihiv.
Ukrainians scored victories across northern Ukraine, advancing into areas bordering Belarus, a key ally of Russia in the conflict. Much of that territory remained contested in early April.
Further south, Ukraine retook areas near Mykolaiv—a city Russian troops appear to have abandoned efforts to retake.
April 11
By April 11, Ukrainians retook most of the northeast, including the cities of Krolevets, Konostop and Romny. They also won back contested area along the border with Belarus. They also contested areas previously held by Russia around Kharkiv.
April 18
Russia expanded its control around areas it held in Donbas, specifically in the Luhansk region, by April 18.
April 25
Ukraine retook areas west of Kharkiv by April 25, but neither side made any significant advances in the rest of the country.
May 2
By May 2, Ukrainian troops took back areas around Kramatorsk, a city of more than 150,000 people in Donetsk Oblast.
May 9
By Russia's Victory Day, much of the territory the country once held in Ukraine had been retaken, with Russia making few advances limited to the Donbas region. Fighting had been contained to the eastern border, and neither side made much progress in the week leading up to Victory Day, though Ukraine did take some contested land in Donbas.
May 16
The most recent updates from British intelligence show Ukraine making progress, appearing to retake Kharkiv. Troops defending the area said Sunday they had pushed Russian troops all the way back to the border. More land west of Donetsk is also now contested between the two countries.
Fighting still continued in the east on Monday. Russian troops attempted a sneak attack on Sumy early Monday morning but failed, according to the head of the Sumy Regional State Administration.