Russia Likely Lost 'One Third' of Ground Force in Ukraine: UK Defense
Russia's military has likely lost "one third" of the ground combat force it initially committed to fight in Ukraine at the outset of the conflict in February, the United Kingdom's Ministry of Defense assessed in a Sunday report.
Russian President Vladimir Putin launched the full-scale unprovoked assault on Ukraine on February 24, drawing rapid international condemnation and backlash. Although Putin reportedly believed that Russian troops would quickly take control of much of the Eastern European nation's territory and topple its government in Kyiv, they have largely failed to conquer any major cities or achieve key objectives.
"Russia has now likely suffered losses of one third of the ground combat force it committed in February," the British military reported, sharing an update on its assessment of the war in a Twitter thread.
"Russian forces are increasingly constrained by degraded enabling capabilities, continued low morale and reduced combat effectiveness. Many of these capabilities cannot be quickly replaced or reconstituted, and are likely to continue to hinder Russian operations in Ukraine," the defense ministry's report explained.
After its failures in the first several weeks of the war, Moscow shifted its focus to only take control of part of Eastern Ukraine, the Donbas region, in late March. However, even that reduced goal has proven difficult for Putin's troops to achieve.
"Russia's Donbas offensive has lost momentum and fallen significantly behind schedule. Despite small-scale initial advances, Russia has failed to achieve substantial territorial gains over the past month whilst sustaining consistently high levels of attrition," the British report said.
Newsweek reached out to Russia's foreign ministry for comment.
Despite the obvious losses and setbacks to military analysts and international journalists on the ground, Russia continues to insist that it's achieving its objectives and that it will not give up on its goal to take control of the Eastern European country.
"We say firmly and clearly and are unequivocally confident, at least, Russian diplomats who work here, there won't ever be any capitulation," Anatoly Antonov, the Kremlin's ambassador to the U.S. told the Soloviev Live TV channel, Russia's state-run Tass news agency reported on Saturday.
"We are confident that all the goals set by the supreme commander-in-chief before our armed forces will be completely attained. We will never give up, won't back up," he asserted.
Even close observers of the war within Russia appear to be growing concerned about its military's failures, according to a new report by the Institute for the Study of War published on Saturday.
"The Ukrainian destruction of significant elements of a Russian motorized rifle brigade that tried to cross a pontoon bridge over the Siverskyi Donets River on May 11 has shocked prominent Russian milbloggers. Those bloggers have begun commenting on the incompetence of the Russian military to their hundreds of thousands of followers," the report explained.
Putin and other leaders in Moscow have attempted to justify their assault on Ukraine by bizarrely claiming the nation is led by Nazis. In reality, Ukraine's President Volodymyr Zelensky is Jewish and had family members killed in the Holocaust Genocide perpetuated by the German Nazis during World War II. When Zelensky was elected in 2019, with nearly three-quarters of the vote, Ukraine's prime minister was also Jewish.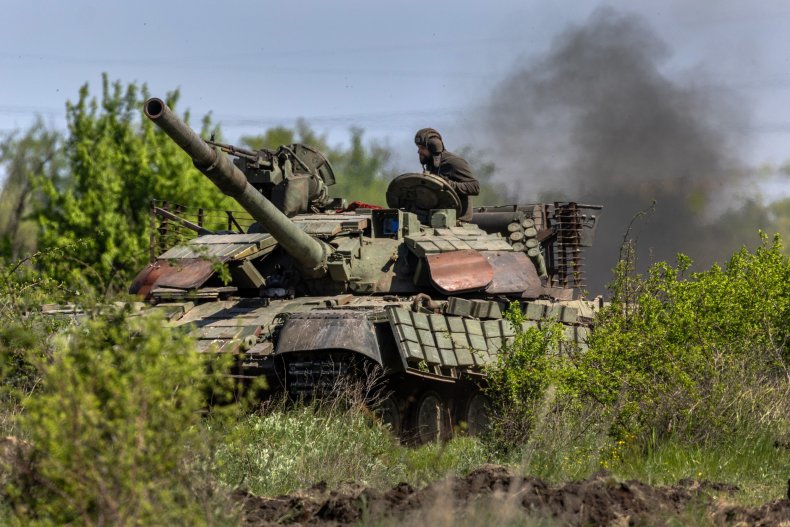 The U.S., Canada and Western European nations have rallied in support of Ukraine, providing billions of dollars in military and humanitarian aid. Congress is expected to approve a nearly $40 billion defense package for Kyiv this week, with support for the country against Russia's aggression enjoying substantial bipartisan backing.
Zelensky touted the bipartisan support from the U.S. on Saturday, welcoming Senate Minority Leader Mitch McConnell, a Kentucky Republican, and three other top GOP senators for a surprise visit to Kyiv. On May 1, House Speaker Nancy Pelosi, a California Democrat, led a similar delegation of Democratic representatives to meet with the Ukrainian leader.
The Ukrainian president described McConnell's visit as "a powerful signal of bipartisan support for Ukraine from the U.S. Congress and the American people."