Nancy Pelosi Visits Kyiv, Vows to Support Ukraine 'Until the Fight Is Done'
House Speaker Nancy Pelosi pledged support to Ukraine after a meeting with President Volodymyr Zelensky in Kyiv.
A video of their meeting, as she led a small Congressional delegation, was posted on Zelensky's Twitter page on Sunday and has so far been viewed over 320,000 times. It was, at time of of writing, unclear when exactly Pelosi was in Kyiv.
In the video, Pelosi praised Zelensky for fighting for freedom and added that Ukraine's fight was a fight for everyone and it would continue to have the U.S. support.
This reaffirmation from Pelosi days after President Joe Biden sent a request to Congress for a new $33 billion aid package for Ukraine.
The president called on Congress to swiftly approve the defense and humanitarian assistance, saying the U.S. had "almost exhausted" the $13.6 billion aid package for Ukraine that Congress approved in March.
"We believe that we are visiting you to say thank you for your fight for freedom. That you are on a frontier of freedom," Pelosi said while speaking to Zelensky.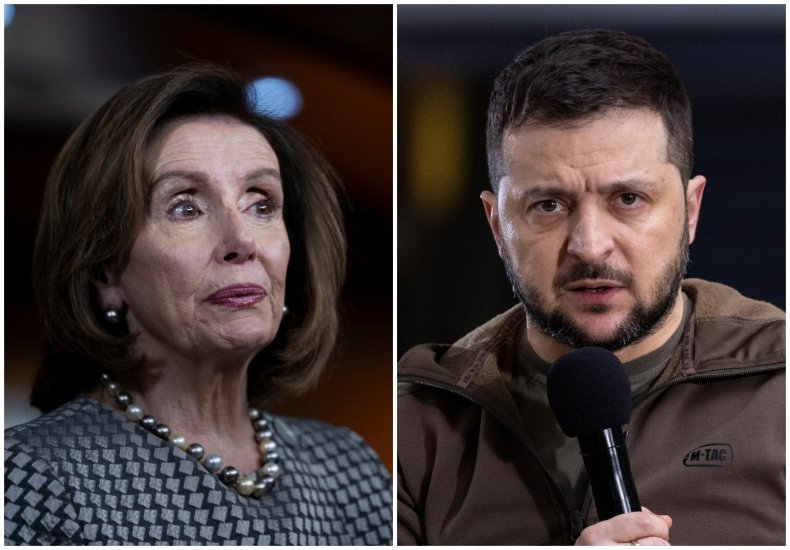 "Your fight is a fight for everyone and so our commitment is to be there for you until the fight is done."
"Meeting with the Speaker of the U.S. House of Representatives [Nancy Pelosi] in Kyiv. The United States is a leader in Ukraine's strong support in the fight against Russian aggression," Zelensky wrote as a caption for the video, according to a translation by Google.
"Thank you for helping to protect the sovereignty and territorial integrity of our state!"
While the U.S. has so far avoided direct military involvement in the Russia-Ukraine war, the government has repeatedly condemned Russia's invasion and attempted to provide assistance through economic sanctions, supplies and other means.
Biden has also used stronger rhetoric than some other world leaders when referring to Russian President Vladimir Putin and the invasion of Ukraine.
In a brief statement made at the White House on Thursday, Biden insisted it was important to support Ukraine, despite the mounting costs.
"The cost of this fight is not cheap. But caving to aggression is going to be more costly if we allow it to happen," Biden said.
"It's critical this funding gets approved and approved as quickly as possible."
Joe Biden had pledged the U.S. would send $800 million more in military aid in order to defend against the Russian invasion in mid-April.
In a statement on April 13, Biden said that this aid would take the form of weapons, ammunition and other security assistance to Ukraine and praised the country for its efforts in fighting off Russian President Vladimir Putin.
Biden has also said Russia has begun to get more desperate as war with Ukraine rages on.
On Thursday, Biden addressed comments from Russian officials that threatened the U.S. and NATO with war.
A reporter asked him about Russian officials "painting this conflict as actually already a conflict between NATO, the U.S., and Russia."
The reporter also brought up Russian Foreign Minister Sergey Lavrov recently stating that "NATO is essentially going to war with Russia through a proxy" and if such comments worried him.
"They're not true," Biden answered. "They do concern me because it shows the desperation that Russia is feeling about their abject failure in being able to do what they set out to do in the first instance."
Newsweek has contacted the Russian Foreign Ministry for comment.
Update 05/01/22, 6:22 a.m. ET: This article was updated to include additional information.