Russian President Vladimir Putin may have revealed the true extent of his ambition during his marathon, end-of-year press conference.
After spending more than three hours fielding questions about domestic and foreign affairs—on topics that ranged from the conflict in Ukraine to the threat of nuclear war to Russia's seizure of Crimea—he received a rather direct question from an American journalist.
Read more: Putin warns of the risk of nuclear war during his annual Q&A
Ann Maria Simmons, the Moscow bureau chief for The Wall Street Journal, took the microphone and said in halting Russian that in the West, many people viewed Russia as a threat. "They even think that you as president of Russia seek to rule the world," she said.
Adjusting his pocket, Putin interrupted her and answered with a smirk: "Well, of course," to chuckles from some in the audience.
In finishing her question, Simmons went on to ask, "Do you really want that, and can you tell me what the real goal of your foreign policy is?"
Putin said the U.S. considerably outspent Russia on its military, and referred to "Russophobia" to explain why the U.S. was making Moscow out to be an enemy.
"As for trying to rule the world, we know very well where the headquarters are of who are trying to do just that, and they are not in Moscow. Why is that?" Putin said.
"This is due to the leading role of the USA in the world economy. Due to their expenditure on defense. More than $700 billion is spent by the U.S. compared to our $46 billion.
"NATO countries have 600 million people, and Russia only has 140 million. Do you really think it is our goal to rule the world? No, this is just a mentality imposed by some to achieve some internal goals.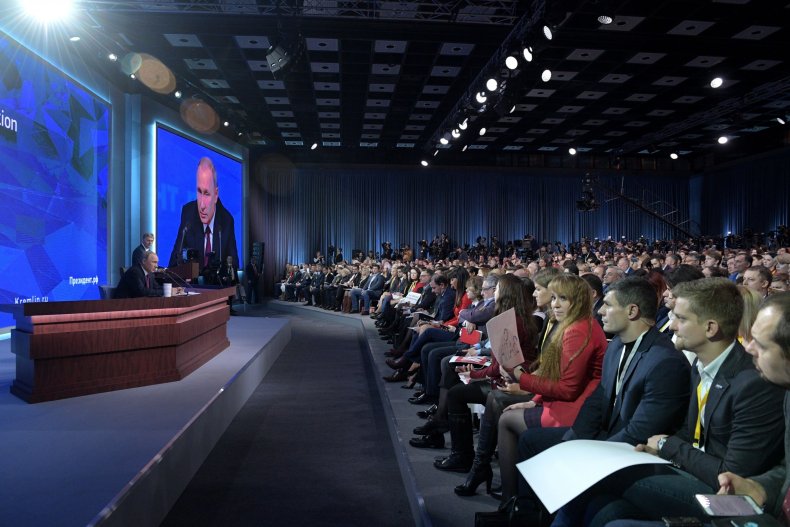 "Inside the NATO bloc, they want to make NATO countries unite and to do that, an external threat is required, otherwise this unanimity won't be achieved. Russia is a good candidate for that because it is one of the biggest nuclear powers… In Eastern Europe, Russophobia is thriving.
"The true goal of our foreign policy is to secure a beneficial environment for the development of Russia," Putin said.
More than 1,700 journalists attended the press conference, which lasted three hours and 45 minutes, three minutes longer than last year's and well short of the record four hours and 40 minutes set a decade ago.
There were some lighthearted questions, such as whether Putin ever planned to marry again. He joked: "As a decent person, I will have to do this sooner or later."
A female journalist from Yekaterinburg also asked about Putin's physical condition. "How is your health? Do you need any help?" Putin appeared to be flirting when he said: "We'll discuss it together later," The Moscow Times reported.
"My health is like everybody else. I practice sport, I think I am fine, as anyone else, in cold weather I sometimes get colds, but now I'm fine," said Putin.