Putin Behind Flying Objects Over U.S., Russian Women Say in Video
Three Russian senior citizens recently suggested that Russian President Vladimir Putin is behind the unidentified flying objects (UFOs) that have flown across North American airspace this month.
In a brief video posted to Twitter on Saturday by Anton Gerashchenko, an adviser to the Minister of Internal Affairs of Ukraine, three Russian women expressed their frustration with the United States in light of the Biden administration's support of Ukraine in its ongoing war with Russia.
"Sensation! The mystery of flying balloons over the US has been uncovered. 'Putin's Battalions' have claimed responsibility," wrote Gerashchenko in the tweet in which he shared the video with English subtitles.
The nearly 1-minute clip shows the women standing outdoors holding a deflated inflatable. "Death to American imperialism! The masks are off!" said one woman.
"Biden, you don't know what's flying over your country? Then, with all responsibility, we are telling you: those are Putin's squads that are sending you those white spheres," said another.
The third woman then added: "Right now those white spheres are flying, but soon something else might fly in. Remember that!"
The women then lit up a white inflatable that had "F*** USA" written on one side.
Newsweek couldn't independently verify whether or not the Russian government is involved in recently spotted UFOs. Newsweek reached out to the Russian foreign affairs ministry for comment.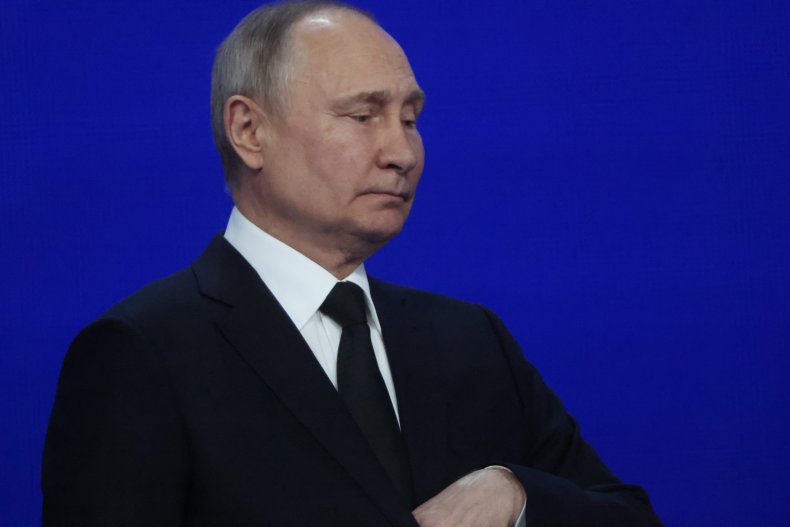 The U.S. has been supporting Ukraine in its war against Russia, which started almost a year ago, with the Eastern European country receiving $48 billion in U.S. aid between January 24, 2022, and November 20, 2022, according to the Kiel Institute for the World Economy.
U.S. aid packages included a "$3 billion package of military capabilities," to help Ukrainian forces fight Russia, the Department of Defense (DOD) said in January. The package includes dozens of different weapons and defense mechanisms, such as howitzer missiles and anti-tank missiles. The U.S. also previously sent military packages that include HIMARS and a Patriot air defense system.
The Russian women's remarks in the video posted by Gerashchenko came after several UFOs were spotted in North American airspace in recent weeks, including the Chinese surveillance balloon, which was shot down over the Atlantic Ocean earlier this month.
Biden said Thursday that the U.S. military, through the North American Aerospace Defense Command (NORAD), tracked three unidentified objects that were shot down over Alaska, the Yukon in Canada, and Lake Huron near Michigan.
"They acted in accordance with established parameters for determining how to deal with unidentified aerial objects in U.S. airspace," Biden said. "At their recommendation, I gave the order to take down these three objects due to hazards to civilian commercial air traffic and because we could not rule out the surveillance risk of sensitive facilities."
It remains unknown what the three objects were, but they are not related to "China's spy balloon program," and are not surveillance objects from another country, according to the president.
"Our intelligence community is still assessing all three incidences," Biden added. "They're reporting to me daily and will continue their urgent efforts to do so, and I will communicate that to the Congress."