Putin Ally Makes Ominous Claim About Negotiating with Zelensky
Chechnya's leader Ramzan Kadyrov has speculated how he would conduct negotiations with Ukraine's president Volodymyr Zelensky to end the Kremlin's invasion.
Kadyrov told the Russia 1 TV channel that, if dispatched by Moscow to play a role in talks with Zelensky, "I would convince him very quickly to sign all the necessary documents." He added, however, that now is "not right to negotiate with him."
When asked about what he might say in a one-to-one parley with the Ukrainian leader, Kadyrov replied, "I wouldn't say anything. I would force him to do whatever we need."
"I'm a psychologist and I know people very well and I can manipulate them, so I would quickly find the right frequencies and put him in his place," he said.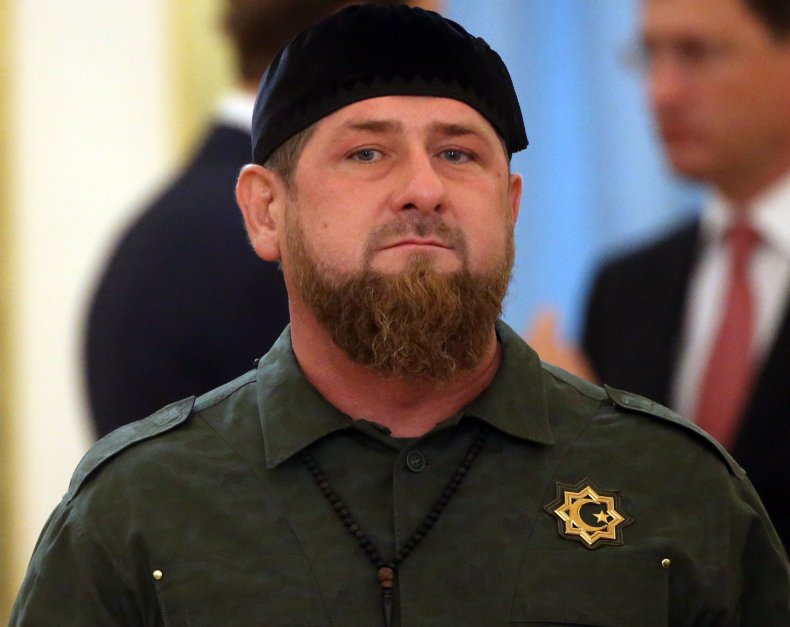 His interviewer, Kremlin propagandist Olga Skabeeva, who has peddled anti-Ukrainian and anti-Western rhetoric throughout the war, replied, "You have convinced me."
The clip was tweeted by news outlet Visegrad 24 with the message, "Chechen dictator Ramzan Kadyrov claims he could force Zelensky to do whatever he wants if he would meet Zelensky face-to-face. Kadyrov claims that he 'is a psychologist.'
"Did he graduate from Cambridge or Oxford?" the tweet asked sarcastically. Ukrainian internal affairs advisor Anton Gerashchenko also shared the clip, tweeting, "Kadyrov believes it is not right to negotiate with Kyiv leadership."
Newsweek has contacted the Ukrainian foreign ministry for comment.
Kadyrov's speculation about conducting talks with Kyiv may have had a degree of menace, but he is unlikely to be called upon for potential future negotiations, despite attempts by the Chechen leader to position himself as a key figure in the war.
Troops from the primarily Muslim Russian republic Kadyrov leads are known as "Kadyrovtsy" or "Kadyrovites" and have been fighting for Moscow in Ukraine amid reports of their brutality in the field.
Before Vladimir Putin's invasion, Kadyrov was accused by rights groups of extrajudicial killings, kidnappings, and torture, while many of those troops fighting for Moscow are said to have been recruited against their will.
Without directly criticizing Putin—whose support he would require to stay in power—Kadyrov has been critical of Russian commanders in Ukraine and the overall military effort.
Last week, Kadyrov said he believed that the war would end by the end of the year and that the West "will kneel."
This week, he said that his top general in Ukraine, Apti Alaudinov, had to go to Moscow to get medical treatment for poisoning after handling an envelope.