Russian President Vladimir Putin has "dismissed" an official who spoke out against his invasion of Ukraine.
Natalia Poklonskaya, a Russian politician born in Ukraine's Luhansk region, wrote in a Telegram post Monday that Putin "signed a decree" on her current role in connection to her transfer to a new job.
Poklonskaya's dismissal from her role as deputy head of the federal agency Rossotrudnichestvo comes months after her latest remarks criticizing the Russia-Ukraine war. Further details about her dismissal, including what her new job will be and if it is related to her war criticisms, were not known Monday morning, though in her announcement she wrote she is "grateful to our President for his support and trust!"
In April, Poklonskaya spoke out against the symbol of the letter Z, a logo that has come to represent pro-Russian sentiment amid the invasion, and experts have warned that it has fascist overtones. It has appeared on Russian military vehicles, clothing and merchandise as Russians show solidarity with their military.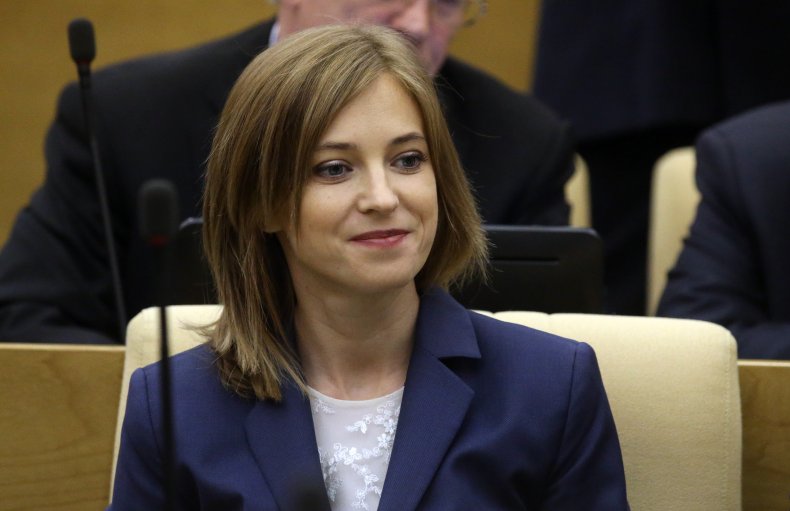 But during an interview with a popular Russian YouTube channel, Poklonskaya offered some criticism of the symbol. Her remarks received widespread backlash, including from her superiors in Rossotrudnichestvo, The Moscow Times reported.
"This letter Z symbolizes tragedy and grief for both Russia and Ukraine," she said.
She later defended her remarks in a Telegram post, writing that she believes "it's dangerous to blindly worship any symbols—history doesn't like that."
"Soldiers and ordinary people are losing their lives, many are crippled and how many more there will be…? How many prisoners of war, how much grief…? This is all called misfortune, tragedy, catastrophe," she wrote, adding that if speaking her opinion violates her job's rules, she will accept being punished.
Most Russian politicians have lined up behind the government position supporting the war, with only few speaking against it. Speaking out against the war has come with consequences for some Russians, as Russian authorities have cracked down on free speech and independent media since the war began in late February.
She also described the invasion as a "catastrophe" in an address to the Brix forum in April, reported The Moscow Times. She noted that her "two native countries are killing each other."
"People are dying, houses and entire cities are destroyed [leaving] millions of refugees. Bodies and souls are mutilated. My heart is bursting with pain, she said.
When Russia annexed the region of Crimea from Ukraine in 2014, authorities appointed Poklonskaya to be prosecutor of the region. She has become a popular politician in Russia and has opposed Ukraine's entry into the European Union. She is wanted in Ukraine on treason charges after siding with Crimean separatists, according to Ukrayinska Pravda.
Newsweek reached out to the Russian government's press service for comment.