Russian President Vladimir Putin "has no fear" of the United States or President Joe Biden, former House Speaker Newt Gingrich said Monday as concerns over a Russian invasion of Ukraine continue to mount.
Gingrich wrote on Twitter Monday evening that the "Biden Administration talks and Putin acts." He also compared Biden's dealings with Putin with those between Adolf Hitler and former U.K. Prime Minister Neville Chamberlain, a leader remembered by many for having a policy of appeasement toward Germany before World War II, according to the U.K. National Archives.
"This is such a clear replay of Chamberlain trying to deal with Hitler that it is more than a little frightening. Putin is pushing day by day and has no fear of NATO because he has no fear of the United States or its President," the tweet read.
The criticism from Gingrich, a Republican, came in the wake of Putin's formal recognition of two separatist factions in Ukraine as independent regions on Monday. The move has spurred condemnation from leaders across the globe, as well as calls from several U.S. Republicans and others for a swift and tough U.S. response.
South Carolina Senator Lindsey Graham called Putin a "thug" on Monday and said that "enough is enough."
"His decision should immediately be met with forceful sanctions to destroy the ruble and crush the Russian oil and gas sector," Graham wrote in a Twitter thread on Monday.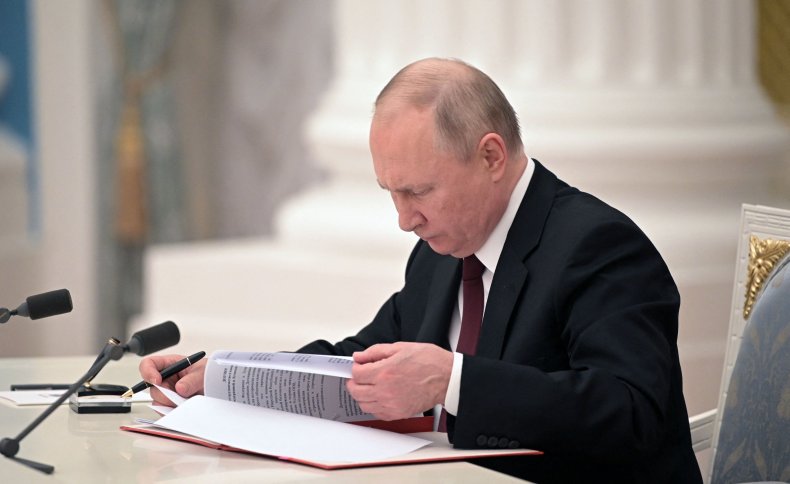 Texas Senator Ted Cruz told Fox News's Bill Hemmer on Sunday that Europe is "on the verge of war because of the weakness" of Biden. Wyoming Representative Liz Cheney called on the Biden administration and its allies to impose a "full set of crippling sanctions now."
The demands for Biden to sanction or act against Russia and the pro-Russia regions may come sooner rather than later.
White House Press Secretary Jen Psaki issued a statement Monday afternoon announcing that Biden would soon sign an executive order "that will prohibit new investment, trade, and financing by U.S. persons to, from, or in" the separatist regions. The order will also "provide authority to impose sanctions on any person determined to operate in those areas of Ukraine," according to Psaki's statement.
Psaki said in the statement that these actions targeted at the separatist regions are unrelated, added measures from other economic measures the U.S. and its allies have been preparing "should Russia further invade Ukraine." She did not immediately specify exactly when Biden would sign the order, but said that it would be "soon."
She also said that the U.S. would announce more measures "related to today's blatant violation of Russia's international commitments."
Newsweek has reached out to the White House for comment.