Putin Has 'Overestimated' Russia's Ability to Capture Donetsk by March: ISW
Russian President Vladimir Putin has "overestimated" his military's ability to quickly capture all of Ukraine's Donetsk and Luhansk regions, according to the Institute for the Study of War (ISW).
An assessment of the offensive, released Thursday by ISW, a U.S.-based think tank, maintains there is no evidence Russia has"sufficient combat power" to capture the more than 42 percent of Donetsk that remains under Ukrainian control in time to meet a Putin-imposed deadline of March.
Andriy Chernyak, representative for the Main Intelligence Directorate of the Ukrainian Defense Ministry, told The Kyiv Post on Wednesday that military intelligence indicates that "Putin gave the order to seize territories of the Donetsk and Luhansk regions by March."
The ISW report suggests that the Russian president could be making demands that his troops will not be able to fulfill, possibly paving the way for a Ukrainian counteroffensive that would be timed to coincide with the delivery of tanks supplied by the U.S. and other Western nations.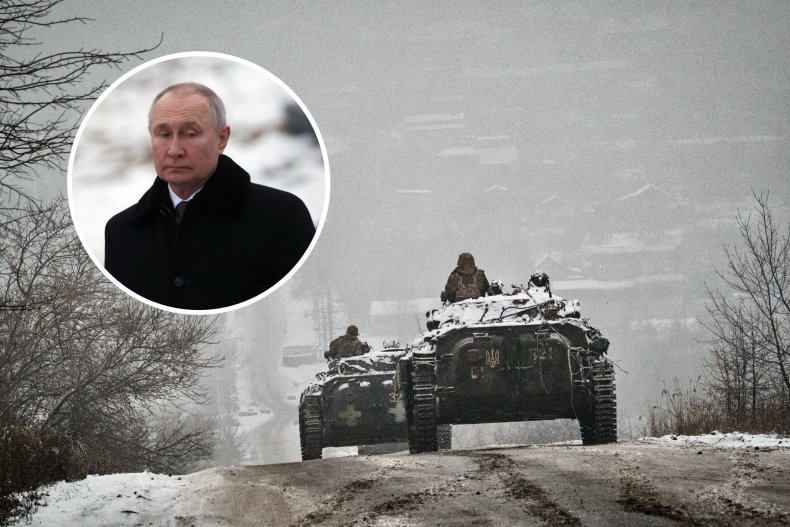 "Putin may have overestimated the Russian military's own capabilities again," the report states. "ISW has not observed any evidence that Russian forces have restored sufficient combat power to defeat Ukraine's forces in eastern Ukraine and capture over 11,300 square kilometers of unoccupied Donetsk Oblast (over 42 percent of Donetsk Oblast's total area) before March."
"A major Russian offensive before April 2023 would likely prematurely culminate during the April spring rain season," it continues. "Russian forces' culmination could then generate favorable conditions for Ukrainian forces to exploit in their own late spring or summer 2023 counteroffensive after incorporating Western tank deliveries."
While a significant portion of Donetsk territory is still under Ukrainian control, Russia's chances of capturing all of Luhansk by March could be somewhat more realistic, as only a small part of the region is unoccupied by Russian forces. Both Ukrainian regions are among the four that Putin claimed to have annexed last year.
Despite Putin's tight deadline for significant military progress, ISW said that Russian officials were "continuing efforts to frame the war in Ukraine as an existential threat to Russian audiences" to set "conditions for a protracted war and maintain domestic support for continued military operations."
However, the think tank said, the campaign has been unsuccessful "in generating the likely desired effect of motivating Russians to want to participate in the war," with the Russian population largely lacking a "desire to fight Putin's war."
Russian military operations in eastern Ukraine on Thursday included a continuation of the bloody battle in the Donetsk region's Bakhmut area, with leadership of mercenary organization the Wagner Group claiming to have made gains.
On the same day, the National Resistance Center of Ukraine's Special Forces claimed that 50 high school students had been abducted from the Luhansk city of Lysychansk and taken to Russia.
Last month, a Ukrainian official claimed that around 14,000 Ukrainian children had been abducted and taken to live with "new families" in Russia during the war.
Newsweek has reached out to the Russian Ministry of Defense for comment.