Photo of Putin in High-Heel Shoes Sparks Wild Conspiracy Theory
A photo of Russian President Vladimir Putin wearing high-heel shoes in Moscow on Wednesday has sparked a wild conspiracy that he has a body double.
Putin, who is believed to be about 5 feet 7 inches, was photographed alongside students of Lomonosov Moscow State University during a visit for Russia's Students' Day, or Tatiana Day.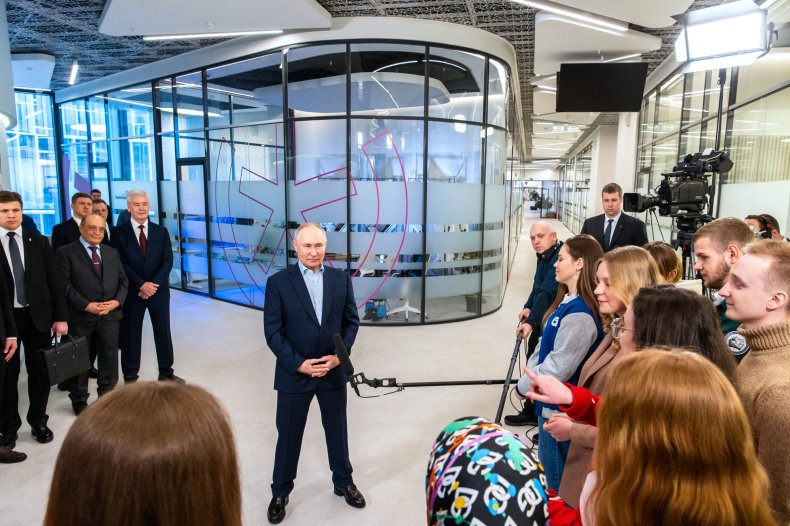 The images appear to show Putin wearing shoes with extra-thick heels to boost his height.
Jason Jay Smart, a correspondent for the Kyiv Post, shared a photo from Putin's Wednesday visit, pushing the body-double theory.
"Putin wears high heels. He does it whenever he is with groups who 'should be' shorter than he (5'7"/170 CM)," Smart tweeted. "But it appears that in most public events, a body double attends - not the real Putin. The changes in his height, ears, and weight are otherwise inexplicable."
The unsubstantiated claim that the Russian leader uses a body double, amid rumors that the leader's health is deteriorating, has been pushed multiple times, including by the Ukrainian government.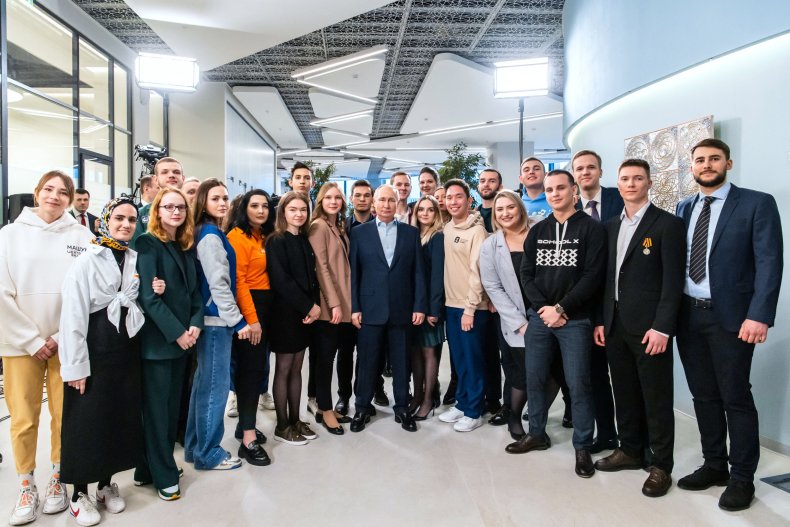 In August 2022, Ukrainian military intelligence chief Major General Kyrylo Budanov suggested on Ukrainian television that Putin's ears looked different in several of his public appearances.
Budanov said on Groshi on 1+1, a Ukrainian TV channel, that Putin's habits, appearance, and even height had changed.
"The picture, let's say, of the ears, is different. And it's like a fingerprint, each person's ear picture is unique. It cannot be repeated," Budanov said, without offering concrete evidence to back up his claims.
Budanov was cited by TSN, daily news program of 1+1, in August as saying that he believes Putin is seriously ill, and that this is no big secret. He suggested that the Russian president is using body doubles to avoid making public appearances.
"They [Putin's body doubles] have different habits, different mannerisms, different gaits, sometimes even different heights, if you look closely," Budanov added.
Speculation surrounding Putin's health intensified after he invaded Ukraine. Some have pointed to videos of him appearing shaky or tense as indicating that he could have Parkinson's disease, while investigative news outlet Proekt said that Putin was accompanied by doctors, including a thyroid-cancer surgeon, on a number of trips between 2016 and 2019.
Kremlin spokesman Dmitry Peskov has pushed back against the allegations, telling reporters in September that the rumors about the state of Putin's health are "nothing but fakes."
Newsweek has contacted Russia's foreign ministry for comment.
Do you have a tip on a world news story that Newsweek should be covering? Do you have a question about the Russia-Ukraine war? Let us know via worldnews@newsweek.com.