Putin and His Harshest Critics Land on Time's Influential People List
Russian President Vladimir Putin has been included, along with some of his harshest critics, on Time magazine's new list of the 100 most influential people.
The 2022 list recognizes individuals with a significant influence on the world in the past year and features artists, innovators and celebrities as well as political leaders.
Several people named were recognized for their involvement in the Ukraine war since Russia launched its invasion in late February—a sign of the far-reaching impact of the conflict. Meanwhile, Putin has become one of the most discussed—and condemned—world leaders since the start of the war, particularly for the lack of any justification for Russia's invasion and accusations of human rights abuses by its forces.
He is joined on Time's list by Ukrainian President Volodymyr Zelensky as well as those who have fiercely opposed his invasion, including President Joe Biden and Dmitry Muratov, editor of Novaya Gazeta, an independent Russia newspaper that has been critical of the nation's government.
Alexei Navalny, Russia's foremost opposition leader, told Time that Putin represents a lesson to world leaders about how to respond to a dictator, even as they continue doing international trade with Russia despite long-standing concerns about its leadership.
"The answer to the main question he poses—how to stop an evil madman with an army, nuclear weapons, and membership in the U.N. Security Council—is yet to be answered," Navalny wrote. "And we are the ones who must find that answer." Navalny is serving nine years in a maximum-security penal colony.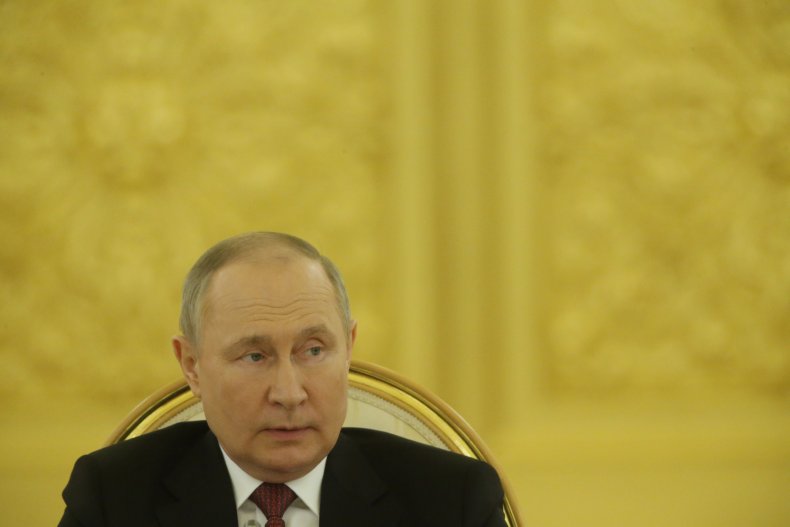 The magazine also noted that Zelensky has received global praise for his leadership amid Russia's assault on this country.
President Joe Biden wrote about Ukraine's president in the list issue, saying that his resistance to the invasion has inspired "the nations of the free world."
"With the support of the U.S. and our allies and partners, he has left his mark on history and proved to the world that Ukraine will long endure and its people will ultimately realize the democratic future they have long desired," Biden wrote.
Biden himself was named to the list. Former President Bill Clinton praised him for unifying allies across the world "to isolate Russia and provide military and humanitarian assistance to the brave people of Ukraine."
Since the invasion, Putin has cracked down on independent media in Russia while promoting propaganda supporting the war. In Time, Hermitage Capital Management CEO Bill Browder praised Novaya Gazeta's Muratov for his "lifetime of bravery" through his commitment to a free press in Russia, despite the government's hostility toward the media.
"But nothing has intimidated Muratov and the Novaya Gazeta team. Year in and year out, his newspaper has exposed billions of dollars of the Putin government's corruption, extrajudicial killings, and rampant human-rights abuses," Browder wrote.
Also on Time's list were high-profile figures such as Zendaya of HBO's Euphoria, Apple CEO Tim Cook and musician Mary J. Blige.