'Putin Huylo' Meaning as Phrase Becomes Rallying Cry for Ukraine Support
Mockery of an invader is helping to defeat one, as an expression for which there is no polite translation has gained traction since the start of the Ukraine war.
A brand of beer, a chant and a hashtag on social media, "Путін—хуйло", pronounced "Putin—Khuylo" (or "Putin—Huylo"), is a catchphrase that pokes fun and expresses anger at Vladimir Putin in equal measure.
Those of a sensitive disposition may want to turn away now, but the phrase could be rendered as "Putin is a d***head"—although it carries far more vitriol in Ukrainian, Russian and Belarusian.
"Think of the worst, most obscene possible expression for a very bad person—and that's the word you need," American-born Russian translator, Michele Berdy told Newsweek.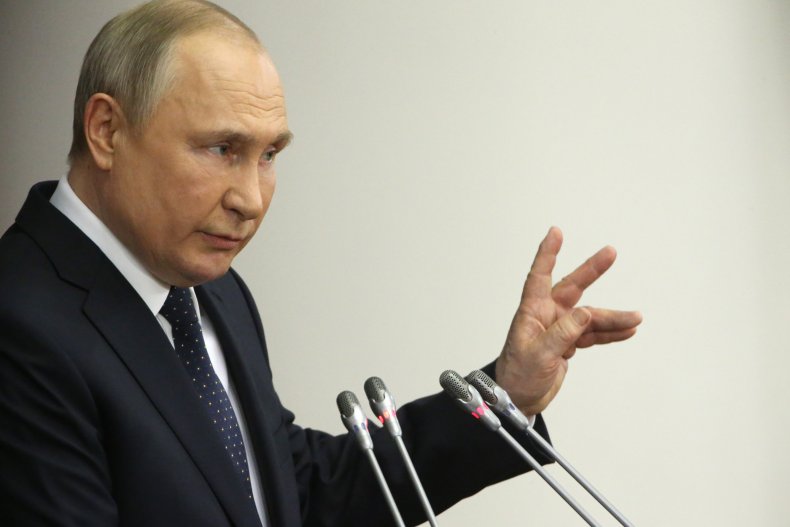 "It's basically simple, хуйло (khuylo) comes from хуй (khuy) which is a penis, but a very naughty word for penis," said Berdy, whose columns in The Moscow Times highlight some of the unusual aspects of Russian language and life.
"In Russian, it's kind of the base swear word. 'Go to hell' in Russia is literally 'go to the d**k' [and] I need it like a hole in the head is, 'I need it like a d**k'."
The phrase "Putin—khuylo" originated in 2014 when Russia seized Crimea which was followed by the Russo-Ukrainian war in the Donbas.
It grew from a football chant by fans of the FC Metalist Kharkiv and Shakhtar Donetsk soccer fans to a catch-all slogan in support of Ukrainian sovereignty and territorial integrity.
Members of the Ukrainian army chanted the phrase as they marched through the streets during a rehearsal for their country's August 24 Independence Day parade last year.
Since February 24, Ukrainians and those opposing Putin's invasion may feel they have even more reason to use the expression.
A common feature on Twitter threads condemning the war, #ПутінХуйло in Ukrainian, or Путин—хуйло in Russian, appears next to memes condemning or poking fun at the Russian leader.
Last August, the phrase was painted in large white letters on a road to the Ukrainian-Russian border in the eastern Donbas region.
Meanwhile, eight breweries in Virginia have joined forces to produce a beer written in the Latin alphabet as "Putin—Huylo" which goes on sale this week, allowing those raising a glass to raise a fist to the Ukrainian cause.
Based on a recipe from the Pravda Brewery in Ukraine, proceeds will go to the World-Central Kitchen Ukraine, GlobalGiving Ukraine Crisis Relief Fund, and Pravda Brewery's community relief efforts.
A Fox 5 report on the beer blurred out the phrase on the can in recognition of the weight it carries as an insult.
"D***head, butthead, even a**hole are much nicer in English than the original Russian," said Berdy, who said a closer equivalent of the phrase would be, "Putin is a f***er, Putin is a f**khead—you get the picture."
"So that Virginia beer company will make well-brought-up Russians faint."