Russian President Vladimir Putin is leaving meetings to receive medical treatments amid ongoing speculation that he is ill, Christopher Steele, a former intelligence official in the U.K., recently said.
"Meetings of the security council that are shown to supposedly last for a whole hour are actually broken up into several sections," Steele, who served in the MI6 intelligence office, said during an interview with LBC Radio. "[Putin] goes out and receives some kind of medical treatment between those sections."
Steele also said that Putin is "constantly accompanied around the place by a team of doctors."
The remarks by Steele, who is known for his work on the Steele Dossier, which alleged that former President Donald Trump and Russia had connections during the 2016 presidential election, come amid a flurry of claims that Putin is suffering from some type of illness as fighting continues in Ukraine.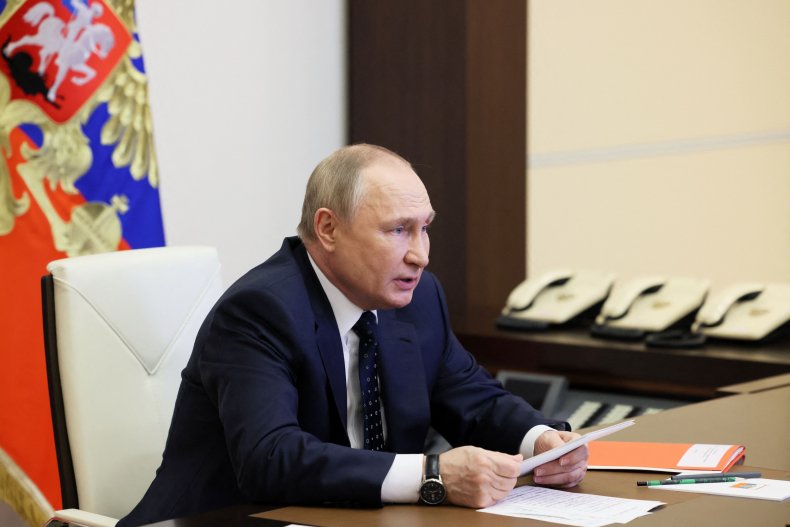 Earlier this month, Ukraine's head of military intelligence, Major General Kyrylo Budanov, said Putin was ill during an interview with Sky News.
"Mr. Putin is in a very bad psychological and physical condition and he is very sick," Budanov said.
A few days prior to his interview with Britain's LBC Radio, Steele made similar remarks about Putin's health.
"Certainly, from what we're hearing from sources in Russia and elsewhere, is that Putin is, in fact, quite seriously ill," Steele told Sky News on Monday. "It's not clear exactly what this illness is—whether it's incurable or terminal, or whatever. But certainly, I think it's part of the equation."
During his most recent interview with LBC Radio, Steele did not explain how he came to the conclusion that Putin was ill but claimed that "it's certainly having a very serious impact on the governance of Russia at the moment.
"There's increasing disarray in the Kremlin and chaos, in fact, that there's no clear political leadership coming from Putin, who is increasingly ill."
Since Russia invaded Ukraine on February 24, there has been increasing speculation regarding Putin's health.
In April, Visegrád 24 News posted a video on Twitter questioning Putin's health and speculating that he might have Parkinson's.
"This is probably the clearest video of something being wrong with Putin's health. Look at his leg & hand tremors! Any doctor out there willing to weigh in? Parkinson?" Visegrád 24 News wrote on Twitter.
Another video of Putin gripping a table during a meeting with Russian Defense Minister Sergei Shoigu prompted an array of social media users to offer their own speculations on Putin's health.
The Kremlin has not made any public comments about Putin's health since the beginning of the war in Ukraine.
Newsweek reached out to the Russian Foreign Ministry for comment.