A Ukrainian official divulged that Russian President Vladimir Putin is "very sick" with cancer and other illnesses, the latest assertion as rumors have swirled regarding Putin's health.
Speculations that Putin is ill have floated around since the start of Russia's invasion of Ukraine in February, as many have been quick to point out instances where the Russian strongman looked pale or sickly.
Most recently, Ukraine's head of military intelligence, Major General Kyrylo Budanov, told Sky News that Putin was in a "very bad psychological and physical condition and he is very sick."
He added that Putin has "cancer and other illnesses," and when Sky News asked if he was merely spreading propaganda, Budanov replied, "It's my job, it's my work, if not me, who will know this?"
The Kremlin has continuously insisted that Putin is in good health, and Newsweek could not independently verify these claims.
Budanov added in his interview that Russia has "suffered heavy losses in manpower and armour and I can say that when the artillery strikes happened, many of the crews abandoned their equipment."
He added that the fighting in Ukraine will be finished by the end of the year, and Russia's defeat in Ukraine "will eventually lead to the change of leadership of the Russian Federation. This process has already been launched and they are moving into that way."
On Wednesday, Putin's absence from an ice hockey game in which he usually plays fueled more speculation that he is unwell, as he gave a video address to players and attendees instead. And last week, a claim about the Russian president was made on Telegram, saying he was preparing to undergo cancer surgery.
This is not the first suspicion that Putin has undergone surgery, and the Kremlin has previously denied that Putin had surgery related to thyroid cancer, online outlet The Moscow Times reported on April 1.
Theresa Fallon, founder and director of the Centre for Russia Europe Asia Studies (CREAS) in Brussels, told The Independent, "[Mr Putin] has always tried to emphasize his fitness and vigor, which is part of his brand. Illness does not fit with Putin's strong man narrative that has been carefully cultivated over the years by the Kremlin. This makes me wonder if there is really something else going on behind the scenes."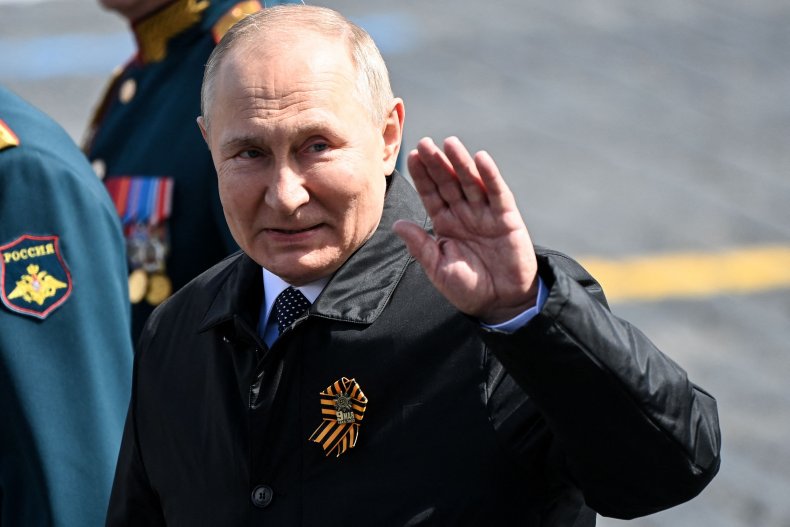 However, as the speculation continues, some believe that instances of Putin looking shaky or ill are only theatrics. Olga Lautmann, a senior fellow at the Center for European Policy Analysis, told Newsweek in an earlier report, "I think that Putin coming out and exhibiting symptoms of sickness was more theatrics and distraction. If Putin was really ill, he wouldn't want people surrounding him to know."
Concerns for Putin's health came most recently after his appearance at the Victory Day parade on May 9, in which he had his legs covered with a blanket and seemed to hold onto the podium tightly when giving an address.
Newsweek reached out to the Russian Defense Ministry and the Kremlin for comment.