Russian President Vladimir Putin's well-being has become a topic of much speculation amid the ongoing war in Ukraine, and new rumors emerged on Monday as observers paid close attention to the leader's behavior during his attendance at the Victory Day parade.
Overseeing the massive parade celebrating Russia's annual holiday marking the Soviet defeat of Nazi Germany, Putin was seen with a heavy blanket draped on his lap, despite being surrounded by far older war veterans who did not have additional coverings.
"President Vladimir Putin throws aside his Russian Wool blanket to stride manfully to the unknown," one Twitter user noted.
The 69-year-old seemed to be fine health-wise during his address, and didn't appear to be grabbing the podium, a behavior that has sparked rumors about his well-being in the past.
Others raised doubts over the president's walk to the podium, suggesting that Putin appeared to be limping with a heavy step as he made his way over to deliver his speech.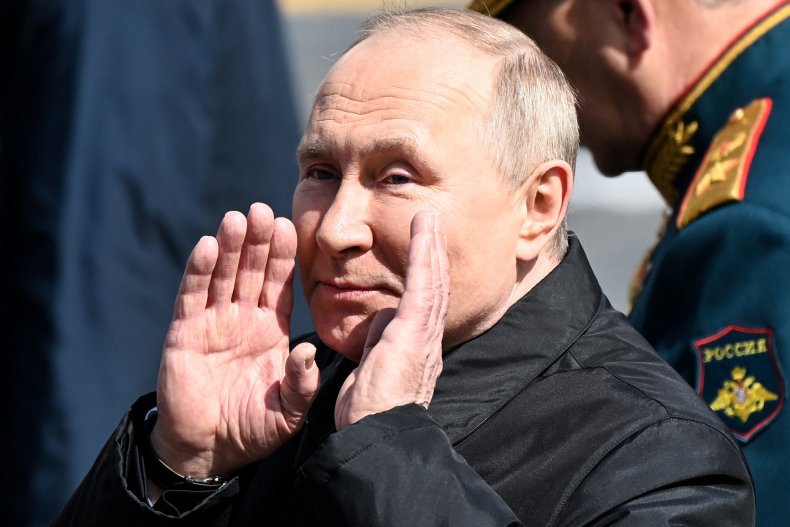 "Frail Putin gathered all his strength to get out of his bunker and held a fascist rally today as if his life depends on it," another Twitter user said. "He is right. He will get overthrown/killed w/o public support. This is a life-and-death situation for him. He has a severe limp—this was not televised."
During an April meeting with his defense minister, Putin was seen gripping the table, which some speculated was due to a possible Parkinson's Disease diagnosis—an ailment that has not been confirmed by the Kremlin.
There have also been rumors that Putin underwent surgery related to thyroid cancer back in 2016, which the Kremlin denied as "fiction and untruth."
Aleksandra Cichocka, reader in political psychology at the University of Kent in the U.K., previously told Newsweek that one of the reasons the public has fixated over Putin's health has to do with Russia's invasion of Ukraine.
"The invasion of Ukraine poses an existential threat, and people might be motivated to explain why something so devastating is happening," Cichocka explained. "Putin being unwell could help make sense of this otherwise incomprehensible situation."
In his speech on Monday, Putin defended the invasion of Ukraine as the "only right solution" to the threat of Nazis in the country.
"There was a threat that was growing day by day. We had to do something, we had to do something and we did it—it was the only right solution we could take," Putin said from the iconic Red Square in Moscow. "It was a decision taken by a sovereign and strong country."
"We will never give up our love for the country, faith, traditional values, ancestral customs and respect for all peoples and cultures," the Russian president added. "As for the West, it seems to be determined to cancel these millennia-old values."
Newsweek reached out to Russia's foreign ministry for comment.