Putin Loses Nearly 1,000 Troops, 13 Tanks on War Anniversary: Ukraine
Russia has lost nearly 1,000 troops and 13 tanks on the one-year anniversary of its invasion of Ukraine, according to the Defense of Ukraine.
Russian President Vladimir Putin launched his "special military operation" on February 24, 2022, that soon turned into a full-scale war. Losses have been substantial on both sides, with Ukraine maintaining a fierce defense in what Putin thought would be a quick victory.
On Friday morning, the Defense of Ukraine posted to Twitter a graphic outlining Russia's total loss in the year since the war began, which included updated numbers to account for the losses on the one-year anniversary. According to the report, Russia lost 970 troops on Friday, bringing total Russian human loss to almost 147,000.
The graphic also showed Russia's loss of equipment. On the one-year anniversary, Ukraine reported that Russia lost 13 tanks, seven armored combat vehicles, 11 artillery vehicles, three multiple launch missile systems, three air defense systems, nine vehicles and fuel tanks, and one piece of special equipment.
However, Center for Strategic and International Studies (CSIS) senior adviser, Mark Cancian, told Newsweek on Friday that people should be cautious when believing numbers coming out of Ukraine and Russia. He cited Oryx, an open-source intelligence defense analysis website that collects estimated losses by analyzing video footage.
Ukraine's numbers of eliminated personnel are close to what Oryx deems accurate, but its numbers for the loss of military equipment seem exaggerated. According to Oryx, the Russians have lost around 1,770 tanks while Ukraine claims it has eliminated almost twice as many.
"One thing about Ukraine is that they're fighting an existential fight and regard information as another area of competition," Cancian told Newsweek. "So they use information and propaganda just as the Russians do...Everybody already discounts Russia. My caution is we should also discount Ukraine."
Regardless of specific numbers, both sides have faced devastating losses, especially in recent months as the front lines have shifted to the Ukrainian city of Bakhmut. Cancian explained that both sides don't have the same military as they did when the war started.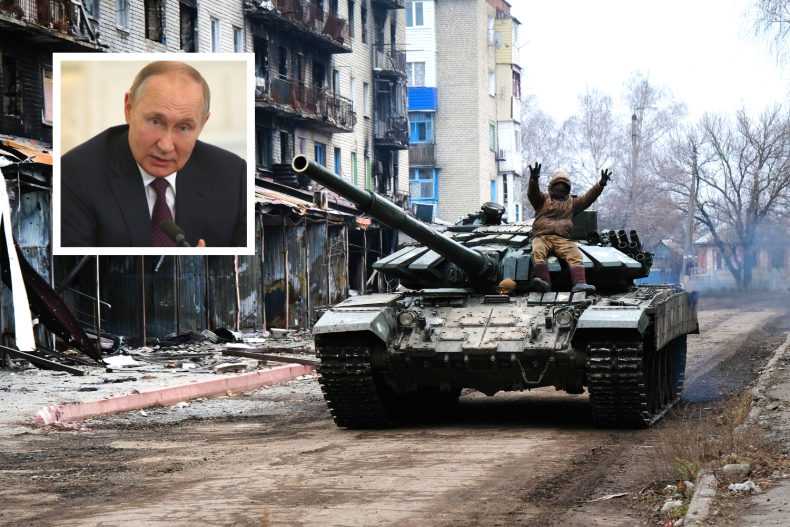 Russia has rebuilt its troops by conducting a partial mobilization this past September. Meanwhile, Ukraine has bolstered its military by continuing to receive weapons, munitions, and training from its Western allies.
"This is not, on both sides, the same military that fought a year ago," Cancian added.
He also explained that the Kremlin has had to shift its strategy to adjust. In April 2022, Russia pulled back from Ukraine's capital Kyiv when it recognized it would not succeed in capturing the city, ultimately shifting the battle to the Donbas.
Cancian said Russia's partial mobilization that happened last September is a sign that Moscow was preparing for a longer war. As spring approaches, both sides are expected to launch a renewed offensive, however. Reports have speculated that Russia has already launched theirs, focusing its effort in Bakhmut and surrounding towns. Cancian expects Ukraine to follow suit soon.
Both sides have been locked in a stalemate since last October when Ukraine recaptured the city of Kherson.
"If it remains stalemated, then the Ukrainians lose because the Russians are still occupying a big chunk of their territory," Cancian said on why he expects Ukraine to launch an offensive soon.
According to Cancian, once the Ukrainian offensive is launched, experts will have a better idea if the war will stretch out for many more months or if it will be resolved soon.
Newsweek reached out to the Kremlin and the Defense of Ukraine for comment.