White House officials have expressed concern that Russian President Vladimir Putin discussed a potential arms deal with Kim Jung Un when he met with the North Korean leader on Wednesday.
Any arms deal between the countries could violate some United Nations resolutions. A top researcher at a leading weapons industry watchdog has warned that Moscow could violate one resolution, which specifically targets North Korea, that Moscow had supported.
Neither Russia nor North Korea (officially the Democratic People's Republic of Korea, or DPRK) have announced that an arms deal was struck during Wednesday's meeting between the two leaders. However, Putin said they had reached "a satisfactory agreement" on "cooperation matters," while Kim firmly stated his support of Russia in its war against Ukraine.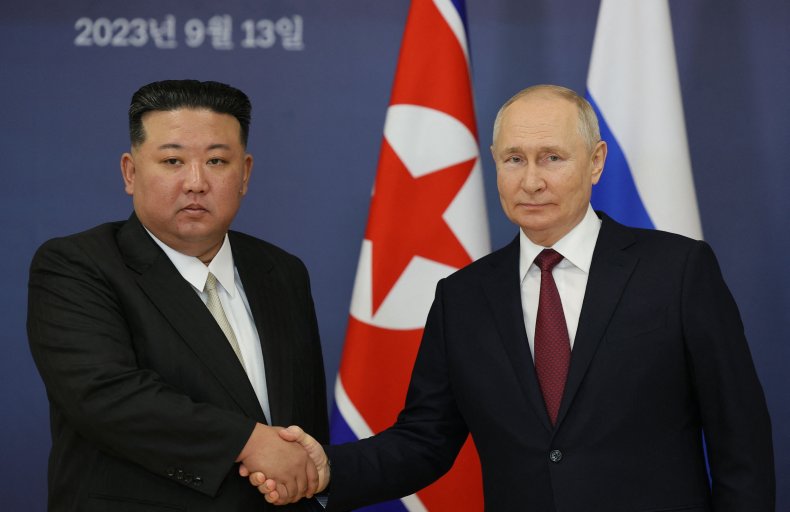 During a Monday press conference, U.S. State Department spokesperson Matthew Miller reminded Putin about possible U.N. violations in regards to a weapons deal with Kim. He also accused the Russian president of having to "beg Kim Jong Un for military assistance."
Kremlin spokesperson Dmitry Peskov shrugged off warnings from the U.S. about arms deals, telling reporters that the interests of Moscow and Pyongyang "are important to us and not warnings from Washington."
If Putin and Kim have begun talks on arms deals, as many analysts have expected, any agreement reached would be a direct violation of U.N. Security Council Resolution 1874, according to Siemon Wezeman, a senior researcher at the Stockholm International Peace Research Institute (SIPRI).
The resolution placed heavy economic and commercial sanctions on North Korea when it was adopted with unanimous support—including from Russia—in 2009 following a nuclear test conducted by Pyongyang.
Wezeman told Newsweek the resolution was further amended in 2016, with unanimous support, by U.N. Security Council Resolution 2270, "which is even stricter to include any export to DPRK and any import from DPRK of items that 'enhance the operational capabilities of armed forces.'"
"That goes way beyond weapons and parts for them," Wezeman said. "More text in 2270 underlines that the only exception would be purely for humanitarian aid, and then only when the U.N. committee overseeing the Korean sanctions is notified in advance and with assurances how to prevent diversion to other use."
The resolution, and thus arms embargoes to North Korea, is binding to all U.N. member states. Russia is not only a U.N. member but also one of the five permanent members of the Security Council.
Wezeman said the U.N. resolutions regarding North Korea don't specify that arms deals need to be only for equipment used in combat. The language indicates that supplies such as helmets and bulletproof vests could technically be off the table as well.
"The sanctions do not make distinction between sale, aid or any other way of arms supplies, nor do they make one between 'defensive' and 'offensive'—if such a distinction is at all possible—or between 'nonlethal' and 'lethal,'" Wezeman said. "Basically, it says that anything that can be remotely linked to military capabilities [is] an absolute 'no.'"
Newsweek reached out to the Russian Ministry of Foreign Affairs via email for comment.
North Korea possesses a large stockpile of ammunition that's believed to be compatible with Russia's artillery systems. This has led to speculation that Putin is interested in exchanging food, fuel and medicine—all of which are still in short supply in North Korea following the country's long COVID-19 lockdown—for some of Kim's ammo.
However, Wezeman said the U.N. resolution doesn't just prohibit sending weapons to North Korea, and Putin would be in violation for receiving arms from Kim.
But what could be done as punishment to Russia if it violates the resolution? According to Wezeman, there likely isn't much the United Nations as a body can do.
"Any punishment would have to come from states that are willing to agree on sanctions as they have been put on Russia since 2014 by the USA, EU and a number of like-minded states," he said. "There remains scope for additional sanctions, and some states want to start sanctions if Russia is blatantly ignoring the U.N. sanctions on North Korea."
As Wezeman noted, the chances of Russia being booted out of the U.N.—or even the Security Council—are very low.
"At best, one would expect some ostracizing, but even there—Russia invaded Ukraine, a blatant breach of the U.N. rules, but was not punished by the U.N.," he said.
Civic Hub—an international organization started by lawyers and academics that launched the #unrussiaUN campaign last year—told Newsweek in a statement that "the Ukrainian Foreign Ministry should follow the example of the U.S. State Department and organize a briefing and express Ukraine's position on the deepening military cooperation between Russia and North Korea."
"Especially with such precedents as Russia's cooperation with North Korea, Ukraine should direct all diplomatic efforts to expel Russia from the U.N.," the statement said. "The #unrussiaUN initiative group has developed three scenarios for expelling russia from the UN, which, if implemented, would give Ukraine the opportunity to impose sanctions, bring war criminals to justice, obtain frozen russian funds and claim fair reparations and compensation through UN Security Council resolutions."
Wezeman acknowledged that the likelihood of Russia being ejected from the U.N. is low. Nonetheless, he said Putin would be a making "big mistake" if he defied the U.N. sanctions on North Korea, and supporters of Ukraine may respond by supplying Kyiv with more weapons.
"It would also paint Russia more as a state that does not want to abide by the rules-based order that it has promoted so long," he said. "It may well resonate badly with states like India, Indonesia, Brazil, etcetera."
Update 09/16/23 11:35 a.m. ET: This story has been updated to include a statement from Civic Hub which was obtained after the story was originally published.